Come with me on an exclusive journey to Chanel's jasmine fields to learn about how the iconic Chanel No.5 scent is made as we continue to celebrate its 100th anniversary.
Tucked away on the French Riviera, far from the world's fashion capitals, lies a town named Grasse. This tranquil setting is where Chanel's legendary No.5 parfum begins its journey from the earth to the No.5 bottles found on Chanel lovers' vanity tables.
In this post, I am going to share with you every step of my visit to this iconic site and divulge how the famous No.5 scent is made.
In 1921, Ernest Beaux, the nose behind Chanel No.5, was creating the now iconic scent and chose the jasmine fields of Grasse simply for their perfection. Grasse enjoys the perfect conditions for growing jasmine due to its ideal location and perfect fertile soil.
Plants have been grown for fragrances in the area for over 300 years.
But it wasn't until 100 years ago when Chanel chose Grasse to be the centre of its soon to be fragrance empire that the area started to become the cradle of French perfumery.
Grasse jasmine has been used ever since to create the signature Chanel No.5 scent.
I have always adored Chanel No.5 and the parfum has long been a staple in my fragrance collection.
But I have never really put much thought into where Chanel No.5 comes from. I could tell you which Chanel boutique I purchased any one bottle from and most probably which sales associate assisted me.
Well, I had no clue until my recent visit to what I can only describe as the Chanel No.5 universe –
Grasse's jasmine fields are as picturesque as you would imagine.
Bathed in the Mediterranean sun, the place truly feels like a little slice of heaven on earth.
Jasmine has become the emblematic flower of Grasse and the parfum which it creates is inexplicably linked to the area. The jasmine harvest is between August and October.
 First in the process comes picking, then weighing and fragrance extraction.
Then the flowers release their fragrant power in an aromatic wax known as concrete before a highly concentrated liquid called the absolute is obtained.
Finally, this is used in the formulas for the Chanel No.5 parfum.
– Olivier Polge, Perfumer Creator for CHANEL
Shop Chanel No.5 products below
The fragrance's unique floral, citrus and vanilla scent has come to embody the very essence of the Chanel brand.
Chanel No.5 is regarded as the scent of dreams and therefore the fanciful setting of its origin comes as no surprise to me.
There's something about Grasse as an area which tells visitors that this is where sensational scents originate. It's nothing short of a utopia where the grass couldn't be greener and the sky couldn't be bluer.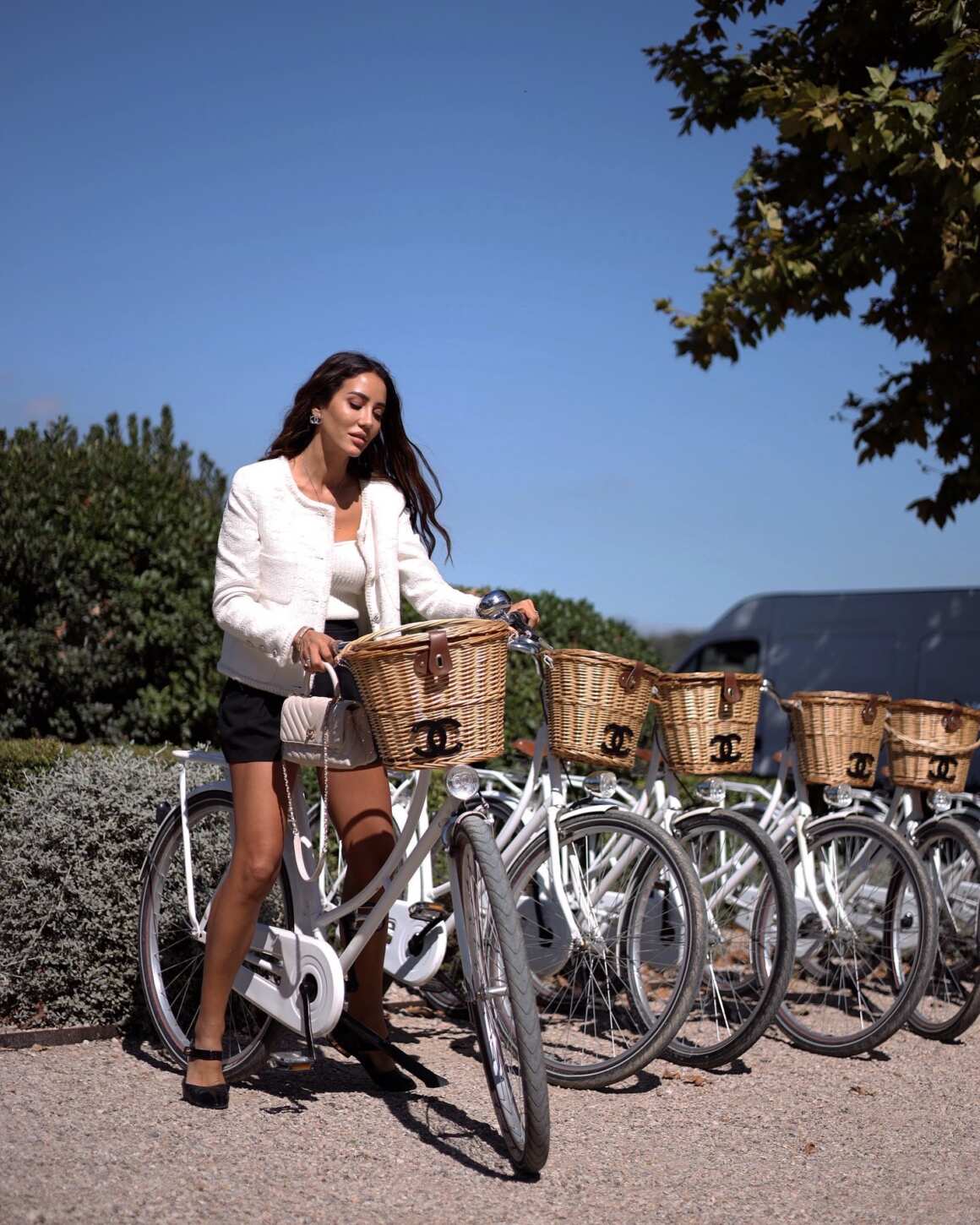 And the house of Chanel has certainly made its mark on the region.
From the quintessentially French bicycles with Chanel logo embossed baskets and the Chanel Wellington boots worn by those who work there, the place is a Chanel paradise and a jewel in the house's crown.
As I'm sure is obvious, you don't show up to a locale as inherently Chanel as Grasse dressed in anything but your best Chanel pieces.
I opted for a Chanel logo embossed jacket paired with my Chanel Coco Top Handle.
Throughout its century-long existence, Chanel No.5 has been worn by the world's most fabulous people, including the likes of Marilyn Monroe and, of course, Coco Chanel herself.
After all of this time, to witness firsthand the scent being created in the same authentic way it always has using the finest quality raw materials was nothing short of magnificent.
The production process is a true testament to the superiority of timeless methods and formulas which I'm sure will still be in use for another 100 years to come.