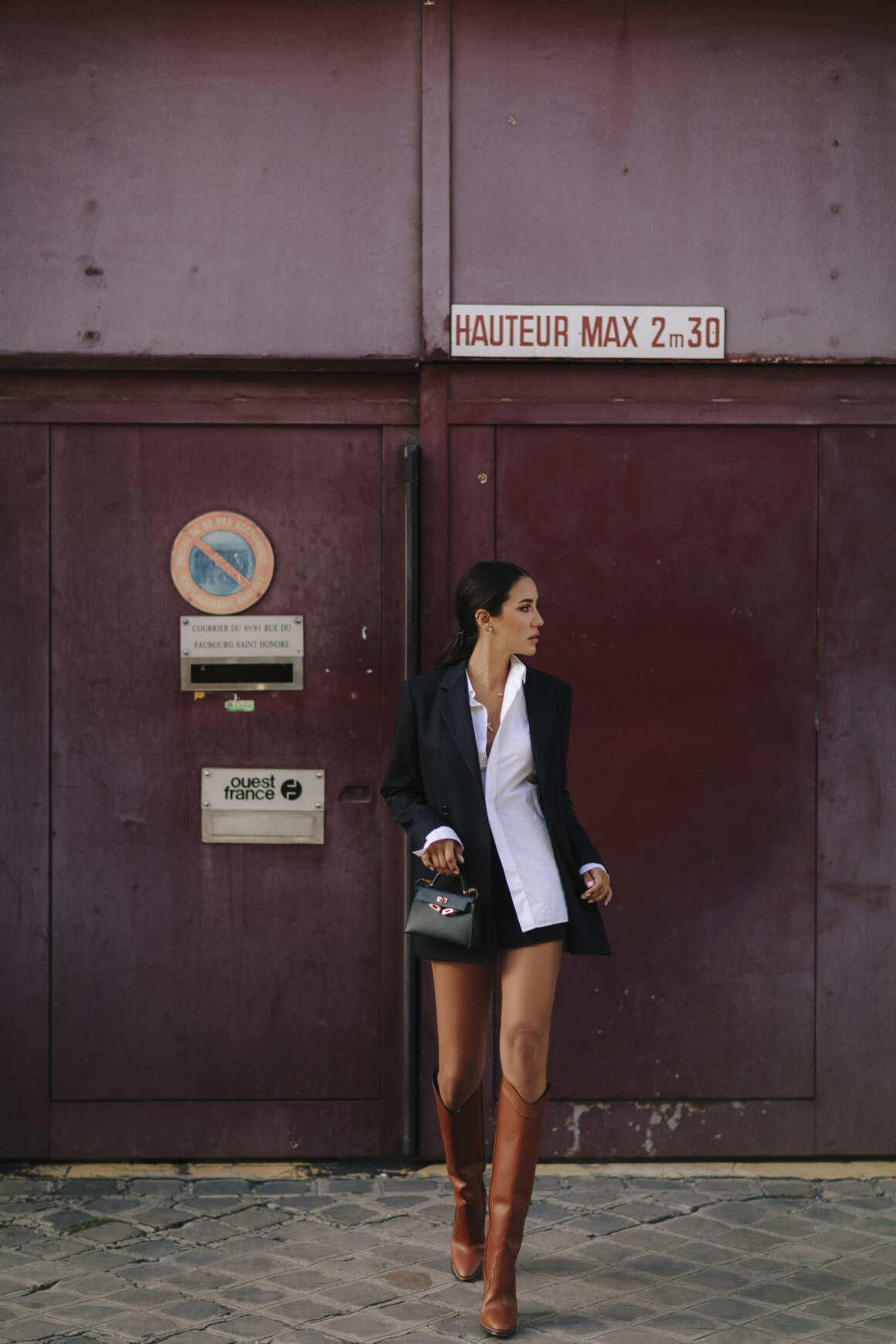 It was one of those mornings when I felt like dressing up. I immediately knew that I wanted to take out my Hermes Mini Kelly. Its been almost 5 months that I have been a proud owner of a Mini Kelly, little leather dream in black colour with golden hardware. I wanted to take her out and style a mini bag for day occasion, even when I am more than 174cm tall.
Normally small bags used to be reserved for evenings – if you asked me few years ago, but I have recently changed that. Even though they don't fit much, I still would be happy with a wardrobe full of Mini Kelly bags, in rainbow colours.
So here we go, many months later here is a classic, good old, outfit post.
click on the items and shop my outfit
Black & White For The Win
Black and white never used to be my thing – until I moved to Paris and something changed. I am wearing neutral colours more than ever, and even though I thought that is so basic, nowadays I just love it. Not sure if its the influence of Paris, or simply the effect of Corona on fashion. When big crisis in the world happened fashion always came out a little bit changed. Remember how minimalism became huge after the last recession? I predict something similar soon on the horizon.
That aside, there is nothing basic about my Saint Laurent boots. These are even in my Best Boot Trends for 2020 blog post. I love them so much, for their colour, shape and heel height. They look like they are very high, but the comfort was never compromised – you will have to trust me on this one. Not only was it love at first sight, but I had to get them back in July, to assure I get them. You know how these things go, if you don't seize the opportunity, you will regret it later on.
CLICK ON THE ITEMS AND SHOP MY JEWELLERY
Just a bit bigger than the baby Kelly Micro and smaller than the stunning classic Kelly.
So here is a simple look embellished by one of the best crowns in my handbag collection – my Hermes Mini Kelly. I cannot wait to wear it more, and am curious to hear what would you wear a bag of this kind with?
Keep in mind that it fits a phone, 2 cards and a lipgloss, all the extras are out of question, but still its beauty never leaves me indifferent.
CHECK OUT MY HERMES KELLY UNBOXING VIDEO