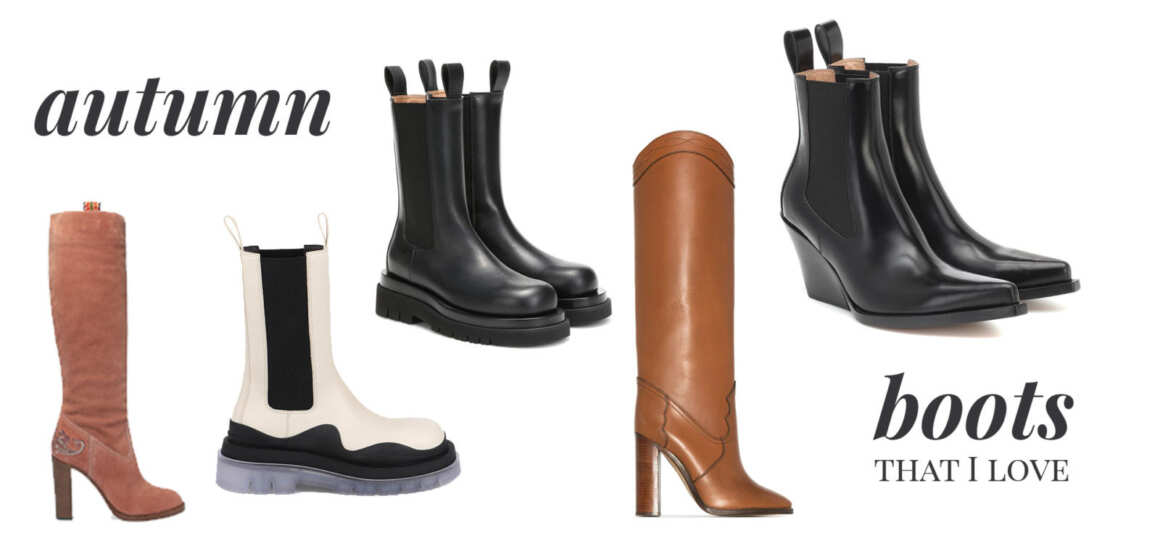 Boots are what big chunk of my autumn shopping budget goes on. Since I started blogging I have to say that I changed so many pairs, and remember all the different trends, from over the knee to ankle ones. High heel, no heel, even the wedge (ewww), at some point. The point is that I have never met a woman that doesn't like boots. I thought that they are so important, that in fact I wanted to dedicate a whole blog post to them.
In this post, I am going to talk you through every single major boot trend of 2020.
The moment that it gets colder outside, the season becomes all about coats and boots – and Im saying that because Im worried to scare you off if I admit that my boot shopping starts in August. Oh well, I admit, I love them too much, so let me tell you what kind of boots I plan on wearing this fall winter.
white boots
The last time I liked a pair of white boots I was 9 and had my first ever pair of Dr.Martens. After that white boots weren't really a thing for me, somehow I always felt a little bit odd in them and couldn't find a perfect balance. Then I realised that for me white boots just have to be chunky and sporty and never can be elegant. I simply don't like the too elegant vibe when it comes to them.
I couldn't wait to style my white Bottega Veneta Tire boots, and already wore them quite a few times. I love how they go with jeans, trousers, and even skirts. Particularly love wearing them with all white outfits.
click below and shop the post
slouchy suede boots
Suede usually means fall or dry winter. I have to say that many designers from Casadei, to Paris Texas came up with a perfect suede slouchy boots this season. I love wearing them for an effortless look, and sometimes they even remind me of JLo. Ok,  if you don't like wearing super tall boots, then opt for the shorter ones and you won't regret it. I love them with jeans and chunky knits. True spirit of the season.
click below and shop the post
laced up boots
This trend has been sticking around for almost two years now. Knee high lace up boots are perhaps my favourites. I love the Prada Monolith boots in every possible version, and got them in long and short. They add a few centimetres to the height without actually being uncomfortable. I walked in them across Manhattan and London, and am so happy that they are in top 3 pairs of boots still year and a half later.
They are so hard to get hold off, but if you get lucky, you might happen to find your size here
click below and shop the post
knee high boots
Knee high boots are something that last few seasons was a bit meh. You know it was either ankle boots or over the knee, the in between thing was sort of for older ladies. Well that's until Hedi Slimane showed his collection of incredible Saint Laurent boots for AW20. These cognac colour knee high boots bit a nice chunky heel were another summer purchase, because if you want to have them you have to rush. Saint Laurent created so many beautiful pairs of boots, and Im afraid I want them all.
click below and shop the post
cowboy vibe boots
From Margiela to Bottega Veneta, cowboy boots were brought back to life. Bottega Lean boots came out in pointy, square, high and low heel version, do I even need to add that they created a over the knee version in white colour (yep that basically ticks off all the trends). I decided to stick to Bottega Veneta Lean boots in the simple classic black pointy version, and I wore them already more than you can imagine.
The cut out ones would be next on my Wishlist, and I have to say, no BV pair is too many if you ask me.
click below and shop the post
combat boots
Give me every single colour way of Bottega Veneta Tire boots and I will wear them all.
I currently have three pairs of my collection, and I would be lying if I wouldn't admit that I am considering more. They are just so comfortable, stylish and easy to wear. Together with Prada and Gia Couture, these are my favourite combat boots.
As I already managed to cover them in YouTubeVideos, and other blog posts (How To Style Combat Boots), I will spare you the talk and just tell you to buy a pair this winter – thank me later.
click below and shop the post