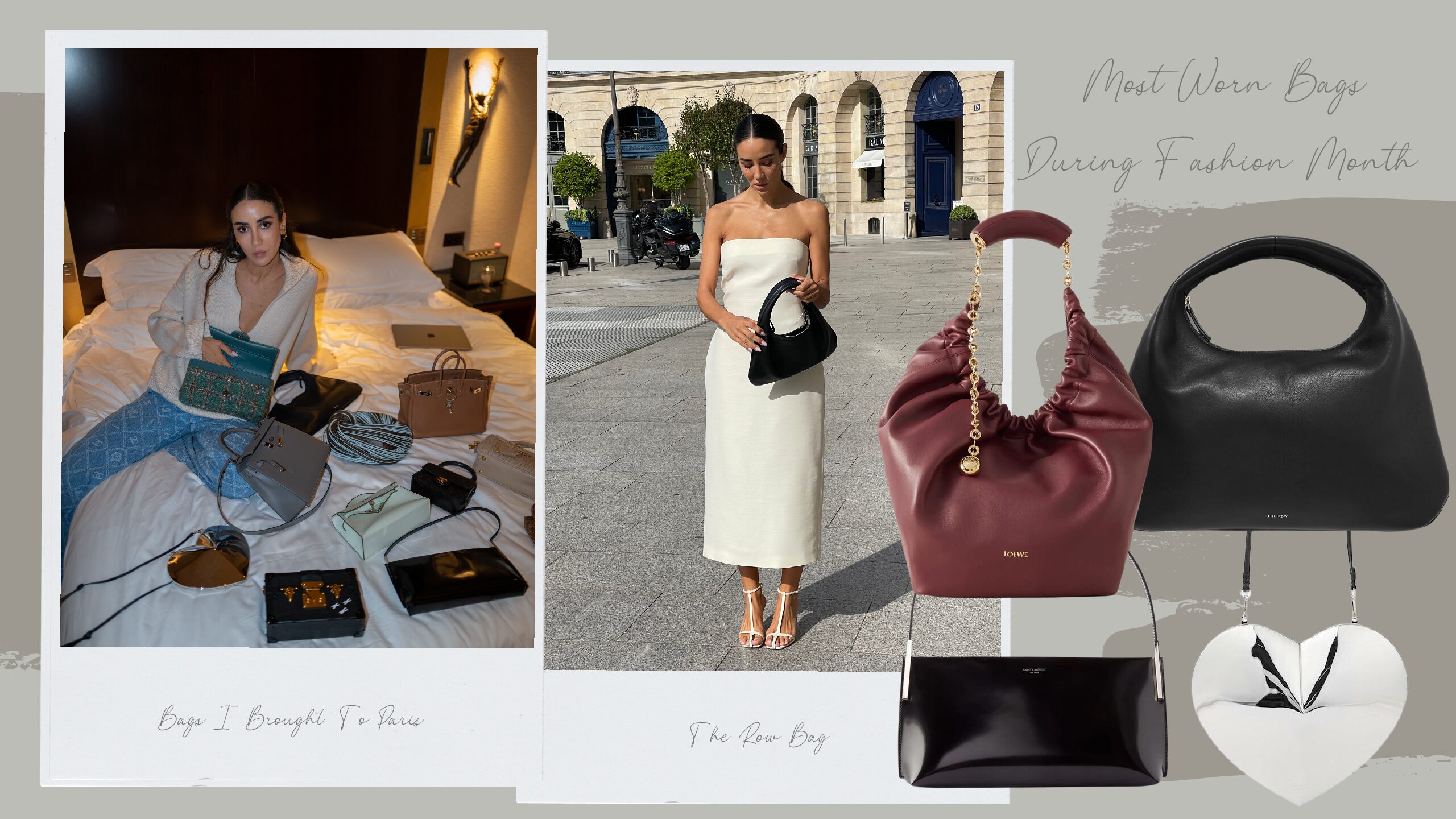 Fashion month is time I get to play the most with accessories. I always bring around lots of handbags, no matter if to New York, London, Milan or Paris and I noticed that there are a good few I keep wearing over and over again. In this post I wanted to share which bags really did so well and are basically free of charge now if we use good old Girl Math.Here are 5 bags that I kept wearing over and over this fashion month and why I think they are a good investment.
ALAÏA METAL HEART BAG
First up is the metal Alaïa heart bag, that I also own in the colour red – just in leather. You can not even imagine how much wear I got out of this bag, it is the perfect way to spice up any all black outfit, any going out outfit and its such a great conversation starter. Surprisingly it actually fits a lot more than it looks and more than most night clutches. I believe these Alaïa bags are having their moment and they are not going anywhere.
Next up is in my opinion the current "it girl" bag – Saint Laurent Suzanne. I believe this will become the next Saint Laurent popular piece – as we have seen the 5 to 7 bag. Classic but the patent leather gives it a more modern vibe. Also the small, barely visible logo is perfect for the non-logo era we seem to be entering.
This is definitely my #1 most worn bag, so simple, chic and elegant. It fits the perfect amount of items, will go with pretty much every single outfit and will never go out of style. I can not hype this bag enough, if you decide to get one bag from this post, let it be this one as you will not be disappointed.
One of the newer additions to my bag collection is the Loewe Squeeze bag. We all know big bags are having their moment and burgundy colour is having its moment, so this bag is perfect for this autumn/winter season. I have a blog post coming up that will focus particularly on this bag, so stay tuned to see a more in-depth review. If you are planning on buying this one, good luck – it seems to be sold out in most places and if not, you need to snatch it now.
And lastly my Tokyo vintage buy that I absolutely love. I wasn't aware of how much I would enjoy a mini Chanel bag, but now that I own it I seriously keep on thinking about getting a Chanel Kelly bag, I just need to decide what colour it will be. Let me be honest with you, this bag does not fit much, only the necessities, but it gives every outfit that elevated and a bit vintage vibe.