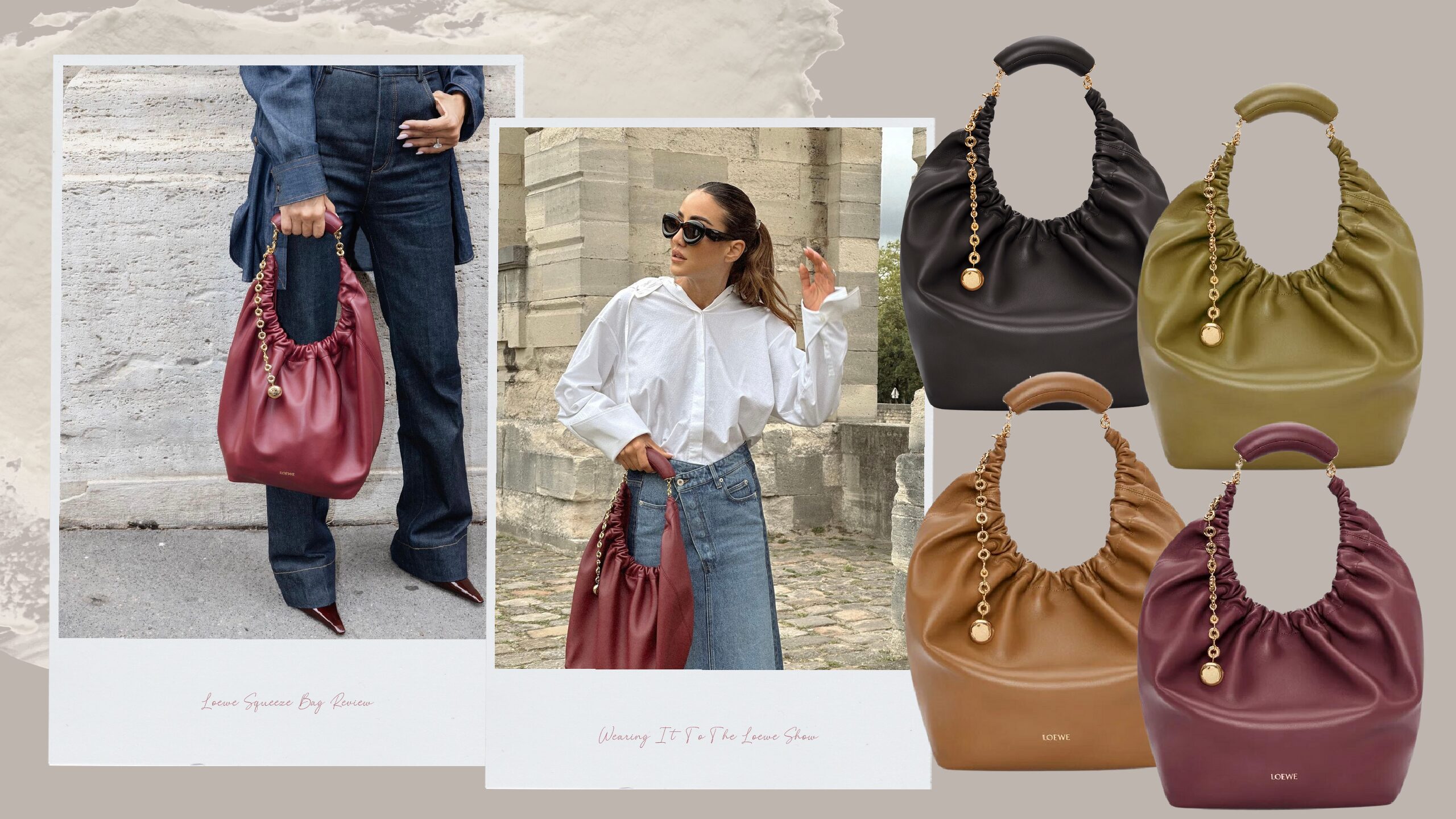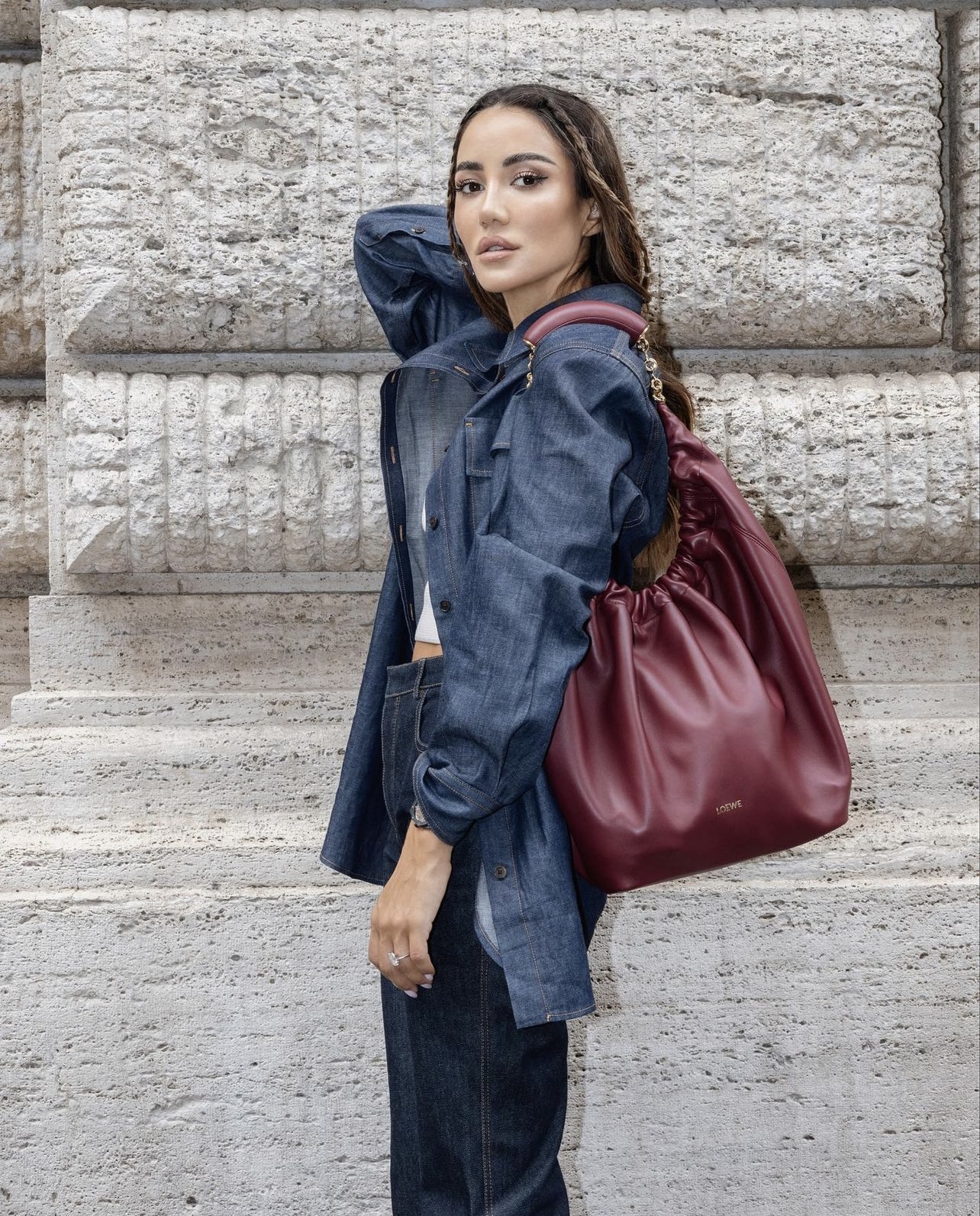 You love it, I love it and so we need to talk about it. Last night I was packing my bags for Spain and immediately grabbed my latest obsession to pack in the suitcase. The LOEWE Squeeze bag stands out as an innovation in this world of fashion, this unique statement piece is causing quite a stir as people seem to want it and shelves cannot be refilled fast enough. The Squeeze bag, so named because of its characteristic squishy handle, combines artistic design with fine craftsmanship – I am a Stan.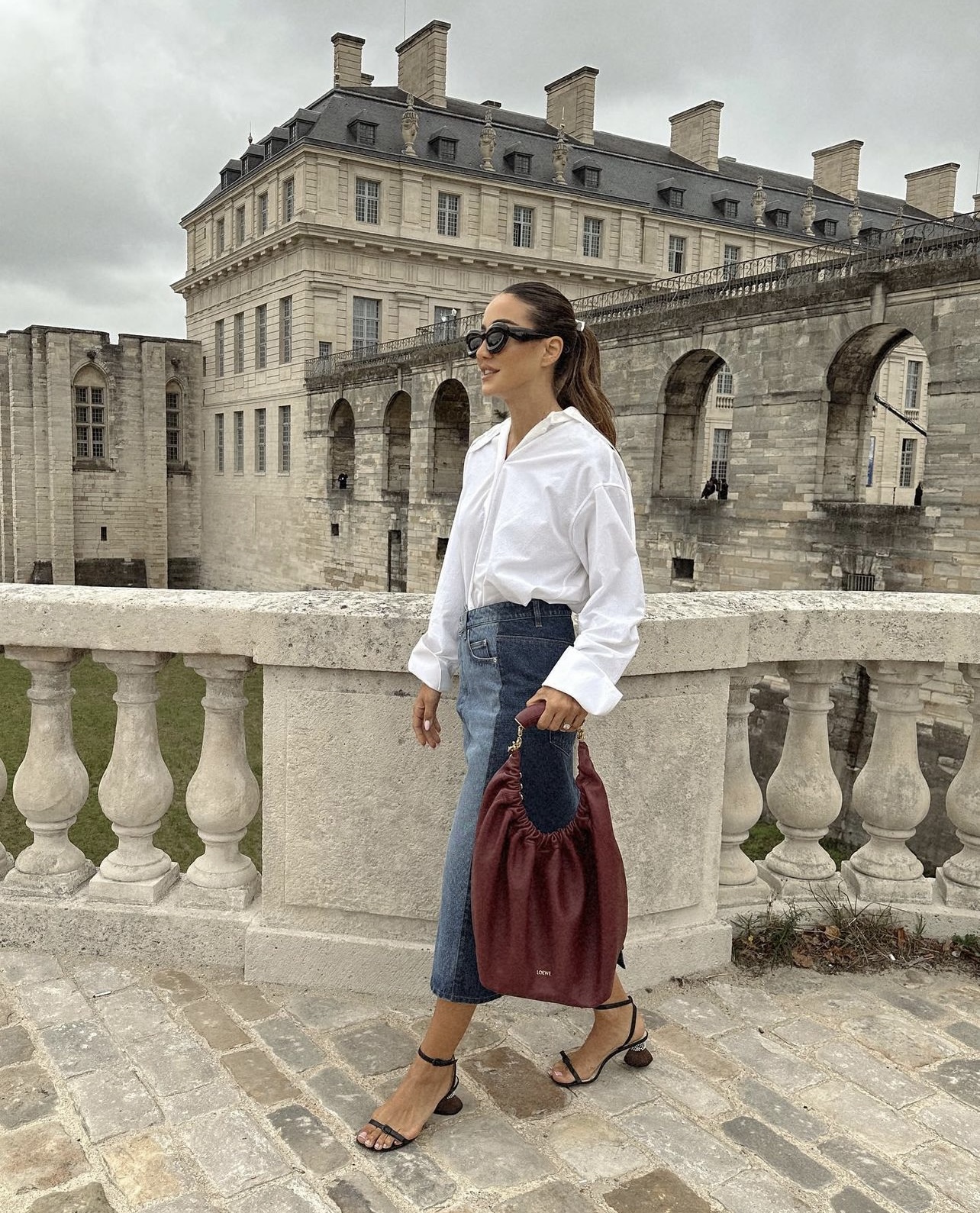 The Squeeze bag's ingenious doughnut chain is one of its best qualities. This unique chain strap is made for versatility, not only for show, it offers a level of personalisation that is exceptional thanks to an adjustable system that can be concealed under the ruched collar of the bag or worn over the shoulder and cross-body. Personally I like my loose chain hanging as a nice little accessory on the side.
Buttery nappa lambskin leather, utilised on the Squeeze bag, was created expressly to be worn unlined, adding to the bag's overall lightness. In certain occasions its so comforting and. I simply cannot help but caress it. From the interior zipped pocket to the leather piping that gives the bag's base structure, LOEWE's craftsmanship and attention to detail are clearly visible.
Speaking of squeezing, the name of the bag is derived from the tactile squeezability of the handle. This handle adds a further unusual and beautiful design feature by allowing for both hand and shoulder carrying. This also provided me a lot of comfort in rush hour and during the worst traffic situations of Paris Fashion Week. Yep, LOEWE Squeeze isn't just a pretty face.
There are a few things to keep in mind about the interior of the Squeeze Bag: internal zipped compartment is available for storing stuff you won't need to access frequently, which is always a good touch(but equally so they are easily accessible). Since the interior is not lined, the same supple leather is used throughout. Access is made simple but secure by a magnetic closing, and while some people like fully zippered tops, they simply wouldn't suit a bag of this type. I felt the bag sat comfortably under my arm even when I tried it on (in both the small and medium sizes). In addition to the generously soft and slouchy body, the bag's design includes leather piping that gives the base of the bag support and prevents it from sagging.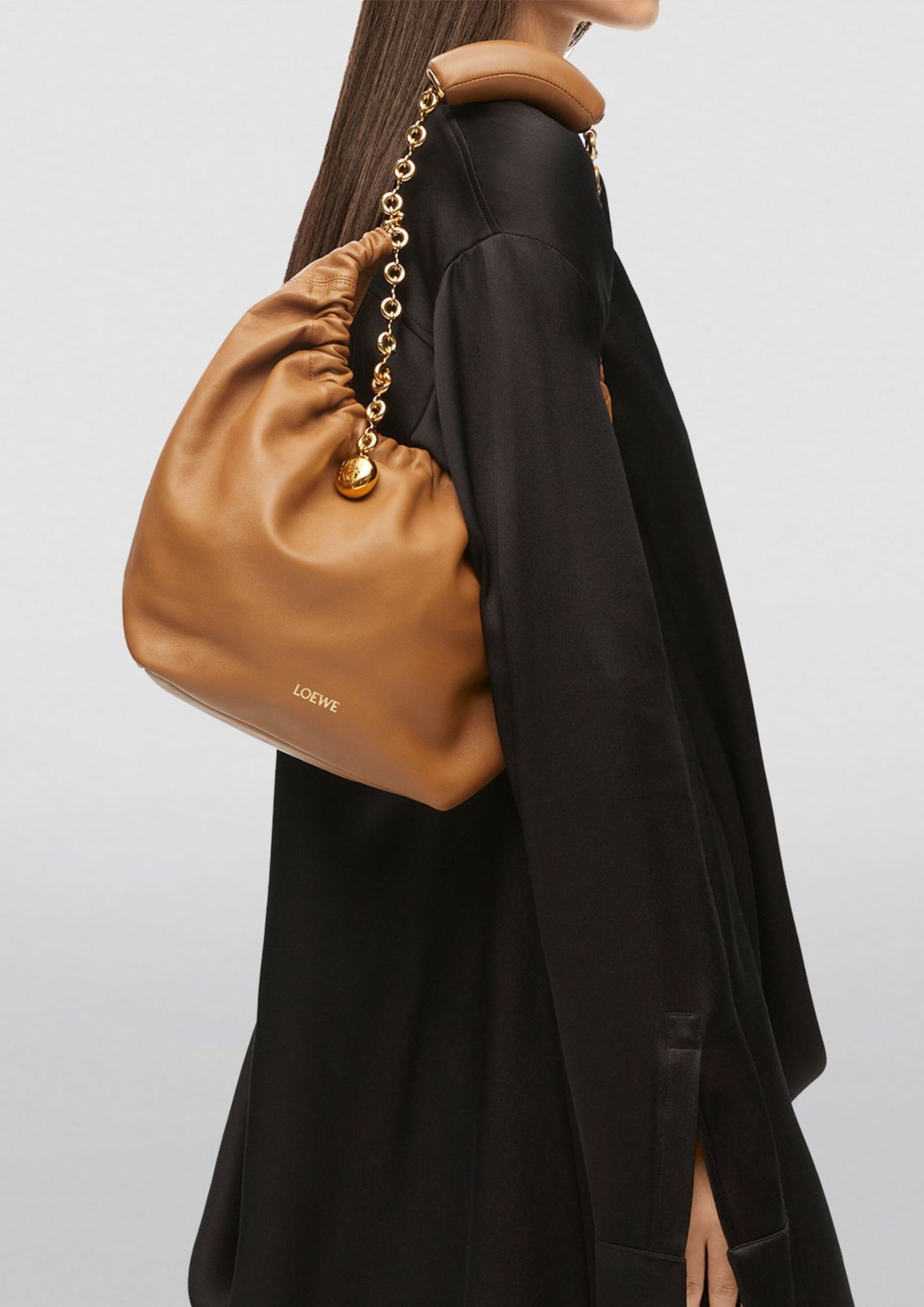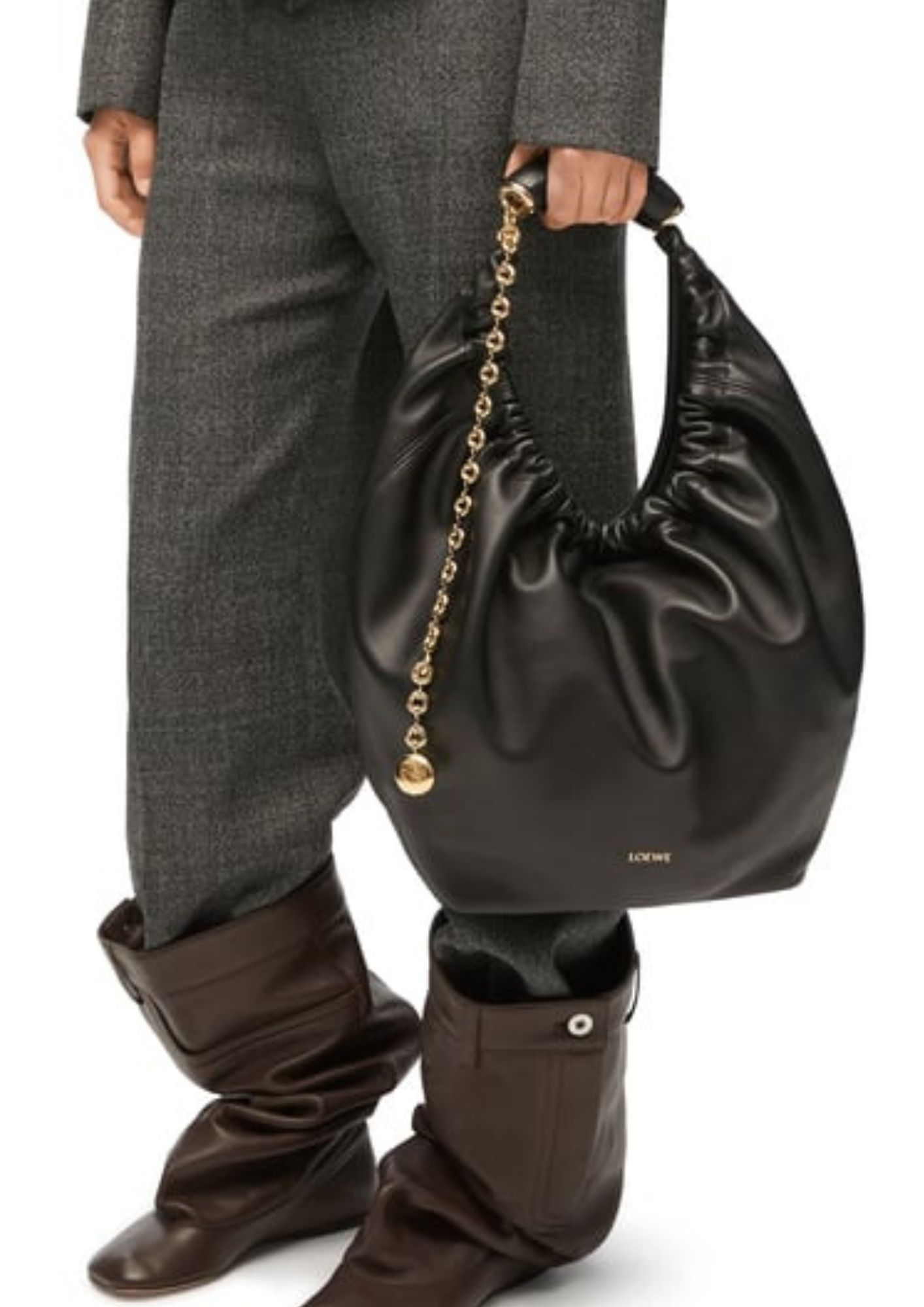 Details:
Shoulder, crossbody or hand carry
Adjustable chain strap with Anagram engraved pebble and additional chain to extend the strap further
Magnetic closure
Internal zipped pocket
Unlined
Gold embossed LOEWE
Size Options:
Small – 29 cm length, 24 cm height, 10.5 cm width
Medium – 34 cm length, 33 cm height, 13.5 cm width
Hardware Options:
Silver and gold-toned hardware
Material Options:
The bag is made from nappa lambskin.
Colour Options:
Small: Chocolate, Olive, Black, Oak, Chalk, Seaside Blue.
Medium: Olive, Black, Burgundy, Oak.
THE NEW BAG WE COULD HAVE SEEN ALL THROUGH FASHION MONTH
What are your thoughts on te LOEWE Squeeze Bag? After the Puzzle which was a huge success I am predicting one to be even bigger one. I am totally in love and will suggest you to brace yourself for a Squeeze Bag take over on the Instagram feeds this winter.
SHOP THE SQUEEZE BAGS