I wander..
Miu Miu's new bag will actually make you wonder how your collection managed without it until now. This bag was presented with actor's Sydney Sweeney campaign in Milan May 5th this year, and just a few months later is one of the hottest must-haves. I of course had to see it in person and immediately fell for it. But before telling you why this item will be on the desired list of every fashion addicted and posted all over Instagram, let's get things into perspective. Miu Miu has recently done a very good job in redirecting our interest on the brand. The Spring/Summer 2022 collection definitely left us a little shook when very low rise jeans and pleated mini skirts were presented on the runway, yet despite the mix sentiments about this early '00s style comeback, Miuccia Prada's message was loud and clear. Miu Miu is cool, chic and very very desirable, just like the new Wander Bag.
click below to get the look
The bag was presented as "a rediscovery and re-exploration of the identity of the brand, through a new perspective". The entire vibe is definitely in line with the energised rule-breaking spirit of a Miu Miu girl. Wander brings the Italian House staple;  Matelessé, to a whole new level. The uniqueness of this effect combines rich texture with impeccable craftsmanship and each strip of quilted material stands out. Having it in both re-nylon and leather option and in a wide rage of colours, it can satisfy whatever desire. To Wander – to roam, to explore, indulge in  curiosity, to discover, that's the inspiration behind it. This bag is simply stylish. The hobo shape such as the golden logo in front perfectly fits the Y2K aesthetic we are, for better or for worse, living once again. It was designed to be worn by an ironic, fun and sensual woman with a glamorous style keeping her bon-ton taste.
Wander comes In two sizes: Mini, with a 110 length shoulder strap (Height 17 cm / Width 20 cm / Length 6 cm) and standard (Height 24 cm / Width 29 cm /Length 9.5 cm) and in two materials: nappa leather and regenerated re-nylon (the re-nylon holds a removable mini pouch perfect for carrying your AirPods)
Matelassé workmanship
Gold-tone hardware
Metal lettering logo on the front
Zipper closure
Cotton satin lining with patch pocket
The bag is produced in many different colours, such as astral blu, black, yellow, pink, beige, white, baltic blue, peacock blue, cognac
click the bags to get your Wander
can't go without your mini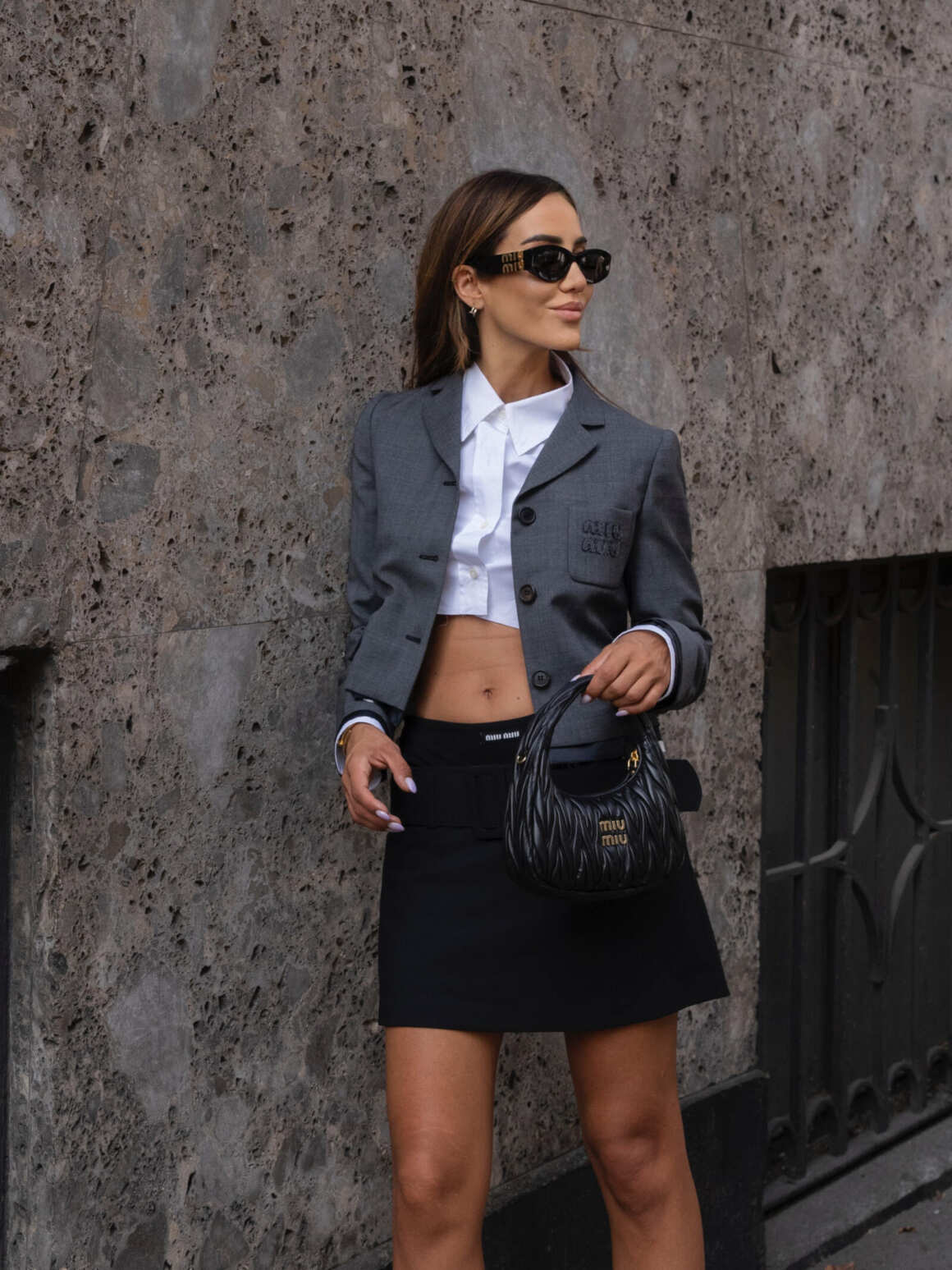 In brief… I love this bag! It's playful and young but because of the Matelassé workmanship and the hobo shape it adds a touch of chicness to my look. I chose the mini black leather version for it's versatility but I'm totally fond of all the color options and can't exclude to get one more, maybe in the bigger size! This Miu Miu is a real wander, and I advise you to check it out since it's going to be a very hot-must-have-piece.