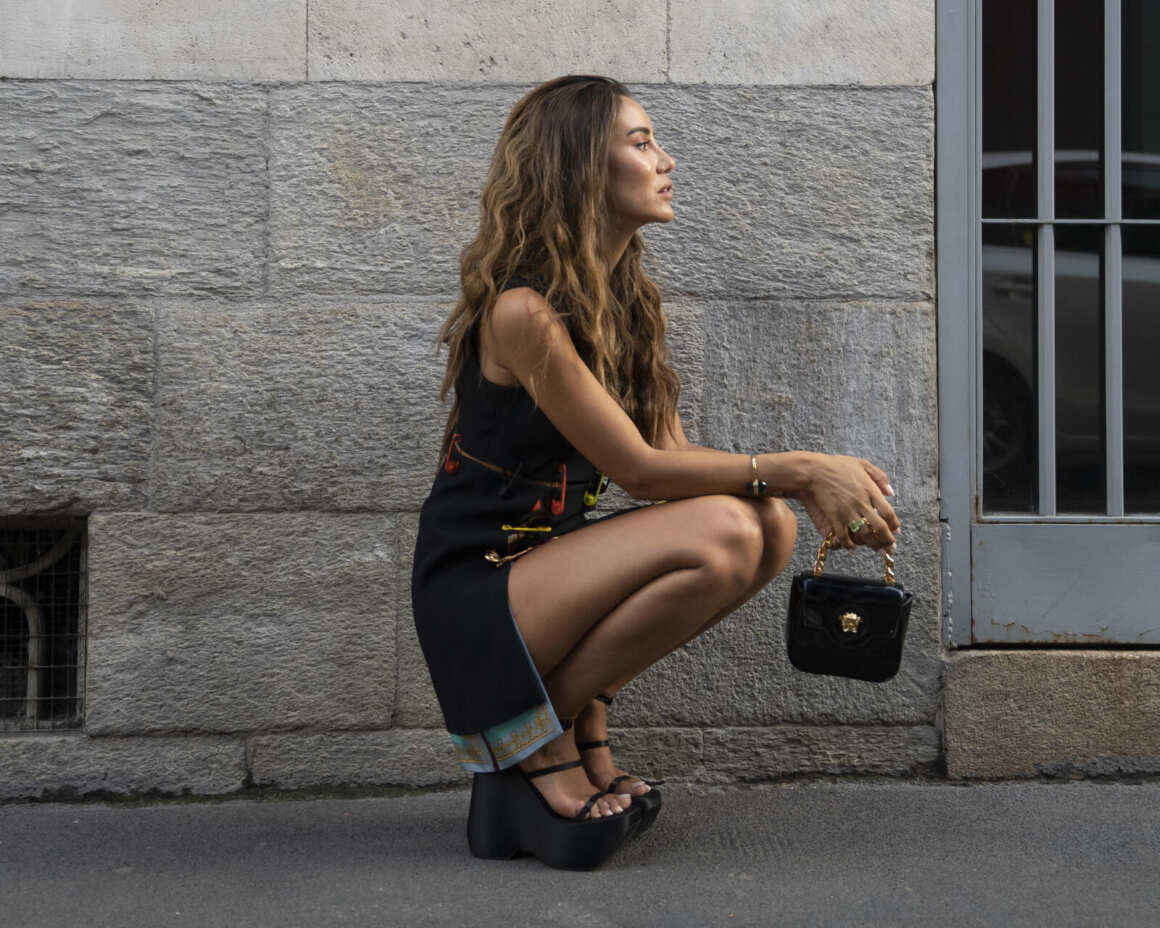 Platform fans, I bring good news ! Platforms are back in fashion, and there are plenty of designs from which to choose. I am a declared lover of Valentino's TAN-GO platform pumps, but houses like Saint Laurent, Versace, Prada and other like Nodaleto have also released super chic designs. Let's discover them together !
Experts say that in times of crisis, heels rise, and the post-pandemic is no exception. According to Elizabeth Semmelhack, author of Heights of Fashion: A History of the Elevated Shoe, heels grew during the Great Depression of the 1930s, with iconic models like Salvatore Ferragamo rainbow platform shoes for Judy Garland, the oil crisis of the 1970s and the recession of 2007, as an expression of a need of escapism. Diet Prada made an echo of this parallelism in a post last year, and it seems like 2022 is going to be the year where this trend explodes. As we go back to normality in a time of recession, experts believe that the search for exuberant looks is a way to counter that.
Valentino's TAN-GO
Valentino's Spring/Summer 2021 show in Rome last January, with glitter, metallics and super high platforms in the centre, expressed this desire of travelling to the future. Their platform shoes, which took many by surprise, anticipated something we will see more next season, and I am super excited about it. The brand's new version of the Maison classic TAN-GO goes bold, rising higher with retro platform heels. As I showed you on YouTube when I went shopping at Valentino (click me on the right to see it again), the TAN-GO are available in neutral tones, like black and white, and in bright colours like pink, which looks great combined with the same shade of tights.  
The TAN-GO platform round-toe pumps feature an ankle strap with an adjustable VLogo Signature buckle fastening and a leather-covered platform of 55 mm and block heel of 155 mm. 
ARE YOU ALSO A FAN OF PLATFORMS?
CLICK BELOW TO GET YOUR TAN-GO!
ELEVATE YOUR MARY JANEs
Also known as bar shoes, Mary Janes take the name after a cartoon character that the Brown Shoe Company of Missouri used in 1904 to promote the brand. Since then, they have become a classic that gives a girly touch to any look.
If you want to get the 70s look you never got to live, platforms shoes will be your ally this coming season. I'm in love with my pair from Valentino, and I can't wait for consistently good weather to wear them more, although they look great with tights too. Platform shoes are very versatile, especially in neutral colours like my black TAN-GO, as they elevate your look whether you are going on a night out or meeting friends for lunch. I wore them for NYFW with a spectacular Oscar de la Renta in green and black tights, which looked fab, and I am looking forward to pairing them with the black layered wool dress from Valentino, that I bought in Milan, for a more preppy casual look. There is no doubt , bar shoes can give away a sense of innocence, but this year, coming in platforms, they will have the opposite effect. They are an elegant and feminine way to spice up any look and gain some centimetres while allowing you to move around comfortably all day long. They might seem like a lot, but like any trend, the bigger it gets, the more comfortable you feel following it, and I assure you that you won't stop seeing them this 2022!
Although Valentino already included super high platform shoes in their Spring/Summer collection for 2021, it was in the SS22 runways that chunky heels boomed, with many brands jumping on the bandwagon.
click below to get your platform Mary Jane
BACK IN TIME
Whether they are a reaction to the pandemic or not, they are a nod to 70s fashion, which is today's nostalgic era for inspiration. Platform shoes became the leading trend in footwear in the "swinging 70s" with the arrival of disco, and Elton John and Mick Jagger, among other Rockstar, began wearing them on stage. Although at first, the platforms that are taking over next season look very high, their chunkiness provides stability and comfort, making them the perfect bridge between the flats that ruled during the pandemic and high heels.
This 2022, many brands have joined the revival of the 70s, and platform shoes are going to be a crucial piece to nail the look.. like these Prada ones. First shown on the Fall '21 runway, they have sleek, streamlined shafts and split platform soles, perfect for every occasion !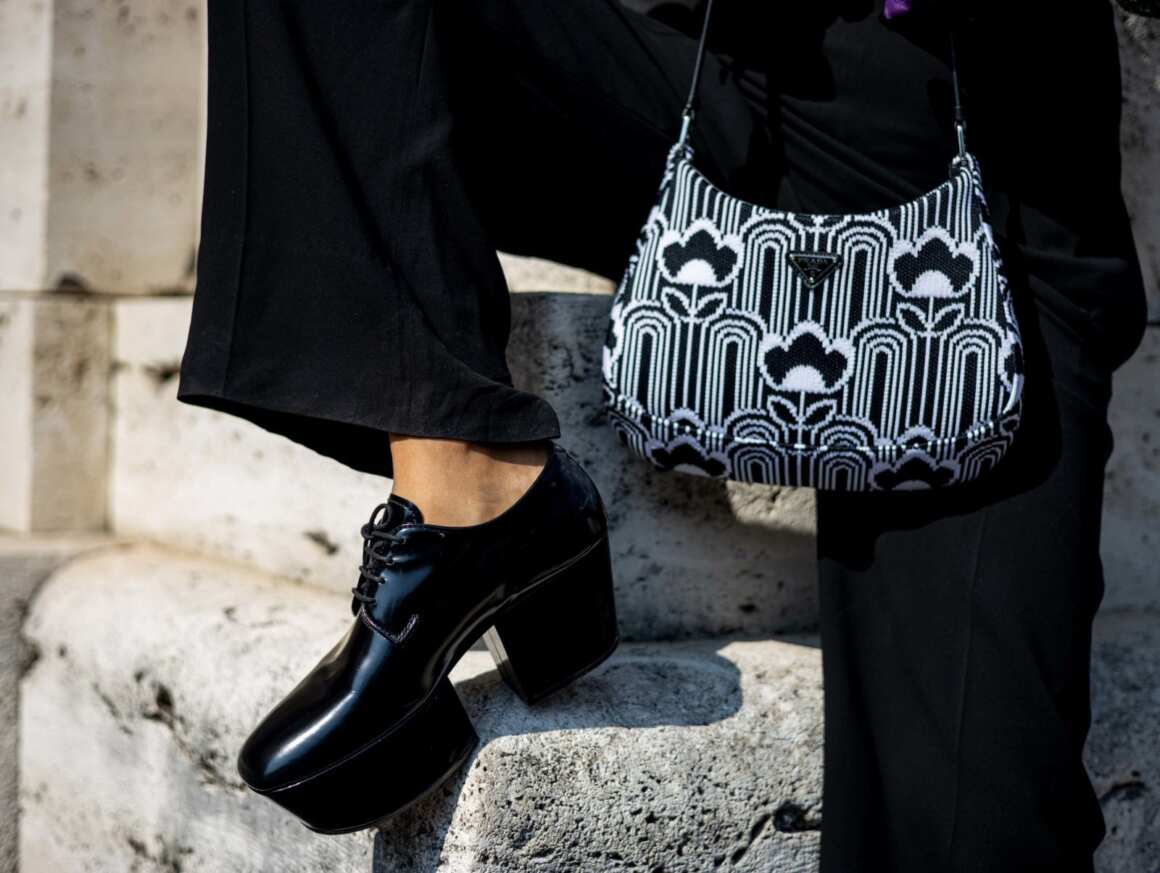 click below to get your Prada platform shoes
THE VERSACE WAY
How could we not mention the Versace's version of platform shoes ? The Italian brand vision for this shoe trend is definitely the right choice if you want to immerse in the 70s aesthetic. There are plenty of models to choose from; sandals, mules, open toes… all rigorously with sky-high platforms! Moreover if  you're not afraid of bright colours, there are so many shades to choose from!
They might seem like a lot, but like any trend, the bigger it gets, the more comfortable you feel following it, and I assure you that you won't stop seeing them this 2022!
discover Versace's platforms
click below to get your shade Medusa's pumps
NOT CONVINCED YET ABOUT PLATFORM SHOES COMING BACK ?
After the 70's, in the 90s, platform heels and boots became a synonym of The Spice Girls, with Ginger Spice rocking a design in red PVC with her Union Jack dress. Again, by the mid-2000s, the trend came back after designers like Alexander McQueen featured platform shoes in their collections and celebrities like Lady Gaga started wearing them. This 2022, many brands, like Acne, Saint Laurent and Coperni, have joined the revival of the past! To sum up .. some of us may not fully embrace this trend but there is now doubt that it's here to stay a bit longer!
click below for all the platforms you deserve !
AFTER A TRY I'M SURE YOU WILL LOVE THEM AS MUCH AS I DO!