In SS22, expect to see everything sequined and sparkly, from dresses to shoes and even make-up and hairstyles. This year is all about optimism!
If you're looking to sparkle, you're in luck. One of the fashion trends that started in 2021 and will prevail through 2022 is the love for sparkles, glitter, shimmer, metallics and anything that shines bright. This year is all about celebrating, day and night, and sparkles won't be secluded to nightlife anymore, get ready to see them all day long. Everyday glitz will be the norm!
A "little" intro
Like platform shoes, sparkly clothes are taking 2022 by storm, breaking from the monotony and sobriety of the pandemic, and I couldn't be more excited! In case you didn't know, I love sparkles, but I'm not the only one. The endless attraction of shiny clothes has been in constant return since Paco Rabanne's avant-garde paillettes in the 60s.
It started in the runways for Fall 2021, with Michael Kors's 40th-anniversary collection featuring Naomi Campbell, Helena Christensen and other supermodels in sparkling coats and dresses made of reflective materials. But not only him, almost every top fashion designer responded to the pandemic with lots of shine, anticipating what would become 'the trend' in September. Dior, for example, went for a Disco-inspired show in Shanghai, with dazzling garments as the common denominator. Later on in the year, for their SS22 runways, Rodarte, Brandon Maxwell and Michael Kors, made of sequin the star. But the enthusiasm for sparkle didn't end in New York. Dolce & Gabbana, for instance, showcased metallic skirts, twinkly dresses and Y2K chokers, which the memorable Fendi-Versace switch-up also featured.
But if it wasn't enough, sparkly dresses and metallic garments also stood out at the Met Gala. In line with the theme In America: A Lexicon of Fashion, attendees took inspiration from Old Hollywood looks and icons and the more-is-more approach. Zoe Kravitz and Kendal Jenner left no one indifferent when they walked down the red carpet wearing naked dresses decorated with crystals, which, since then, have become a big sensation. Crystalized clothes and shiny garments were one of the Noughties' biggest trends, providing iconic looks like Paris Hilton's rhinestone birthday dress by Julien Macdonald. It is no surprise that, likewise many 2000s trends, they have made their comeback, and even athleisure wear brands are incorporating this trend.
EXCITED TO SPARKLE ? THESE ARE SOME OF MY FAVOURITES SO FAR !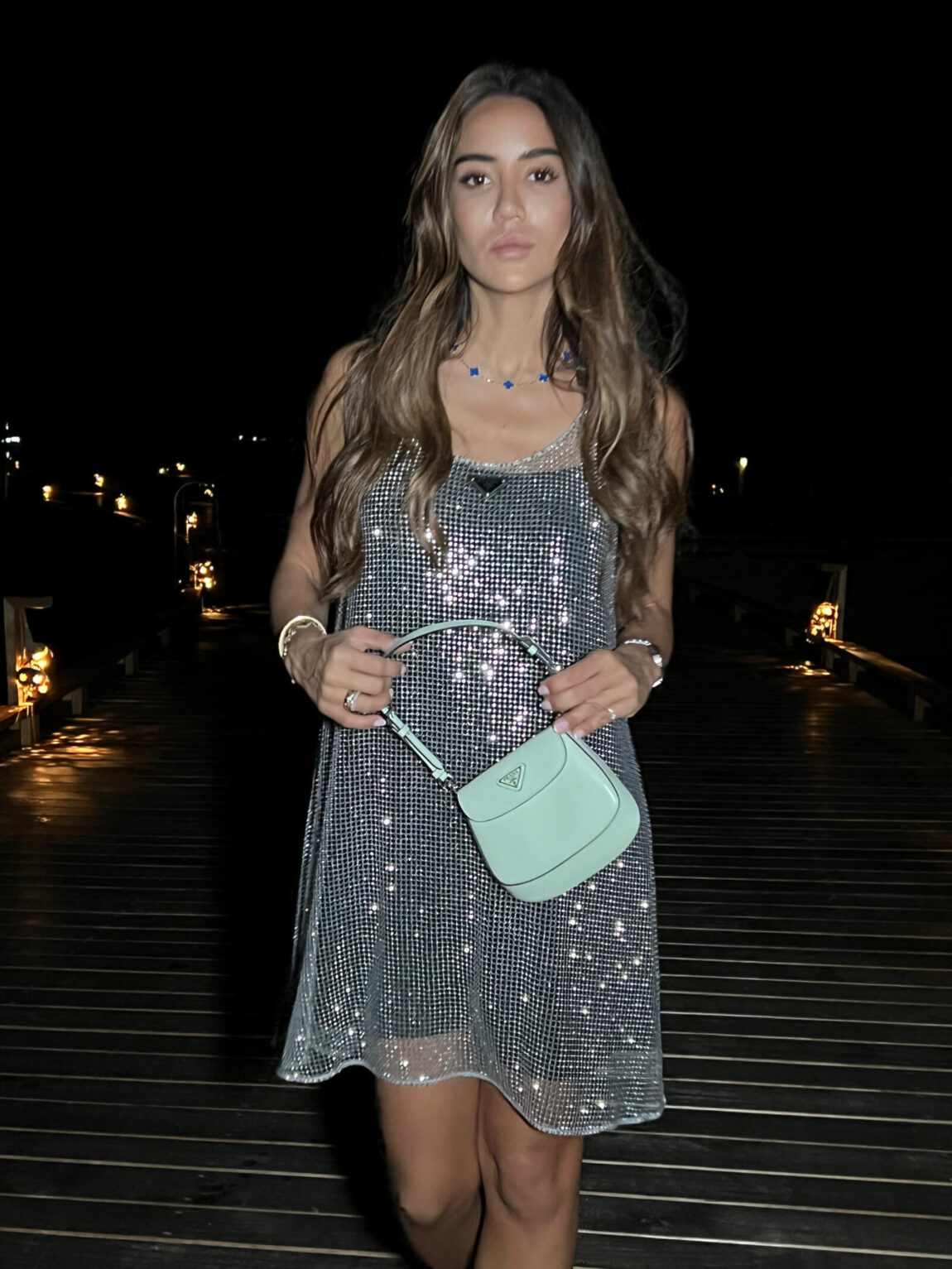 Prada Rhinestone Embroidered Mesh 
The faceted crystals add sparkle to this mesh top and mini dress that perfectly represents the duality of Prada's latest collections. You can combine the dress with sneakers or loafers for a casual look or with heels for a night out. 
Although mesh and crystals don't sound like a comfortable combination, this Prada dress and the top version are, thanks to the black slip dress that comes beneath. That is why they both are the perfect embroidered piece to give the sparkle trend a go!
click below to discover more
 S
anta Brands Dresses and Matching Sets
Inspired by bold and bright 2000s aesthetics,  Santa Brands is an Ukrainian party wear label. Their designs are playful yet classy, sexy yet nonchalant. Their dresses and matching sets adorned with decorative crystals are the epitome of the sparkle trend.  If you want to shine and get people's attention on a night out, Santa Brands is your best ally. 
click below to discover more
Jimmy Choo Bon Bon Embellished Satin Bucket Bag
The metallic loop handle and the dazzling crystal embellishments on the colourful satin base take the iconic Jimmy Choo model to another level, embodying the name to its fullest.  A bag that could be considered a piece of jewellery and arm candy at the same, and that will make you shine bright !
click to discover the Jimmy's sparkles
Jimmy Choo Scotty 110 & Saeda Pumps
I got the Scotty Mules for Christmas, and I couldn't be more excited! A crystal chain, made with thousands of tiny gems, falls over the black suede heel and tip, creating a beautiful shiny coat.  They are extravagant but delicate at the same time and have the perfect height to wear all night long.
As for the Saeda which are one of my latest obsessions, you can definitely say they merge the lines between shoes and jewellery, with a delicate crystal chain that suspends a single crystal and gently adorns the ankle like a tear of sparkle.
Prada Cleo Embellished Shoulder Bag
Cleo, one of my favourite bags from Prada right now, has also joined the trend of the moment. We all loved the classic Cleo which reinterprets an iconic design of the 90s with its curved  lines, but this version is to dye for.  Covered in gemstones, it is the perfect accessory to spice up an all-black look. My favourite thing about it is its versatility, as it is practical to wear during the day and carry your things around, but also super chic for a night out.
Properly combined, sparkles will add the right amount of shine to look sexy and glamourous. Maybe because of their light-reflecting property, crystals seem to flatter everyone. However, you don't have to go for the whole look if you don't feel like it. You can start with small doses by mixing sparkly pieces and accessories with everyday staples… like the ones below
click below to get your dose of sparkling Prada
Yves Saint Laurent 68 Boots in Mesh with Rhinestones
It's hard to top the glamour of a fully crystal-embellished piece, and YSL boots are one of my favourites. They have an almond toe and a slim covered heel. The mesh is decorated with suede details and rhinestones. They are beautifully done, adding a subtle spark for a glamorous and sophisticated look. 
click to get all the YSL sparkle
WHAT ARE YOUR THOUGHTS ON THESE SPARKLY ITEMS? DO YOU LOVE THEM AS MUCH AS I DO?
I have shown you a dress, a matching set, a couple of shoes and a couple of bags, but the sparkle trend goes way beyond. This 2022 prepare to see crystals, glitter and metallics everywhere, not only on clothes and accessories. Make-up artists and hairstylists have also jumped into the bandwagon, adding sprinkles of shine to their creations. If you are lost in that department, the beauty looks from the last Met Gala and the TV Series Euphoria are good inspirations.
Click to discover a lot more !