And just like that it's time to say goodbye to another year. If I'm completely honest, I was putting away the text writing part of this blog post for a little while. Why? It's hard to explain, but it's a difficult year to review, it was my most successful year to date on so many levels, achievements that I still cannot believe have happened, incredible personal growth and settling in my relationship which is flourishing every day, but also some dark moments followed by violation of my privacy and personal space back in July. It was a year of contrasting, and when life gives you contrast, it means It's time to grow, isn't it? Now let's go into all the individual details of what 2021 was like for me.
We entered the second year of pandemic, which to me personally felt a little bit softer or I just got used to the new world, not sure which one it is. Every year I like to write few notes about what happened globally so that when I am remembering stuff, I can relate events to my personal events and that way connect things a little bit better. This was a year of Britney getting freed, year of Kim K wearing all black to Met Gala, year of Squid Games but also year of Gucci Balenciaga Collab. It was a year of vaccines, should we, should we not, ok we did it, it was a good idea. A year of Euro cup and a year of TikTok – there I say.
Would I be judged if I tell you I travelled the most this year, not for pure pleasure but because my base changed. I went from being in Paris to not having one base, but three. I was now constantly moving between Paris – Milan and London. London is where my company is based and where I feel the most at home, Paris is where I love it, everything seems so familiar, like a city that shaped me into a person I am today and Milan is my sweet crush, place where my agency and friends are, I am learning Italian and bonding with my Italian family more than ever. I made many new friends in Milan and that is another thing to be grateful for in 2021 (I even caught the flowers at a wedding of my friends in Como).
When it comes to my career what a year of highlights has it been. In March I reached 1M followers, I remember like it was yesterday, my boyfriend was on a work trip, and he called my team to organise flowers, cakes and candles. It felt massive but also normal because it's something I worked towards for years. I worked harder than ever producing reels and content, some of which have 10million views, this number always blows my mind. This year I also managed to achieve some things that I dreamt of for so long. Fashion Weeks are important for my direction as I like to work in the high fashion are of this business. For the first time ever, I attended shows of: Prada, Valentino, MiuMiu, Saint Laurent, Giambattista Valli, Acne Studios, Elie Saab while keeping my good old favourites such as Louis Vuitton, Dior, Versace, Fendi and many more.
Start of working relationship with Valentino was something that gave me a lot of joy as I truly love the brand and have been wearing their pieces for so long. Prada and MiuMiu are always so innovative when it comes to influencer relations that I feel super privileged to be on their radar. I went on few trips with Louis Vuitton, including the one to Monaco which was one of the most exclusive trips for High Jewellery I ever attended. Even Chanel reached out to me this year, they took me on a magical trip to Grasse where they showed me how they make iconic Chanel N5. Being one of the only 5 influencers to attend Fendace show in Milan and see Kate Moss and Naomi walk was again a massive highlight of the year, this show made me fall in love with Milan even more, specially as it was at Donatella's house. Towards the end of the year, I started working with Gucci one of my favourite fashion houses that was always so high on my goals list. It's not a secret that I love Hermes, and when this historic French house invited me to come and see their workshop outside of Paris and see how bags are made and repaired, I almost lost it – that was my equivalent of Disneyland.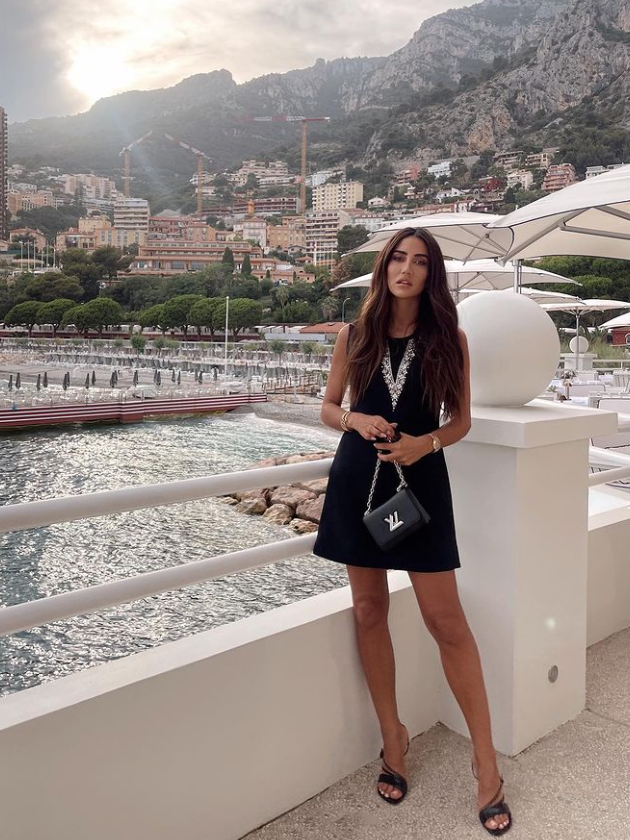 I know you guys love when I discuss some numbers so let's go into the details. I started the year in Costa Rica and after that took around 55 flights this year. That isn't much comparing to my old 80-90 yearly quota, but it's very optimistic considering that this year I had more work than ever and visited after a while Los Angeles, Iceland, Denmark, and for the first time ever visited Miami, Doha and St. Barth's. It's always exciting to add new places to my map. Financially this year surpassed my goal by 30% – something I didn't expect at all, but it's because I diversified my sources of income something I like to speak to you guys a lot, that even young people in their 20ies can make small investments that later in life can prove to be very wise.
Besides the trips and attendances of incredible fashion week events I have to mention my collaborations with Chaumet, Fendi, Dior, Louis Vuitton, Prada, Valentino, Valentino Beauty, MiuMiu, Missoma, Moncler, YSL Beauty, Kerastase, Armani Beauty, Louboutin Beauty, Carolina Herrera, Net-a-Porter, Mytheresa, Dyson, Armani, Jimmy Choo, OffWhite, Ole Lynggaard, Michael Kors, Casadei, Falliero Sarti, Tom Ford and many others is what really made me proud of my portfolio, not to sound too braggy, but honestly it made me think what could be next, there aren't that many brands left on my list that I would dream of working with – I am proud of being one of the few influencers that has such a rich list of luxury clients, which is probably why I was named in the Top10 Influencers leading the Luxury Fashion and Beauty industry by Launchmetrics, next to some incredible names.
The highest high of my career to date was this year's Cannes Film Festival. It's strange because it came right after a difficult moment which I will discuss at the end. Somehow it all came together, I was staying on a most incredible yacht with friends, going to amfAR and attending several red carpets where photographers were shouting my name and I was wearing dresses from brands like Alessandra Rich and Oscar de la Renta. After that the ball started rolling it was one success after another, soon I was on the cover of September Issue of Elle Serbia, I was named as top 30 most influential people in showbiz in and kept breaking my own records with numbers and lists which mattered the most in the industry. I was wearing most avant-garde OffWhite dress by Virgil Abloh in Doha – at the Fashion Trust Arabia event, and I will cherish this moment forever.
Which brings me to the slightly more challenging part of the year. December was very tough as the sudden death or Virgil happened. I have to admit it was devastating as we just arrived in Miami to celebrate his creativity at the Louis Vuitton Men's show which turned into a tribute. There is nothing worse than losing people, and I think that this really opened my eyes to tell people around me every single day how much they mean to me.
Another personally challenging event for me for the break into my Parisian flat. The violation of personal space, feeling of constantly being unsafe and having to work with personal security was something new to me. I lost many of my cherished belongings, but that wasn't the worst. I lost the feeling of safety; I lost the trust in human species, and I felt betrayed. What followed that was leaving the apartment, I felt so unsafe and so sad to leave the home I loved so much. Why did I have to leave I was wondering, I couldn't focus and decide where I wanted to go next and I kept wandering for few months from hotel to hotel, which felt sad and empty. Few months later I am happy to say I am in a place more beautiful than ever; I feel loved and respected. I feel that things are really falling in place.
We already closed many incredible long-term deals with some of the most prestigious brands for 2022 and I cannot tell you how proud that makes me feel.
2021 was year of lessons and I am ready to implement them all in 2022 to continue my growth and to enjoy the journey. That is one thing we absolutely must do. At the end of this year, I would like to wish you incredible moments full of love, health and inner peace, those 3 things are most important. Once you have them, everything else comes so easily.