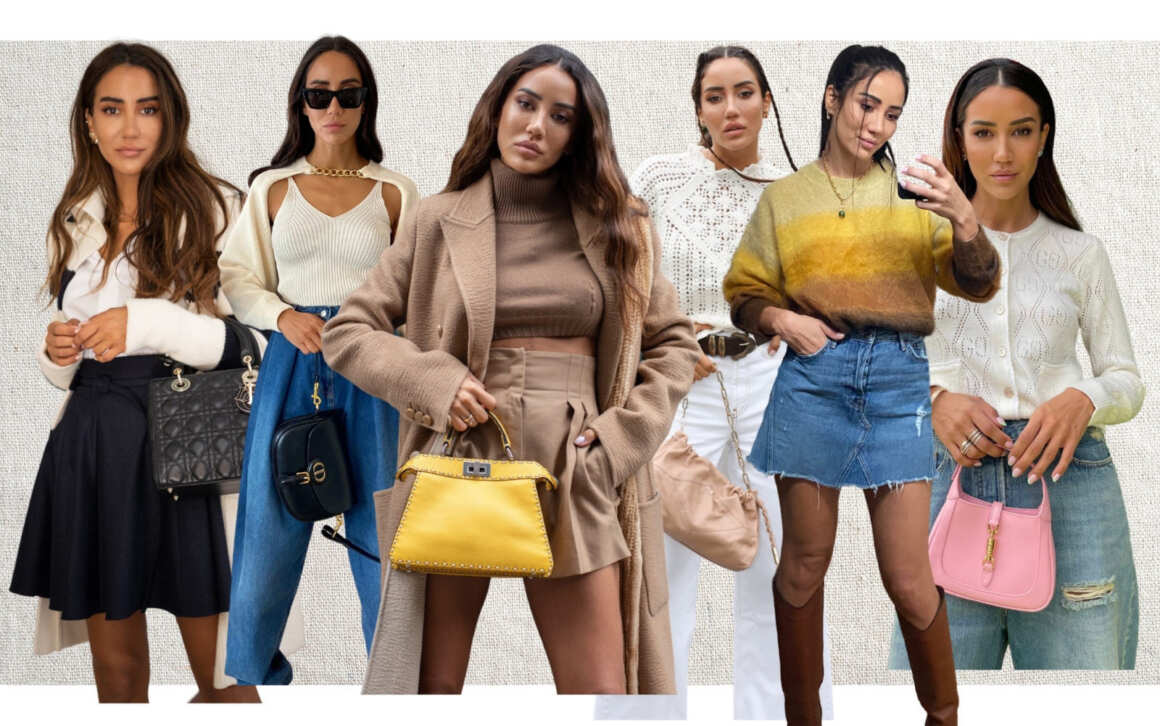 I really can't stay … but baby it's cold outside! It may be too early for Christmas songs but it's certainly not too early for sweaters. The beloved sweater season is upon us. That means it's now on trend to wrap yourself up in reams of wool, cotton (or another snugly fabric of your choice) and brave the cold.
Sweaters, while they may seem like a mundane garment selected purely for warmth, can help you rack up some serious autumn/winter style points. And, far from just being that piece of clothing you're forced to wear as a child to keep you warm, sweater offerings this season are varied and covetable. And I'm here for it!
In this post, I'm going to take a look at my most cherished options for sweater season.
Bottega Veneta Jumper

With billowing sleeves and a turtleneck, this Bottega Veneta jumper will make a statement piece in any autumn/winter wardrobe. The shetland wool material hugs the skin for a fitted look. The buttons along the turtleneck make this style extra versatile since it can be worn multiple ways. It's great to wear with wide leg trousers, bold jewellery and an 'It' bag for an oh so elegant look.
Favourite Bottega Veneta Knitwear
Fendi Cashmere For Ultimate Luxury
Sweaters don't have to be enveloping garments. Skin tight cropped styles can provide you with all the warmth and comfort of the more typical baggy sweater type. Fendi's cashmere pullover is the perfect example. Made entirely from cashmere, the jumper features a ribbed turtleneck and cuffs and pairs perfectly with high waisted bottoms and a trench in equally desirable shades of autumnal brown.
Gucci Houndstooth Wool Cropped Cardigan
The epitome of chic '90s glamour, this cropped perforated logo patterned cardigan is the ideal light sweater boasting maximum versatility and style. Wear with jeans and an 'It' Gucci bag (I recommend the Gucci Jackie 1961) for a chill-proof everyday look or match with a mini skirt and jewels if you want to go full luxe.
I wear it layered or by itself and thoroughly enjoy having it in my wardrobe as a staple, but also a piece that is branded – though not too flashy. Gucci for the win (yep, trust me they are having such a crazy come back).
Jacquemus La maille Asco
If you like the cut outs and different styles this will be your favourite
Standalone piece of art
This is probably the most striking sweater which made the cut. Jacquemus' design incorporates cut-outs, a collar and wide v neckline, in addition to a wrap detail which ties at the front. The result is an eye-catching and sleek piece which is set to be the focus of any chic AW21 look.
Acne Studios Chunky Sweater Vest

What would a lineup of top contenders for sweater weather season be without a sweater vest? Acne Studios' take on this age-old preppy style has an almost grunge-like appeal (well, as much as any sweater vest can).
If you like a bit of colour I recommend the purple or lime coloured vest
The hem sports a purposely unfinished look and the sweater's oversized finish is perfect for care-free autumnal style. Pair with chunky jewellery for the ultimate fashion girl off duty look this season.
Prada Jacquard Shetland Wool Cardigan
We've all heard of the ugly shoe trend (there are no shortage of examples). But another seemingly 'ugly' style which the fashion crowd loves is the ugly sweater trend.
You can even match it with the same print Cleo Bag
Versatile and preppy, it's a knitwear staple for sweater weather. Prada's design features geometric jacquard motifs in black and white and a new knit interpretation of the house's iconic triangular logo. It's fashion-forward and perfect for those lazy autumn/winter days.

Ba&sh Aste Crochet Jumper
Crochet was big last summer on dresses and swimwear but its popularity appears to be transferable across seasons. The traditional garment making technique is proving covetable on sweaters. This crochet jumper is befitting of chilly autumn days roaming around Paris. It's the perfect addition to an all white ensemble and exudes a romantic old-timey elegance. Inspired by Victorian lace blouses, the design features a high ruffled neck and floral detailing on the front.
Which knit trend will you buy into this winter?