Prada's spring/summer 2022 ready-to-wear offering is the archetypal Prada uniform of summer.
Boasting clean-cut lines fused with energetic colours in a style the Italian fashion house has become famous for, the new collection reinterprets Prada's signature aesthetic in an exciting way.
Designed by co-creative directors Miuccia Prada and Raf Simons and debuting in Shanghai, China, the event marks the duo's first destination show.
A show also took place simultaneously at the Deposito of the Fondazione Prada in Milan. Video screens were present at both shows displaying the corresponding runway.
This not only helped bring two fashion scenes from around the world together but demonstrated Prada's influence on global fashion.
In Milan, myself and the rest of the Milan Fashion Week set have been gawking at the Prada installations which have been erected throughout the city. Prada has printed glorious patterns onto building façades across Milan along with the slogan
'FEELS LIKE PRADA'.
In this post, I'm going to review pieces from this new Prada collection and explore which styles are making it onto my wishlist.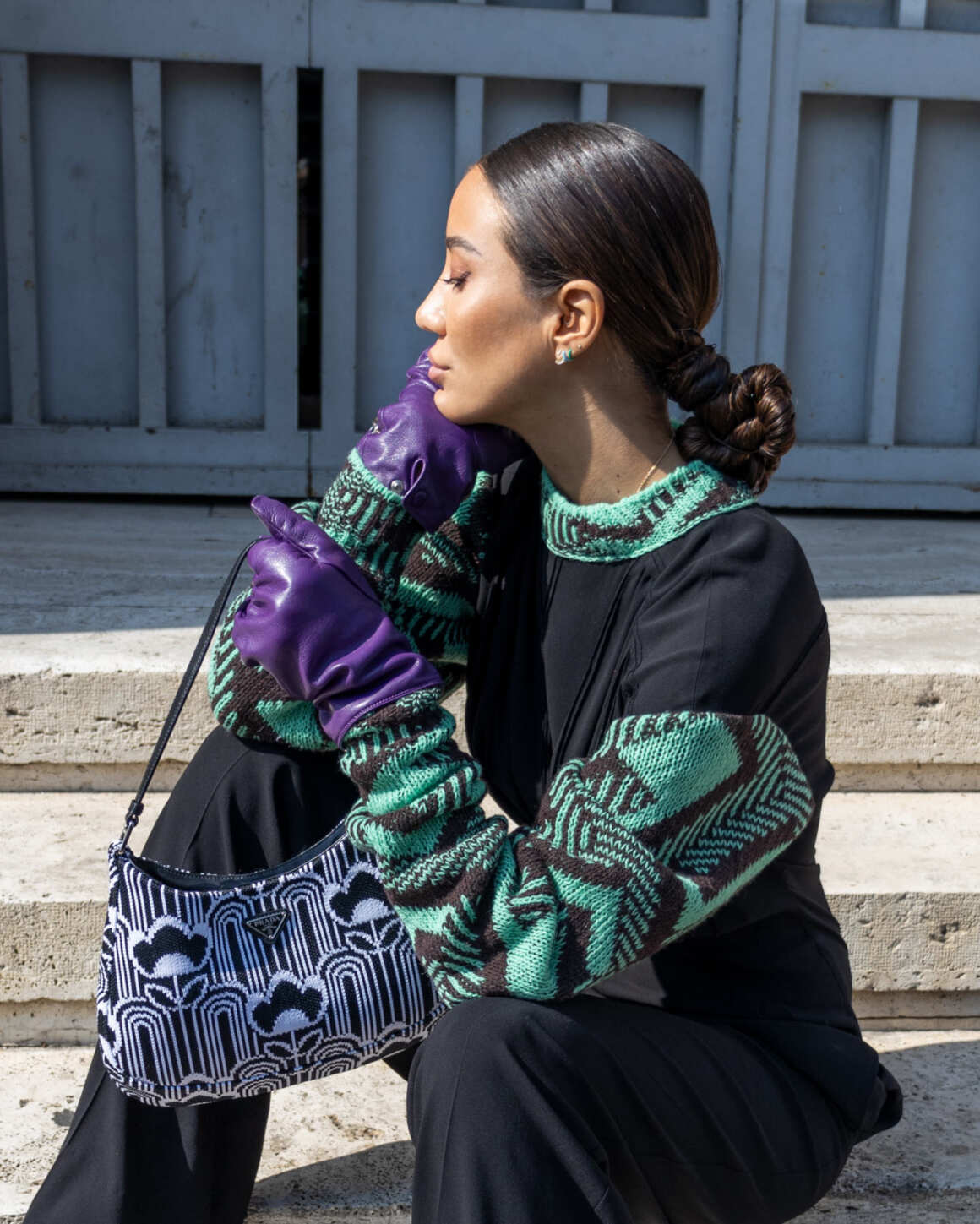 I wanted to carry a Prada classic.
And what better choice than Prada's newest staple bag,
the Cleo.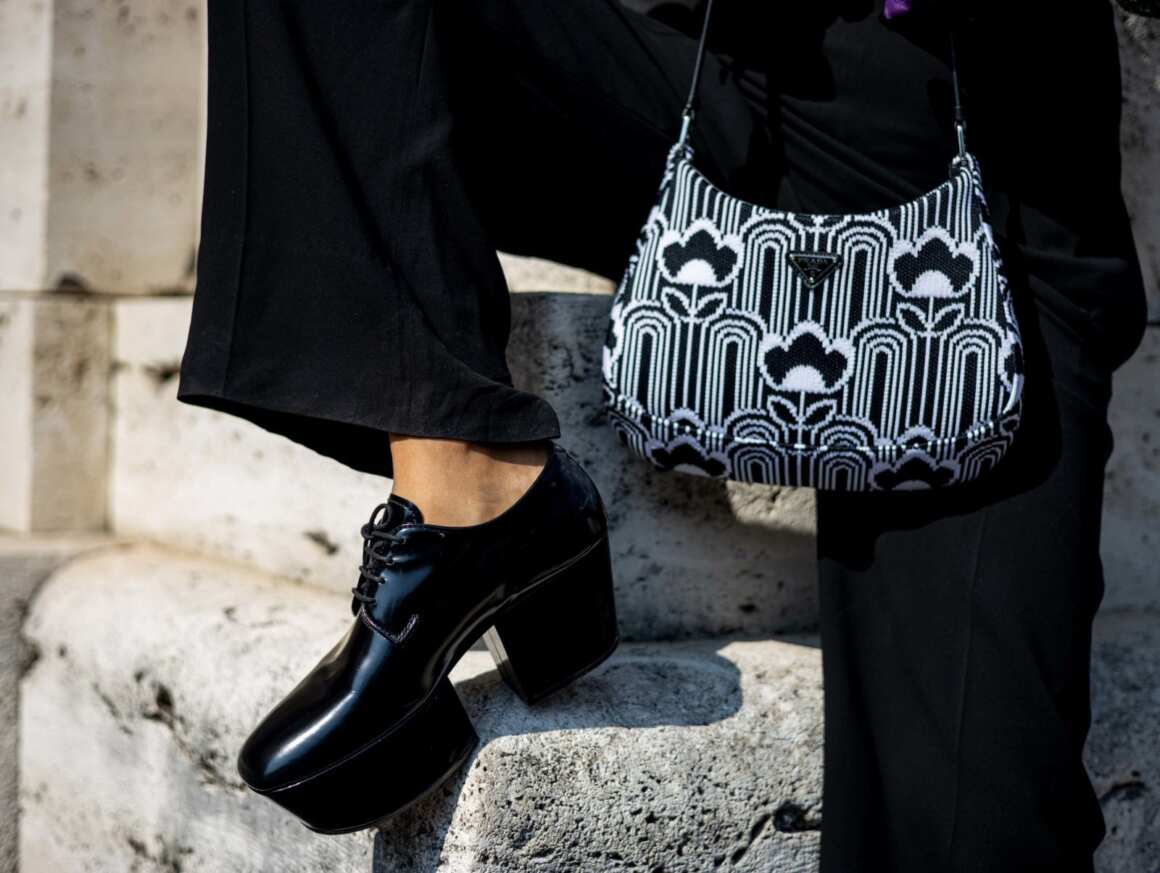 My Prada Cleo jacquard knit and leather bag from the autumn/winter 2021 collection is adorned with black and white flower motifs.
I paired this statement bag with a classic pinstripe suit with cropped sleeves.
Now onto the new offerings for spring/summer 2022.
A key component of this collection is the pairing of intensely vibrant colours with monochrome tones to create looks which can only be described as uniquely Prada.
On the runway, models wore brightly hued orange, pink and lime green mini skirts featuring thin trains flowing behind them with grey collared tops, turtlenecks and oversized black leather jackets.
credit - courtesy of Prada accessed via vogue.com
Heavy-duty leather biker jackets and collared dusty brown designs reminiscent of old-style jackets pilots used to wear were somehow made to look as sharp as any blazer I've ever worn.
In my mind, leather jackets have now earned their place as an unlikely staple of the Prada uniform for next summer.
credit - courtesy of Prada accessed via vogue.com
credit - courtesy of Prada accessed via vogue.com
Providing, of course, they're paired with dazzlingly colourful accessories.
Loose, untied corset detailing features on tops in the collection, creating a rebellious look still in keeping with Prada's stylized and smart aesthetic.
Shop some of my Prada favourites
credit - courtesy of Prada accessed via vogue.com
One ensemble which I can picture myself donning as elegant casual attire come summer is a belted vest and shorts combo which appeared on the runway in bold shades of green and red.
The Prada logo features on the vest and belt buckle, another nod to Prada's utilitarian style.
You know when you get dressed half asleep in the dark only to leave the house and realise that your dress is on backwards.
Models strutted down both the Milan and Shanghai runways in silky pink, orange and acid yellow dresses buttoned up backwards.
Except the dresses were largely left open so were essentially open-back.
credit - courtesy of Prada accessed via vogue.com
These styles are cinched in at the waist via a kind of drawstring detail which, along with the midi length, create an oh so elegant silhouette.
Many of the designs are adorned with Prada's triangular logo badge and some feature folded triangular flaps, another nod to the house's famous emblem.
One of my firm favourites is a sand coloured style which even features a collar on the back.
credit - courtesy of Prada accessed via vogue.com
One acid yellow design was paired with a cherry red top handle bag to create an exceptionally striking look.
credit - courtesy of Prada accessed via vogue.com
One accessory in particular which has caught my eye (and most probably earned a top spot on my spring/summer 2022 hot list) are Prada's pointed-toe shoes.
The spring/summer 2021 collection was rife with shoes so pointy they could technically be classed as weapons.
But for spring/summer 2022, Prada and Simons take pointed-toe shoes to the next level.
From flats to kitten heels, there was nary a single piece of footwear on the runway which wasn't dangerously sharp.
 Sleek oblong shoulder bags and vertical rectangular top handle styles appear in cherry red, along with the now classic Prada Cleo.
credit - courtesy of Prada accessed via vogue.com
Other standout accessories include ultra thin rectangular framed sunglasses which exude an ultra futuristic feel which is just so Prada.
Are you a fan of Prada's new spring/summer 2022 collection?
Can you pick a favourite look?