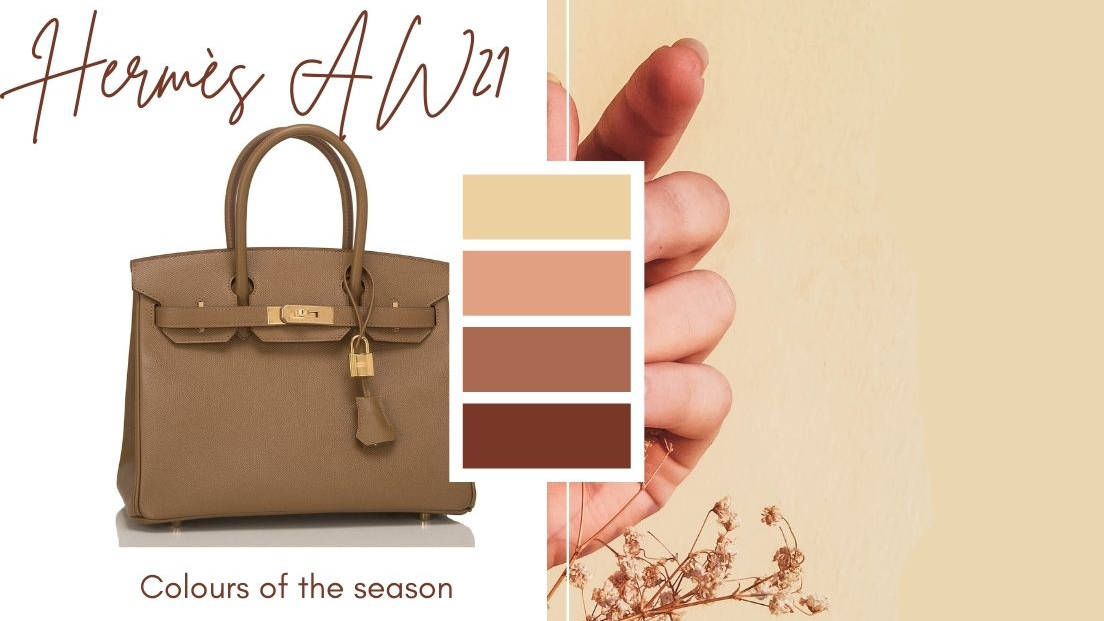 Ever since starting my Hermès collection I've been a fan of the brand's rich and grandiose colour offerings. Of course, the house's neutrals are beautiful and pair so elegantly with the classic appeal of Hermès' iconic bags. But colourful versions of Hermès designs typically make it to the top of my wish list first.
And for Autumn/Winter 2021, there's a new cohort of colour options available. New is not technically the correct word since the Autumn/Winter 2021 colours are returning favourites. There seems to be no new colour offerings this season but this is certainly made up for by the vast array of hues making a comeback. Spring/Summer 2021 saw the introduction of two new colours – Jaune Bourgeon, a fruity muted lime hue and Rouge Sellier, an intense burgundy like shade, both of which will be returning this season.
Some colours will now be offered in exotic leathers, including ostrich and lizard. And it looks like the wide variety in colour offerings extends to the exotic leathers too.

In this post, I'm going to provide you with an overview of the Hermès Autumn/Winter 2021 colours. I'll explain which shades I'm excited about the return of, why I'm upset about the absence of certain hues and which colours I have my eye on!
Pretty Pinks
The Framboise and Rose Sakura pinks form the house's Spring/Summer colour offering are making a return this season. The rich fuchsia Framboise colour will suit the boldness of AW21 style so I predict this will prove a big hit.
It's a shame Bubblegum Pink won't be returning but luckily Mauve Sylvestre will, giving Hermès lovers the choice of a dreamy light pink hue reminiscent of the Y2K colour palette.
Fuchsia is back and available in ostrich (!) but the pink hue I'm most excited for the return of is Rose Mexico, a vibrant hot pink colour which you can find on macaroons in Parisian patisseries.
Rich Reds
For AW21 Rouge Casaque will be making a return alongside newbie for SS21 Rouge Sellier. The radiant scarlet red shade of Rouge Casaque makes this colour a classic so it's no wonder Hermès is offering it once more. I'm equally glad that Rouge Sellier will be available for this season. It's a new colour this year so has likely only scratched the surface when it comes to its popularity potential.
Admittedly, I am disappointed that Capucine won't make a return for AW21. Since obtaining my Kelly Retourne in the vivid coral red hue I have become obsessed with this colour. Not just because it shares a name with one of my most beloved handbags of all time, the Louis Vuitton Capucines, but because this interesting shade of red is truly unique and this striking hue would fit perfectly into the fierce aesthetic of AW21 fashion.
Gorgeous Greens
I'm delighted to see the return of Verte Menthe which was originally brought back for SS21. The colour conjures imagery of luscious green grass and romantic forests in which fairy tales are set. Equally bold and enticing is Bambou but if you're after a darker, ultra sophisticated shade then the returning Vert Cypres is likely your best bet.
The colour is elegant and chic, perfect if you're in search of a classic looking Birkin but don't want a neutral shade. The popular Vert Jade is also making a comeback. I believe this hue is one of Hermès' most striking ever so it's revival got me so excited which resulted in my Mini Kelly purchase this August.
Bountiful Blues
Alas my beloved Bleu Brume is not on the agenda for Hermès AW21. But, perhaps as a sort of peace offering, Hermès is welcoming back a cohort of adored blue hues. Bleu de France, an electric shade of azure, is returning. The shade is certainly bold enough to make a splash and I suspect it's going to prove popular once more amongst Hermès aficionados.
Other dark blues are returning, including Bleu Saphir and Colvert. If you're after a neutral looking blue, look no further than Bleu Orage. And if, like me, you're a devout fan of Bleu Brume, perhaps ponder returning colours Bleu Glacier and Bleu Lin.
Noble Neutrals
From classic browns to dreamy cream hues, the neutrals on offer for AW21 are plentiful. Popular brown shades Alezan, Biscuit, Sesame are all making a return this season.
My favourite returning brown hue is Blush thanks to its chestnut like colour which I believe perfectly represents the equestrian roots of the house. Returning greys include Etoupe and Etain. But the standout stars of the neutral offerings for me are the elegant white and cream shades which exude Hermès' famed Parisian chic appeal.
Bag Colors for Autumn/Winter 2021
Neutrals Alezan, Biscuit, Blush, Craie, Etain, Etoupe, Nata, Sesame, Trench
Pinks Framboise, Fuchsia (Ostrich), Mauve Sylvestre, Rose Mexico, Rose Sakura
Reds Rouge Casaque, Rouge Sellier
Yellows Jaune Bourgeon, Jaune Poussin
Greens Bambou, Menthe, Vert Cypres, Vert Jade
Blues Bleu de France, Bleu Glacier, Bleu Lin, Bleu Orage, Bleu Saphir, Colvert
Which Hermès Autumn/Winter 2021 colour is your favourite? Are you surprised at the absence of certain hues?