The youthquake of the '60s signalled a time of reawakening in fashion.
So what better decade to draw inspiration from to capture the colossal change in fashion today? 
This was Maria Grazia Chiuri's thought exactly when she began designing her spring/summer 2022 collection for Dior.
Drawing inspiration from the house's 1961 Slim Look collection by Marc Bohan, Grazia Chiuri's offering for spring/summer 2022 boasts the same kind of colourful optimism which the '60s is remembered for. Miniaturized Dior suits serve as an ode to sophisticated style icons of the '60s, such as Jackie O, but with a modern flair.
Sharp silhouettes and bold colours give this collection a retrofuturistic feel and several looks nod to '60s space innovation.
Grazia Chiuri spoke of wanting to give an optimistic outlook to the future. With this in mind, the show was set on a vividly coloured circular installation with models standing on different numbers, evoking images of a '60s style game show.
"I think you have to accept that fashion is a game … And the show is the performance of fashion; it's also a performance art."
You can certainly count on me to play!
In this post, I'm going to review Dior's new spring/summer 2022 collection and explore some of the influences which make Grazia Chiuri's new ready-to-wear offering so special.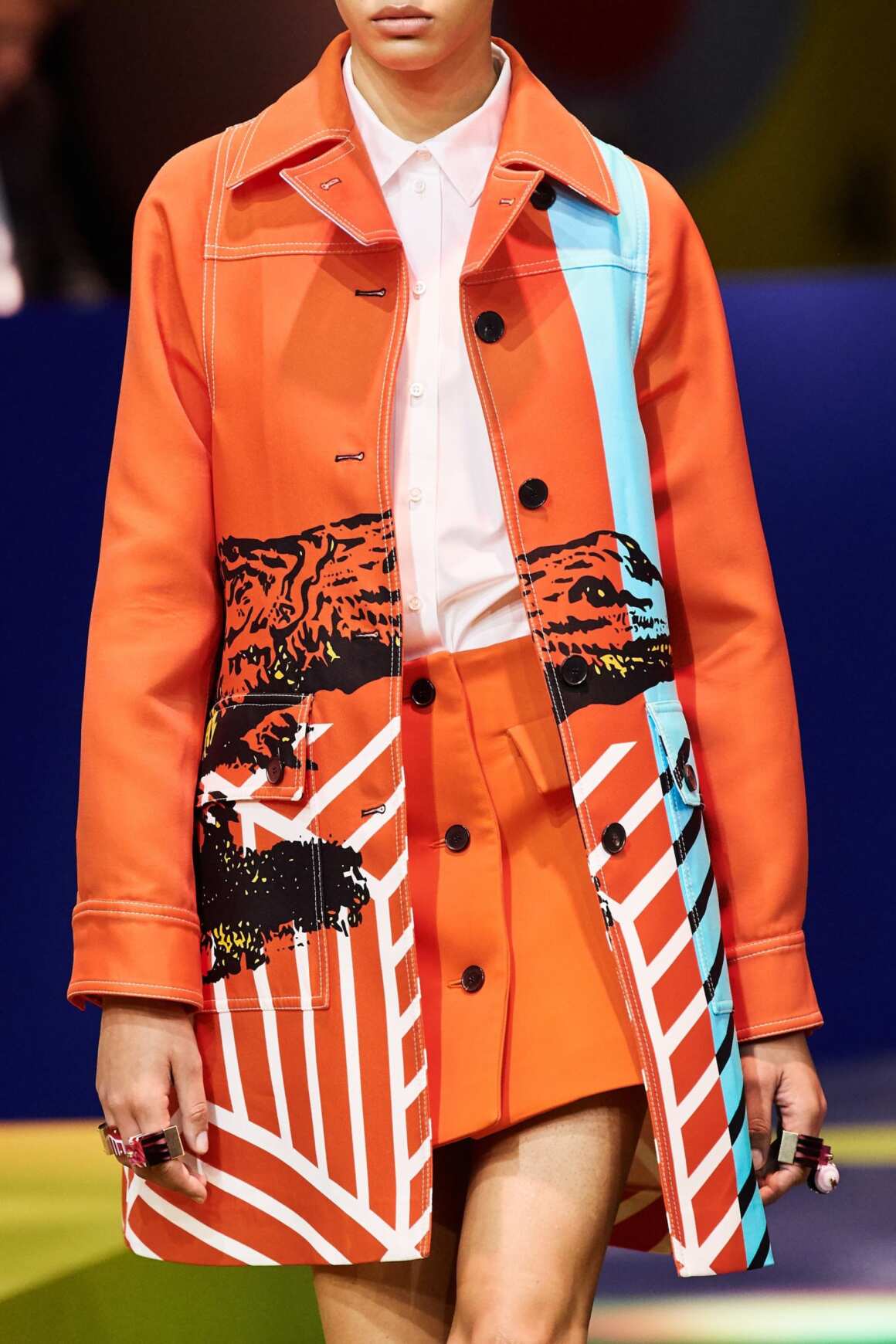 credit - Alessandro Visero accessed via Gorunway.com
I was lucky enough to secure a ticket to the show, one of Paris Fashion Week's most coveted events.
I rocked a little Clueless inspired number consisting of a white and lime green checkered co-ord skirt and blazer complete with a matching crop top which zips at the front.
To complete my look, I carried a white Lady Dior bag with a white and lime green scarf tied around the handles and wore a small Dior pouch crossbody featuring Cannage print in a matching green hue.
Shop some of my favourite Dior pieces
Since Dior's inception, suiting has been a hallmark of the fashion house.
The 1947 Bar Jacket, an integral part of Dior's New Look, brought back glamour and feminine opulence at a time when fashion was in dire need of a rebirth. Appearing in many variations since, the Bar Jacket, along with Dior's clean and crisp suits, has epitomized the elegance of the house for decades.
The famous Bar Jacket showed up on the spring/summer 2022 runway in addition to miniaturized Dior suits inspired by the sleek elegance of Dior's 1961 Slim Look.
credit - Alessandro Visero accessed via Gorunway.com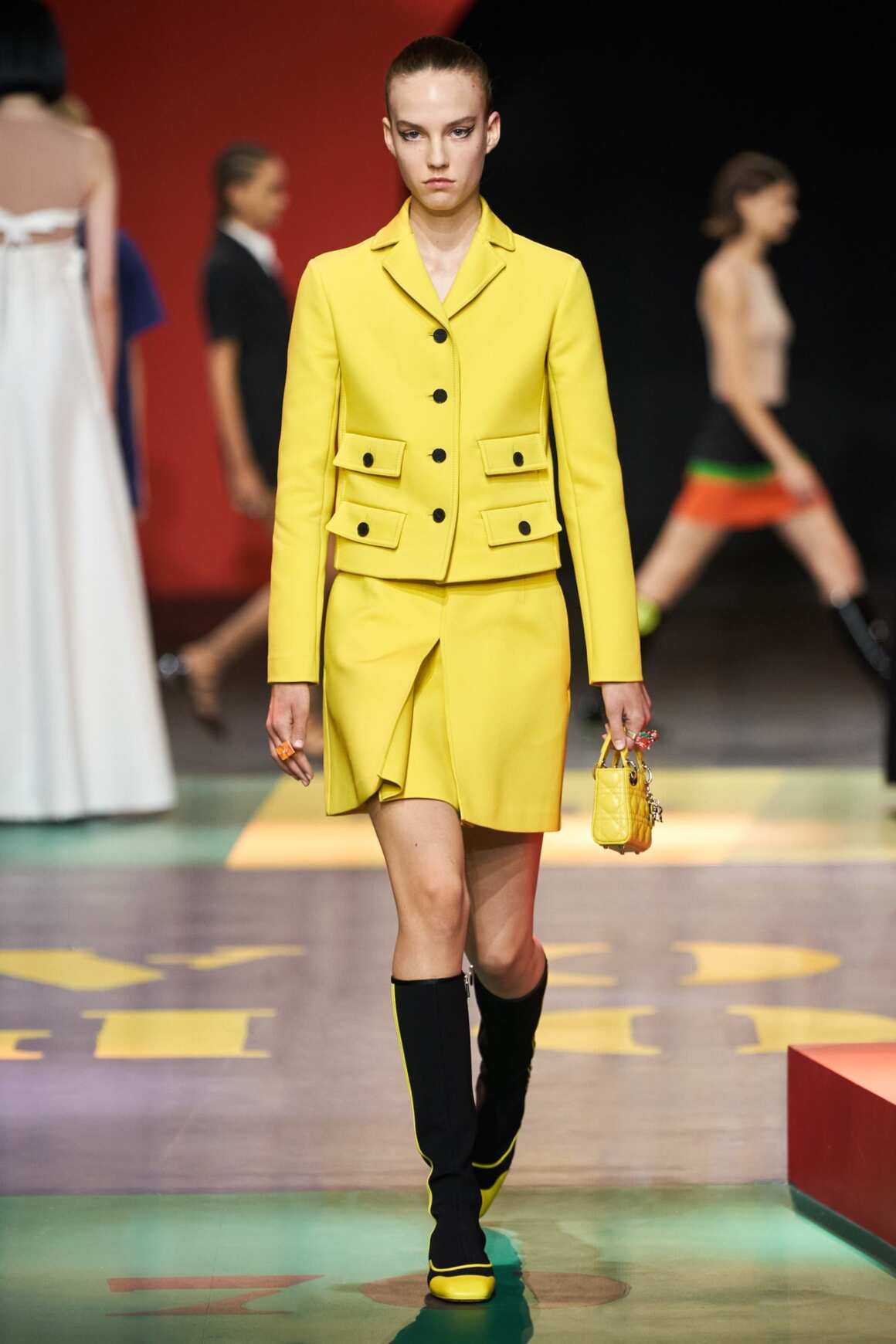 These jacket and skirt combos pop up in vivid hues of tangerine orange, lemon yellow and shamrock green.
Some are single-breasted with a small collar and front pockets exuding '60s style sophistication.
credit - Alessandro Viero accessed via Gorunway.com
One look features a double-breasted cropped jacket with wide lapels and a skirt with pockets finished with the house's CD logo for a more modern take on '60s chic. And what should complete these brightly coloured pairings other than charming Dior bags of the same hue.
Tangerine orange and lemon yellow versions of the Micro Lady Dior.
The offering of coats is equally elegant and colourful.
One double-breasted lemon yellow design with black buttons looks like something supermodel Twiggy would have worn during the '60s.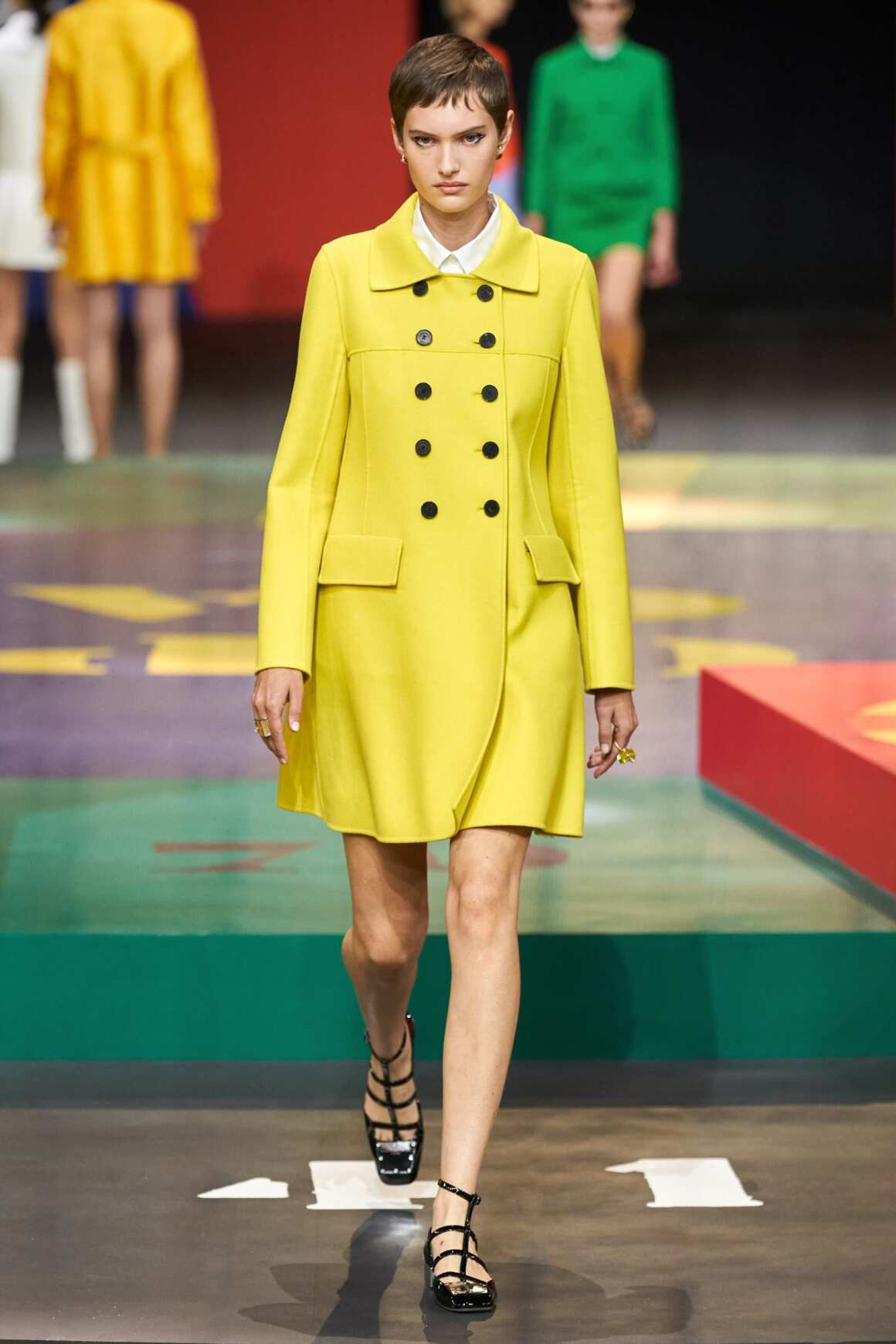 credit - Alessandro Visero accessed via Gorunway.com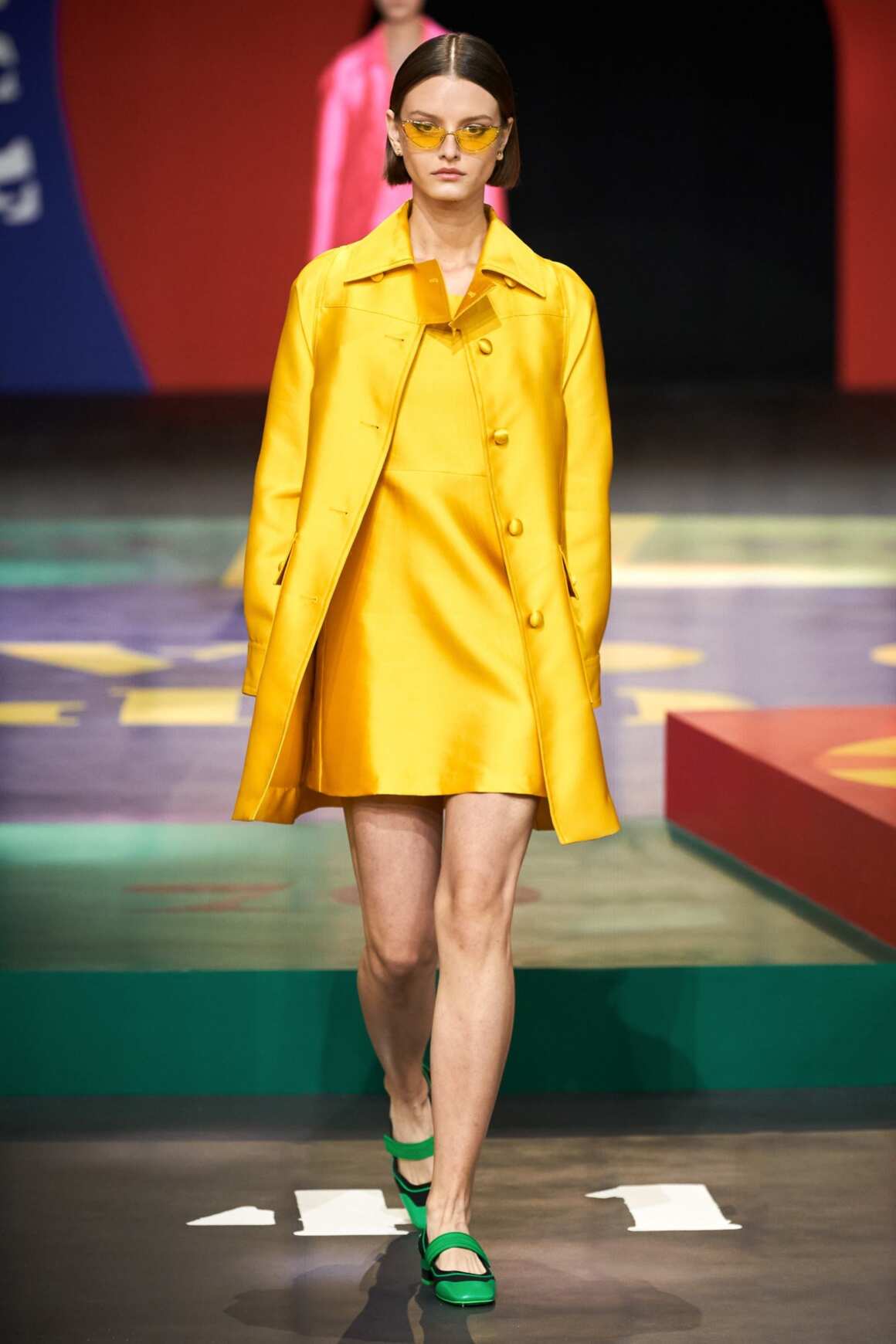 Much of this collection focuses on matchy matchy monochrome looks
Royal yellow and emerald green silk looking shift dresses paired with matching overcoats are some of my favourite single colour looks.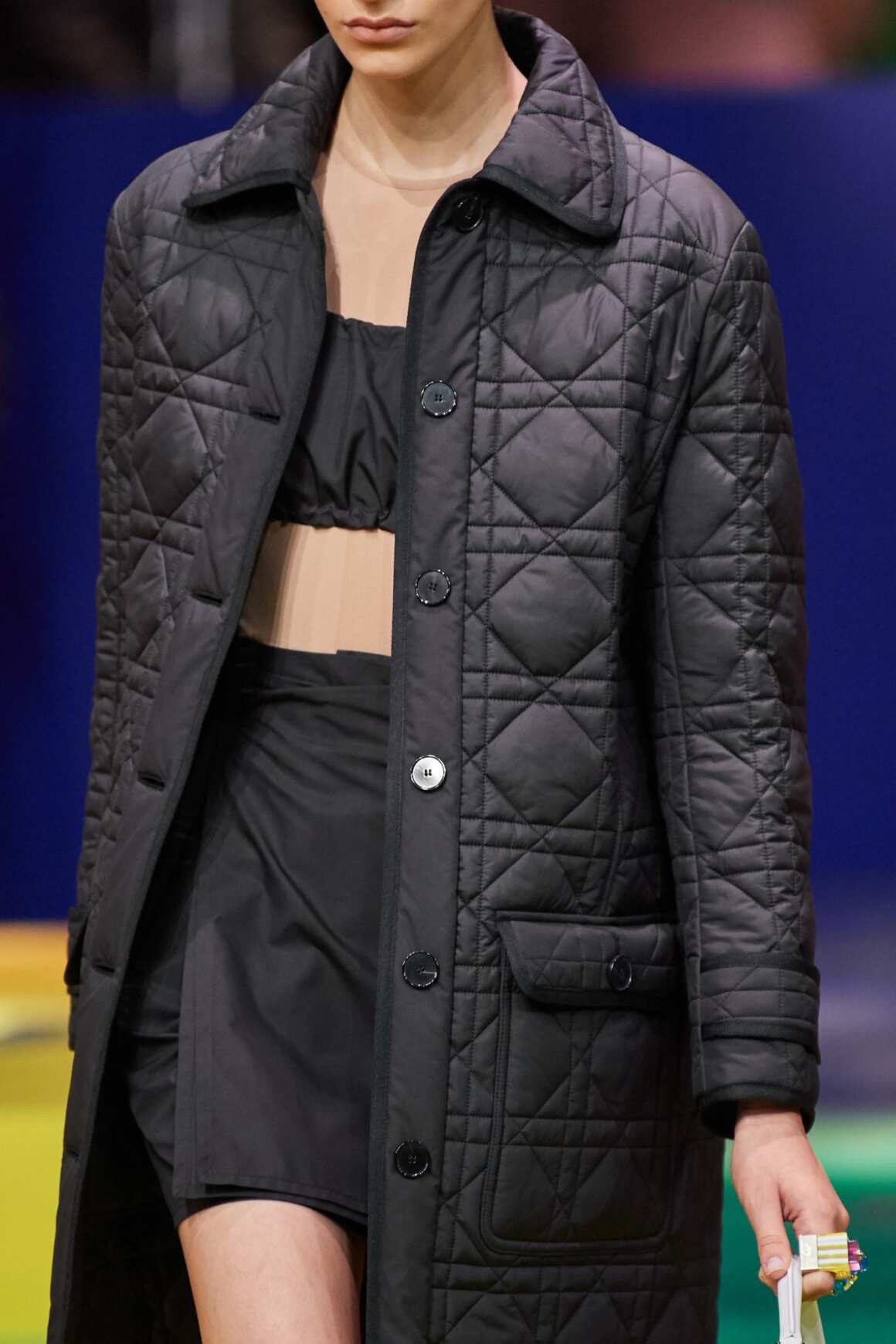 credit - Alessandro Viero accessed via Gorunway.com
And would it be a Dior collection without the presence of the house's famed Cannage motif.
It appears on a full length puffer coat as well as cropped short sleeve versions.
credit - Alessandro Viero accessed via Gorunway.com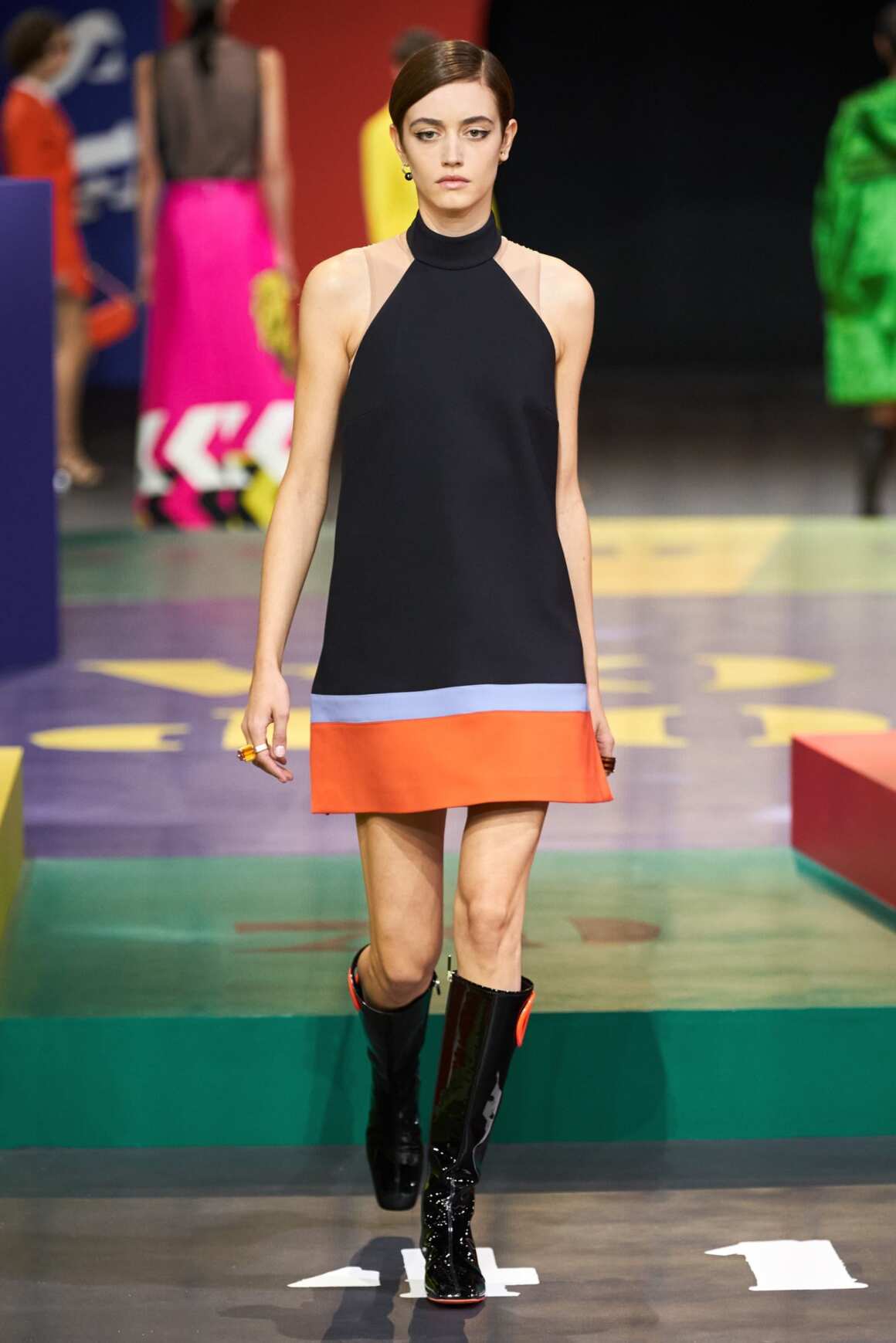 A-line and shift dresses and skirts feature in a series of bold colours.
Grazia Chiuri experiments with colour-blocking, trimming black dresses with bright orange, green and lilac stripes.
In a sultry take on Star Trek style (another '60s phenomenon), Grazia Chiuri debuts belted tunics in bold shades. Some are paired with shorts or mini skirts and some are worn simply on their own. But in all cases the necklines and hemlines are both high, a common theme of this collection.
credit - Alessandro Viero accessed via Gorunway.com
Further experimenting with the intoxicating colour palette, many vibrantly hued pieces from the collection are adorned with black prints of big cats and reptiles.
Contrasting colours are placed alongside each other on shift dresses, coats, mini skirts and more and imprinted with images of exotic animals. There is a yellow halterneck shift dress embossed with a lion which is enough to make even the most feline hating of individuals purr.
Dior's offering of shoes for next summer is anything but mundane.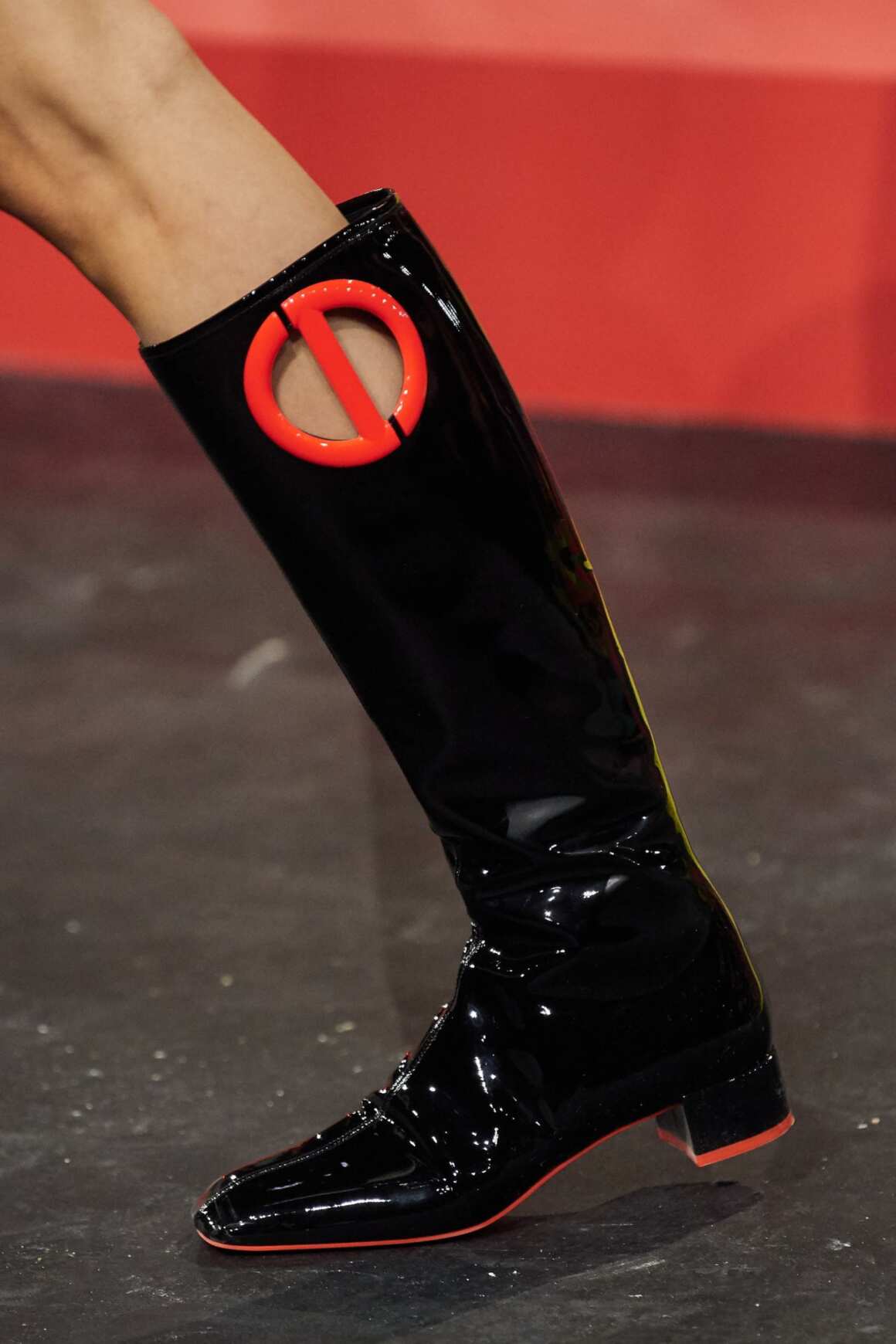 credit - Alessandro Viero accessed via Gorunway.com
The collection features boots which appear more suited to a spaceship than a Paris runway. Popping up in black or white mixed with a selection of luminous colours, the fitted boots scream space age chic.
Models walked the runway in a series of Mary Jane and sneaker hybrid creations. Sparkly lace-up styles also caught my eye (and captured my heart).
In addition to adorable micro designs, the sporty style top handle bag which debuted on the Cruise 2022 runway makes an appearance in a variety of colours and sizes.
credit - Alessandro Viero accessed via Gorunway.com
One of the most striking bag designs is a new elongated version of the popular Dior Bobby which I'm betting could be the next cult shoulder bag everyone will soon be lusting after. I'm equally excited about a half moon shaped slouchy Cannage print shoulder bag.
credit - Alessandro Viero accessed via Gorunway.com
Bold colours and retro influences aren't the only themes which this collection makes glaringly obvious.
With her designs, Grazia Chiuri signals a bold new beginning for Dior and the fashion scene as a whole whilst nodding to some of the most daring elements of its past.
Shop Dior accessories below