The Prada Galleria bag – a timeless classic which combines Prada's rich heritage with the contemporary style and wearability the house has become known for today.
First launched in 2007, the Prada Galleria bag has become known for its sophisticated simplicity. The design is sleek and practical and is recreated each season, like any true classic is.
Boasting Prada's signature craftsmanship and quality, the Galleria's classic rectangular shape is elegant and functional.
From the ultra sturdy Saffiano leather, to the multi-compartment interior and range of carry options, this bag is Prada's ultimate go-to everyday style. It's revered by handbag aficionados everywhere and has been hailed as one of the greatest bags of all time.
I've been lucky enough to acquire this iconic bag in the colour Cameo Beige and the size medium.
In this post, I'm going to explore my love of the Prada Galleria and what this bag means to me personally.
ABOUT THE PRADA GALLERIA BAG
Saffiano leather
Prada's signature triangular logo
Dual top handles
Detachable and adjustable leather strap
Three separate interior compartments (two zipped)
Snap-fastening sides so you can cinch in the bag
Interior zipped pocket
Four studs on the bottom
Clochette
Gold-tone metal hardware
Sizes options – 
Micro – 20cm length, 15cm height, 9.5cm width
Small – 24.5cm length, 16.5cm height, 11cm width
Medium – 28cm length, 19.5cm height, 12cm width
Large – 32cm length, 24cm height, 13.5cm width
Colour options – Powder Pink, White, Black, Astral Blue, Cameo Beige, Petal Pink, Bluette, Fiery Red, Orange, Billiard Green, Slate Gray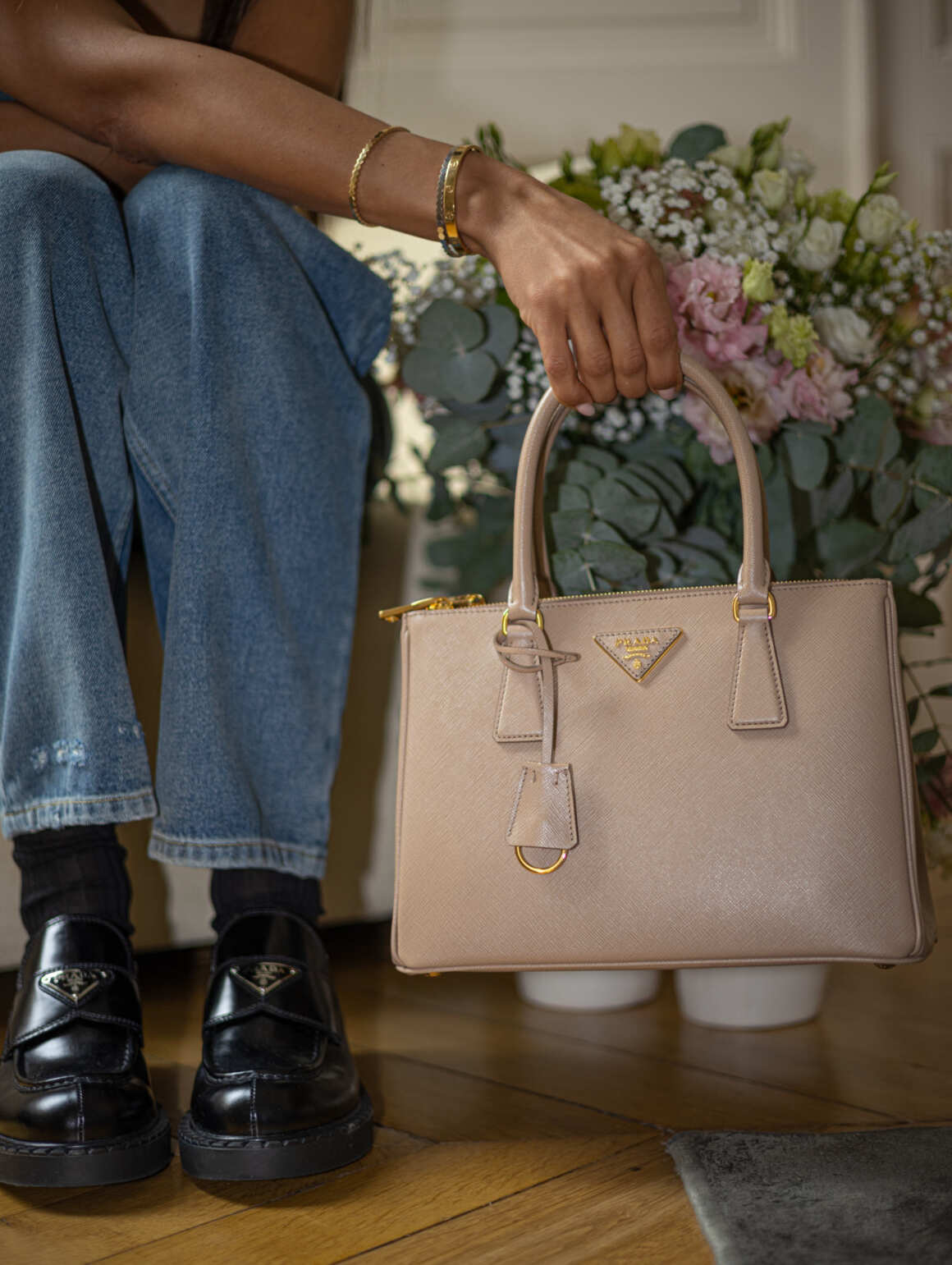 It was one of the first ever handbags I carried during the start of my career. I have always loved its wearability and polished design. I knew my sister was a fan of the Galleria also so I gifted the style to her for her 30th birthday. In my book, the classic Galleria bag is the perfect gift to commemorate such a milestone.
This iconic Prada design isn't just special to me (and the abundance of bag lovers who are also fans of the style).
But the Galleria bag holds a distinguished place in Prada's history and identity as a brand
The bag gets its name from the first Prada boutique opened by founder Mario Prada in 1913 in the Galleria Vittorio Emanuele II in Milan. It's now the oldest active shopping gallery in Italy.
The design features Prada's iconic triangular logo in leather at the centre and much of the hardware and interior is embossed with PRADA MILANO.
My main reason for loving this bag, and why I believe 14 years after its initial release it's as popular as ever, is the expert design. The Prada Galleria features three spacious interior compartments which make it easy to compartmentalise your life while toting this style (if not your life, then the contents of your bag at least).
The bag's wide opening allows for easy access to your belongings. Alternatively, when I want a more elegant and refined look I can cinch in the bag's sides using the snap-fastening.
I opted for my latest Prada Galleria bag in a soft neutral shade as I think it suits the classic and timeless design perfectly.
I love carrying this classic style top handle. However, the shoulder/crossbody strap does come in handy when I take this bag travelling or am rushing about and need to sling everything over my shoulder.
From the moment I became the proud owner of a Prada Galleria bag several years ago, I've been styling it with just about everything in my ever-evolving wardrobe. This summer, I'm styling the bag with summer dresses, denim co-ords and more.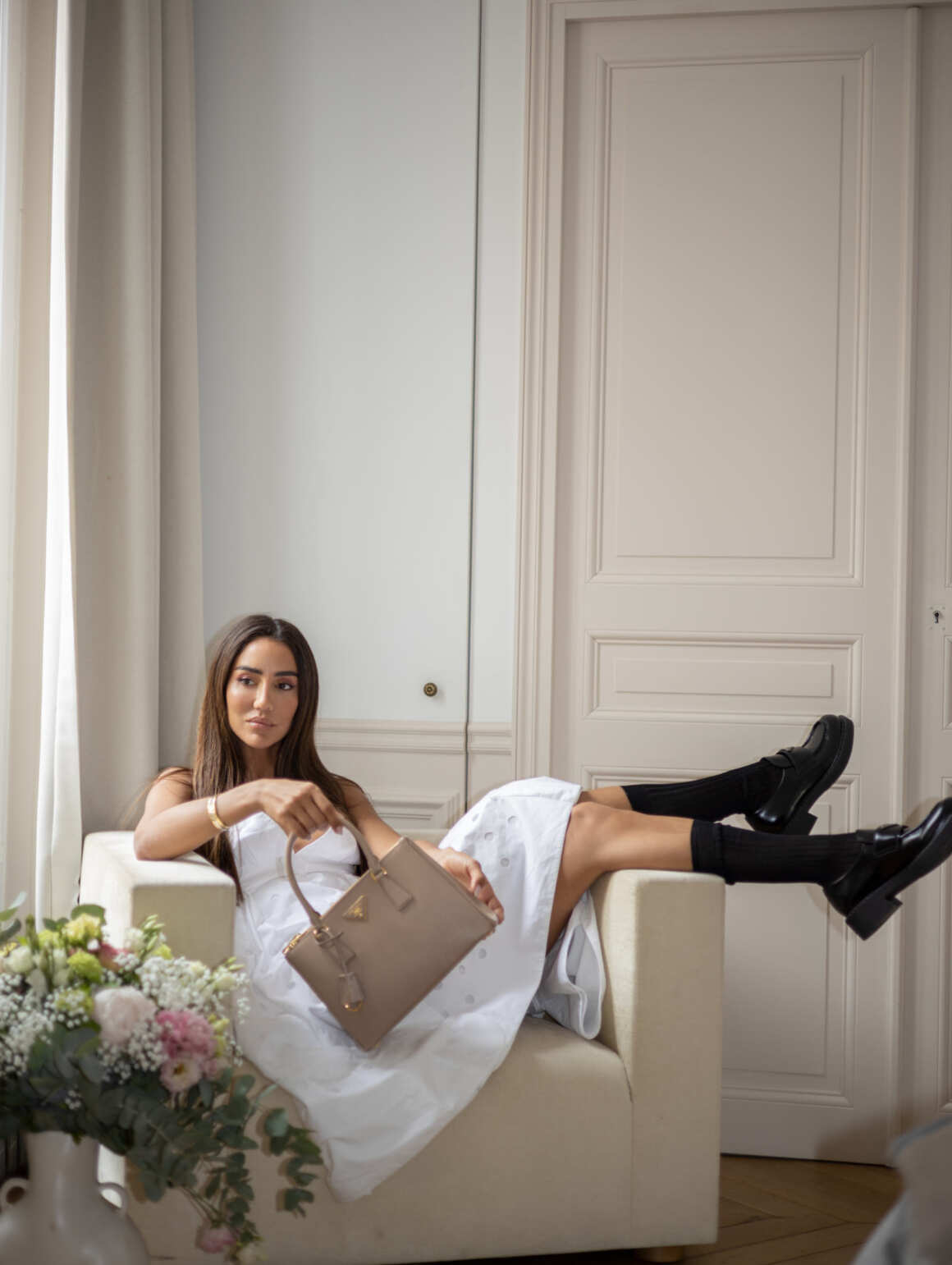 Despite just acquiring a new Galleria bag, I already have my eye on another. Prada has a selection of micro-sized Galleria bags which look as adorable as they sound. This itty bitty size is officially on my luxury wishlist.
Do you love this Prada classic as much as I do?