Spring fashion is a fascinating thing. It's a far cry from winter coats and reams of faux fur. But it's also a world away from short shorts, flowing maxi dresses and bikini cover ups which dominate our summer wardrobes. It's sort of an inbetween season for fashion which sees us experimenting with lighter layers, new materials and silhouettes after months of winter dressing. For May I fully embraced this ethos when it came to my style.
I prioritised bright colours, statement accessories and easy to wear essentials.
In this post, I'm going to detail the pieces I reached for most throughout the month of May and ponder which of these designs I will still be lusting after throughout summer.
Bottega Veneta Point Bag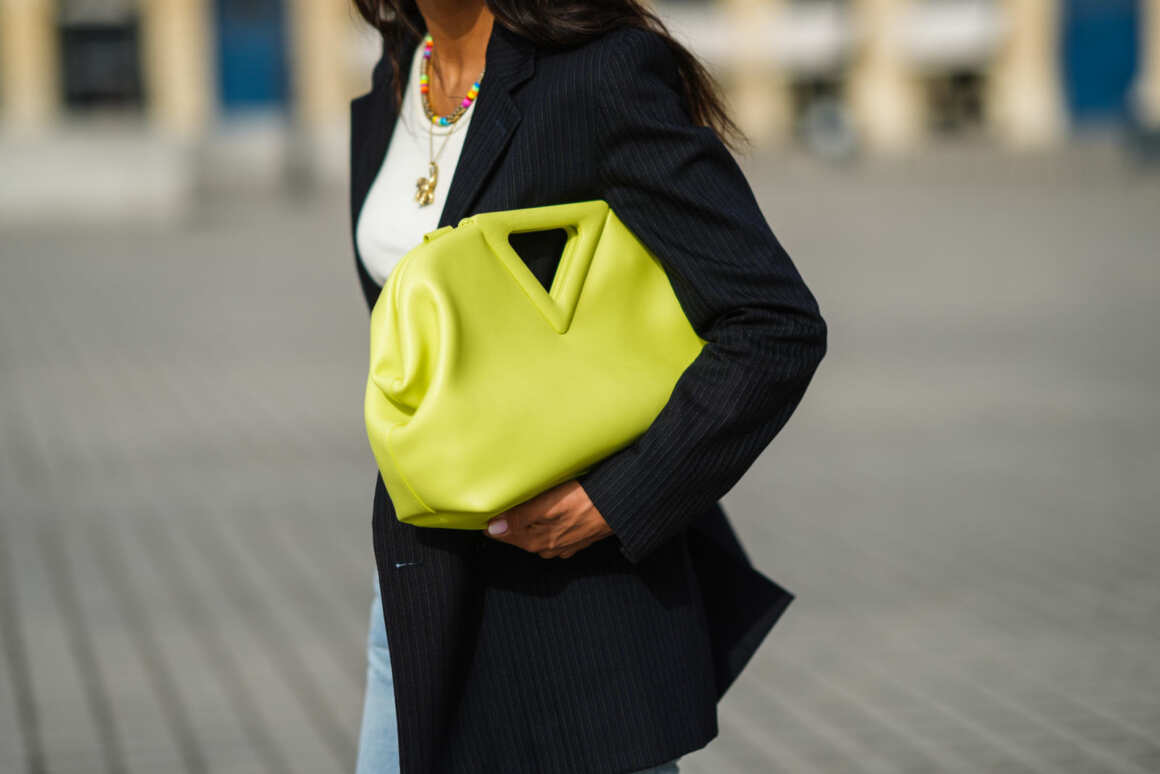 I'm not the only fashion lover who's been obsessing over Bottega Veneta's latest bag release. Considering the success of the house's previous new bag designs, the new Point Bag was destined for success from the start. Featuring a triangular cut-out handle, this sloughy design is ultra functional and, in my book, is the perfect Spring/Summer accessory. I grabbed for my new Point Bag a lot during May but I'm certainly not sick of this new Bottega Veneta gem yet! I've written a full article on just why I love this bag so check that out if you haven't already!
Valentino Oversized Neon Silk Shirt in purple
But May is a particularly appealing time to don an ultra relaxed baggy shirt. Spring is in full bloom and the weather is heating up but it's not quite bikini weather so a loose-fitting shirt is the perfect option.
This Valentino design in bright neon purple has been my go-to.

Jacquemus Le Polo Santon Cotton-Blend Crop Top
I've really been loving Jacquemus ready-to-wear recently.
It's simple, sleek and the pieces are designed with wearability and comfort in mind.
This crop top has been one of my favourites. Its large lapels and prominent shoulders make the design stand out. It also has a retro sweater vest vibe which I love.
Ole Lynggaard Gold Elephant Necklace
Danish jewellery brand Ole Lynggaard is known for its unique and exquisitely made pieces. And this gold elephant necklace is no exception. I love wearing gold jewellery during the warmer months. This understated design is simple and sleek so it makes the perfect addition to any Spring/Summer ensemble.
Roxanne Assoulin Gold Necklace
This playful gold and beaded necklace is perfect if you're looking for fun summer jewellery that won't break the bank! The colourful beads take me back to childhood days spent making DIY jewellery – only this piece is much more chic.
The necklace is perfect for layering with thin gold chains, which I have been a fan of recently.
Maison Margiela Distressed Straight-Leg Jeans

Me and these Maison Margiela Distressed Straight-Leg Jeans were rarely apart throughout the month of May. They are ultra comfortable and versatile (so just about everything you want in a pair of jeans). They pair perfectly with crop tops, blazers, trench coats, sneakers, heels, you name it and the chances are I've worn it with these jeans.
Bottega Veneta Cassette Bag
The Cassette is another Bottega Veneta bag which I reached for a lot throughout May and will no doubt continue to lust after all spring, summer, autumn and winter long. Its functional shape and signature Bottega Veneta aesthetic make it easy to style with any look.
Check out my review of the Cassette if you haven't already. I explain why it's not only a certified 'It' bag but one of my favourite accessories.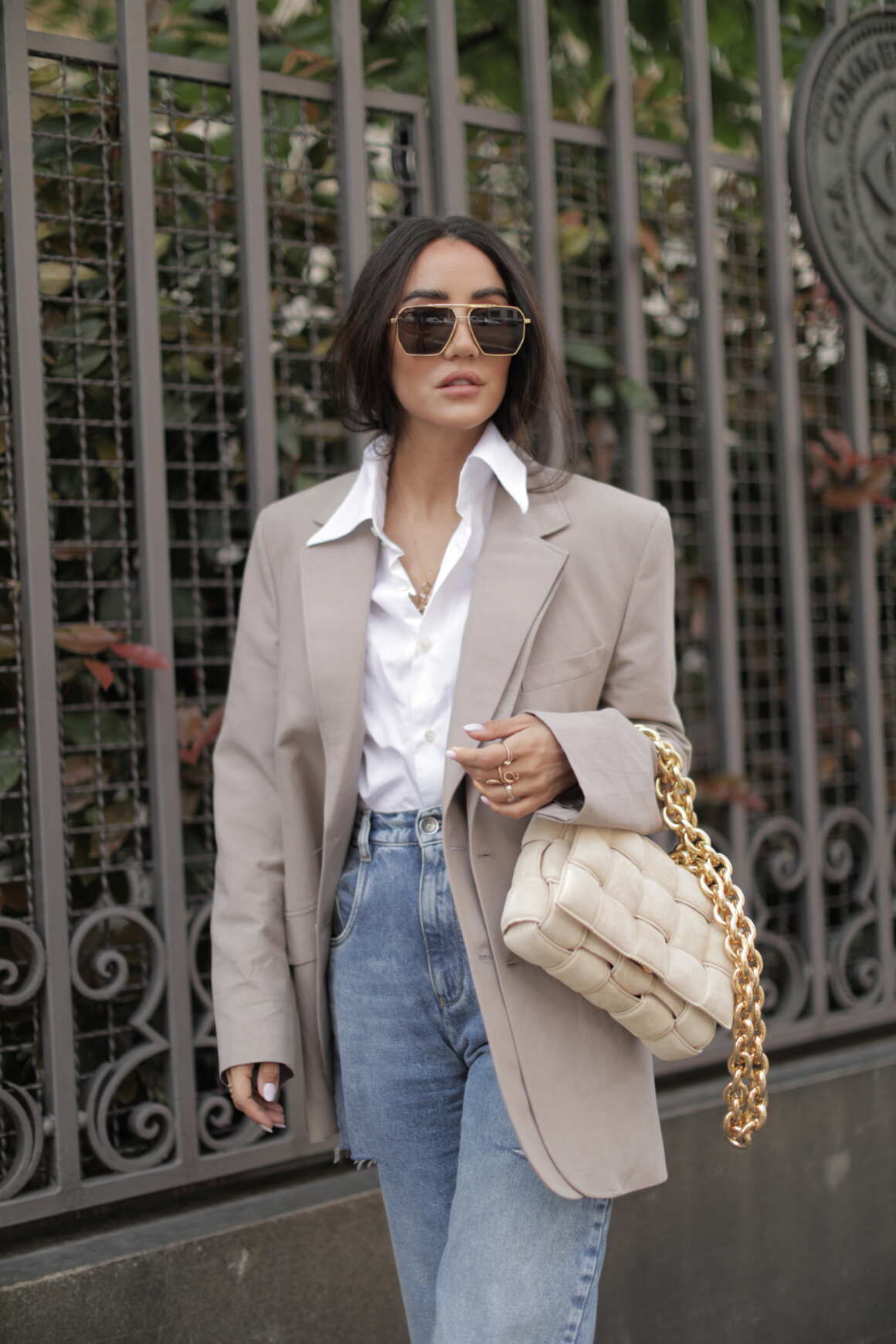 Valentino Short Jumpsuit in flash green
This little number made it onto my Valentino SS21 Favourites and has now earned a place on this list too. The citrus green colour makes the look stand out even amongst a cohort of summery hues. It's easy to wear and versatile. I've been pairing it with my new Valentino Garavani Roman Stud Top Handle Bag.
Credit - Alessandro Lucioni via Vogue.com
Valentino Garavani Roman Stud Flats
These shoes have been everywhere since their release. Part of Valentino Garavani's covetable new Roman Stud range from the Spring/Summer 2021 collection, these pointed toe flats have become a staple in my wardrobe.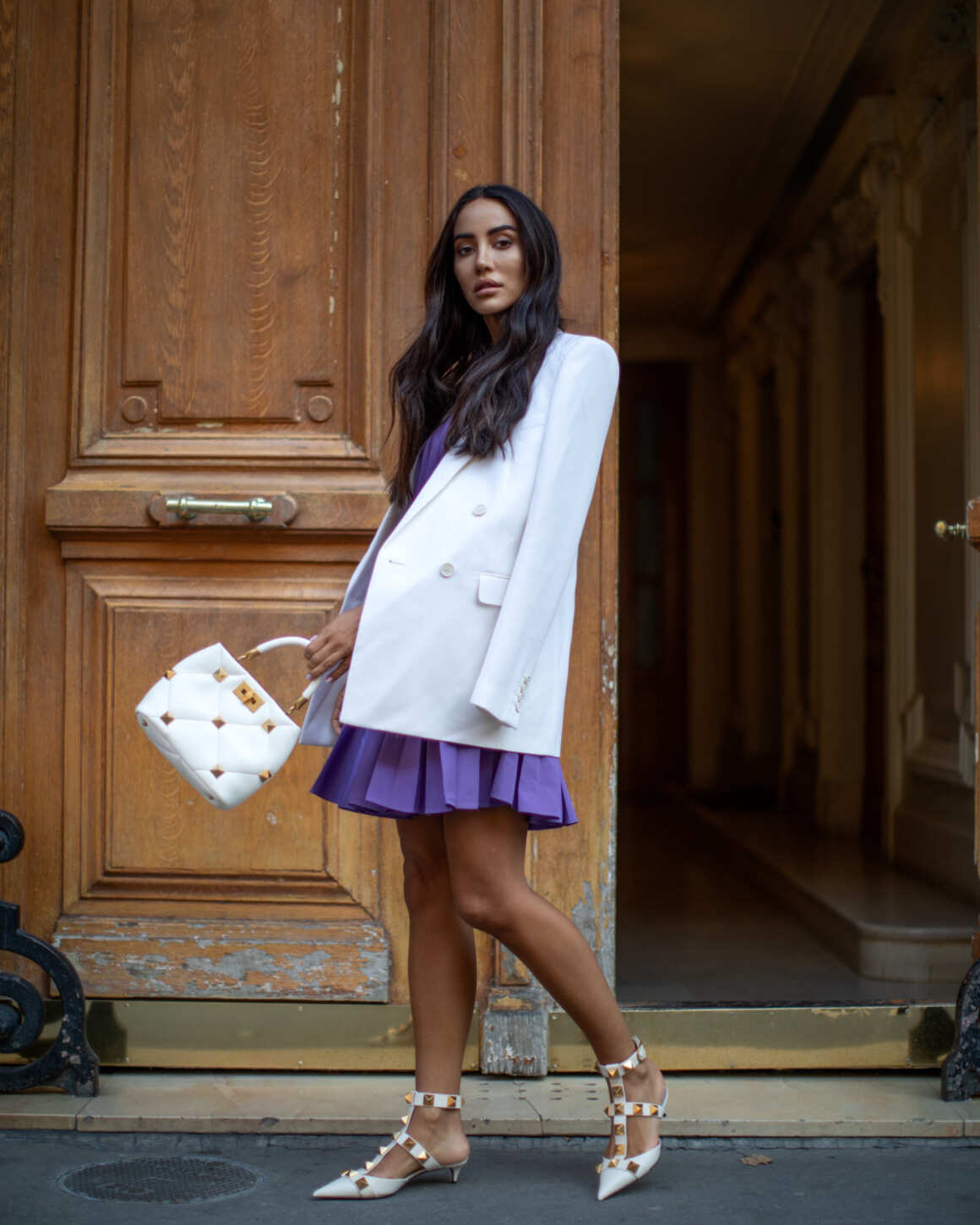 Featuring the new enlarged studs and gladiator style straps, these shoes are Valentino at heart.
Air Jordan 1s
I think that by now just about everyone I've ever met is familiar with my (almost unhealthy) adoration for Air Jordan 1s. Of course, these sneakers need no introduction. They've been popular amongst sports fanatics and sneakerheads for years. But now the fashion crowd wants in on the action!
Read my full article on the Air Jordan phenomenon where I explain why the shoes have become my latest luxury staple.
Which pieces did you find yourself gravitating towards last month?
And which design are you most excited to wear throughout summer?