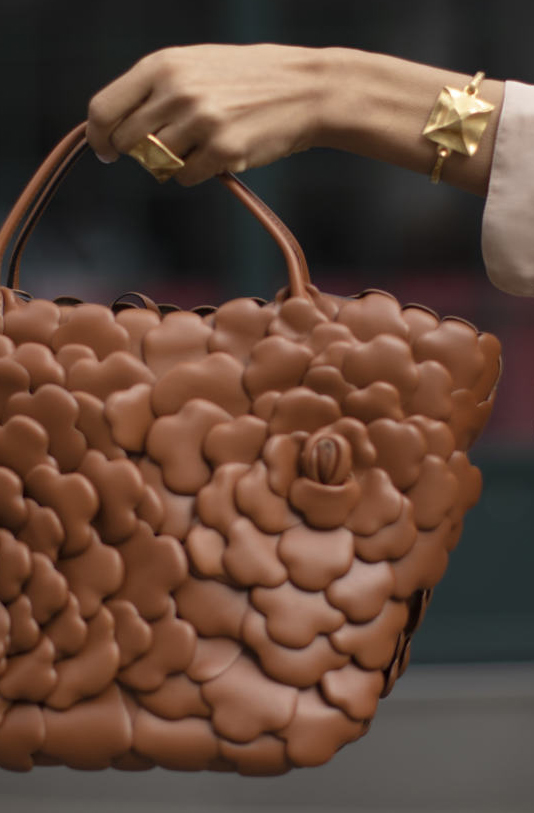 Valentino is shaping up to be one of my favourite designers of 2021 so far. Many of the house's new ready-to-wear pieces are set to be staples in my impending spring/summer wardrobe and the new array of Valentino bags on offer this season … let's just say they have left me speechless. I recently reviewed Valentino Garavani's new Roman Stud Top Handle Bag. And now it's time to take a look at another bag which stood out to me from the Valentino Collezione Milano collection for spring/summer 2021 – the Valentino Garavani 03 Rose Edition Atelier Bucket Bag. The name is a bit of a mouthful, I know!
Part of Valentino Garavani's new 03 Rose Edition line of bags, the design epitomises the house's graceful floral aesthetic. This unique looking bag range first burst onto the fashion scene last year in Valentino's autumn/winter 2020 ready-to-wear collection in the form of a small shoulder/crossbody style bag. Designed by the house's creative director Pierpaolo Piccioli, it was dubbed the bag which brought haute couture to the everyday and was soon spotted on just about every A-lister imaginable.
For spring/summer 2021, Piccioli has expanded Valentino Garavani's offering of rose themed bags to include totes, croissant style shoulder bags and even wearable phone cases. This larger bucket bag style version is among the new bags featured in the 03 Rose Edition line. The functional bucket bag shape combined with the delicate floral detailing has earned it a spot on my wish list this season.
In this post, I'm going to divulge all my thoughts about this new bag.

ABOUT THE VALENTINO GARAVANI 03 ROSE EDITION ATELIER BUCKET BAG
Leather petals layered creating a 3D rose detail effect
Dual top handles
Adjustable shoulder/crossbody strap with two buckles
Magnetic and leather tie closures
38cm width, 24cm height, 14cm depth
Colour options – tan, black, natural/tan
Material options – nappa leather, calfskin, raffia viscose
The spacious bucket style of this bag is undoubtedly one of its biggest selling points. And the adjustable shoulder/crossbody strap makes it even more functional. For such a big bag the top handles are surprisingly thin which I could see becoming uncomfortable after carrying for some time.
The exquisite layered flower effect which adorns all of the bags from this line is created by hand-moulded petals of varying sizes being sewn onto the bag individually. The result is a unique 3D texture which shows off the high level of craftsmanship which Valentino prides itself on. The smaller 03 Rose Edition shoulder/crossbody style bag launched for autumn/winter 2020 is telling of the house's roots in intricate couture designs. However, Piccioli's decision to expand the line, incorporating the elaborate 3D petal layering into a wider range of bags, is compelling. In using the finish for all kinds of bags, he is declaring to the fashion world that this couture look can work for all bag styles and sizes. And with the success of the style from the autumn/winter 2020 collection – how could he not?!
The 03 Rose Edition Atelier Bucket Bag is about as floral as any bag can be (the bag is constructed to look like a flower in full bloom). Florals are typically paired with light, summery hues but the bag, akin to others in the 03 Rose Edition line, is only available in neutrals we would usually see on the autumn/winter runways. This gives the bag a somewhat edgy finish, archetypal of Valentino's sophisticated yet punk identity as a house.
This Valentino bucket bag is £2,650 for the leather styles and £2,280 for the raffia viscose version.
The roomy size of the bag proves that delicate floral designs don't just belong on itty bitty bags. I'm also a fan of the 03 Rose Edition Atelier Tote which is considerably bigger than the bucket bag (albeit it comes with a considerably bigger price tag). However, I think the bucket shape fits with the layered floral design perfectly as it gives the flower adornments some structure. The overall finish has the appearance of two flower heads next to one another in a bouquet.
The 03 Rose Edition Atelier Bucket Bag is next on my wish list from the Valentino Collezione Milano collection.
Which bag from Valentino's 03 Rose Edition line is your favourite?