Forget the bucket bag, right now the bucket-shaped accessory I'm swooning over is the bucket hat (FYI – I still love bucket bags but let's focus on one obsession at a time). Originally worn by farmers and fishermen as solely practical headgear in early 20th century Ireland, the bucket hat has come a long way since its oh so glamorous beginnings. Adopted into popular culture during the '80s and '90s by hip hop and R&B artists, the style was later donned by Y2K darlings. Now the bucket hat is everywhere once more.
I myself have been sporting a Celine logo embellished bucket hat in houndstooth wool.
In this post, I'm going to explore the bucket hat phenomenon and whether it could be just what fashion needs to bridge the gap between relaxed loungewear style and sophisticated post-lockdown dressing.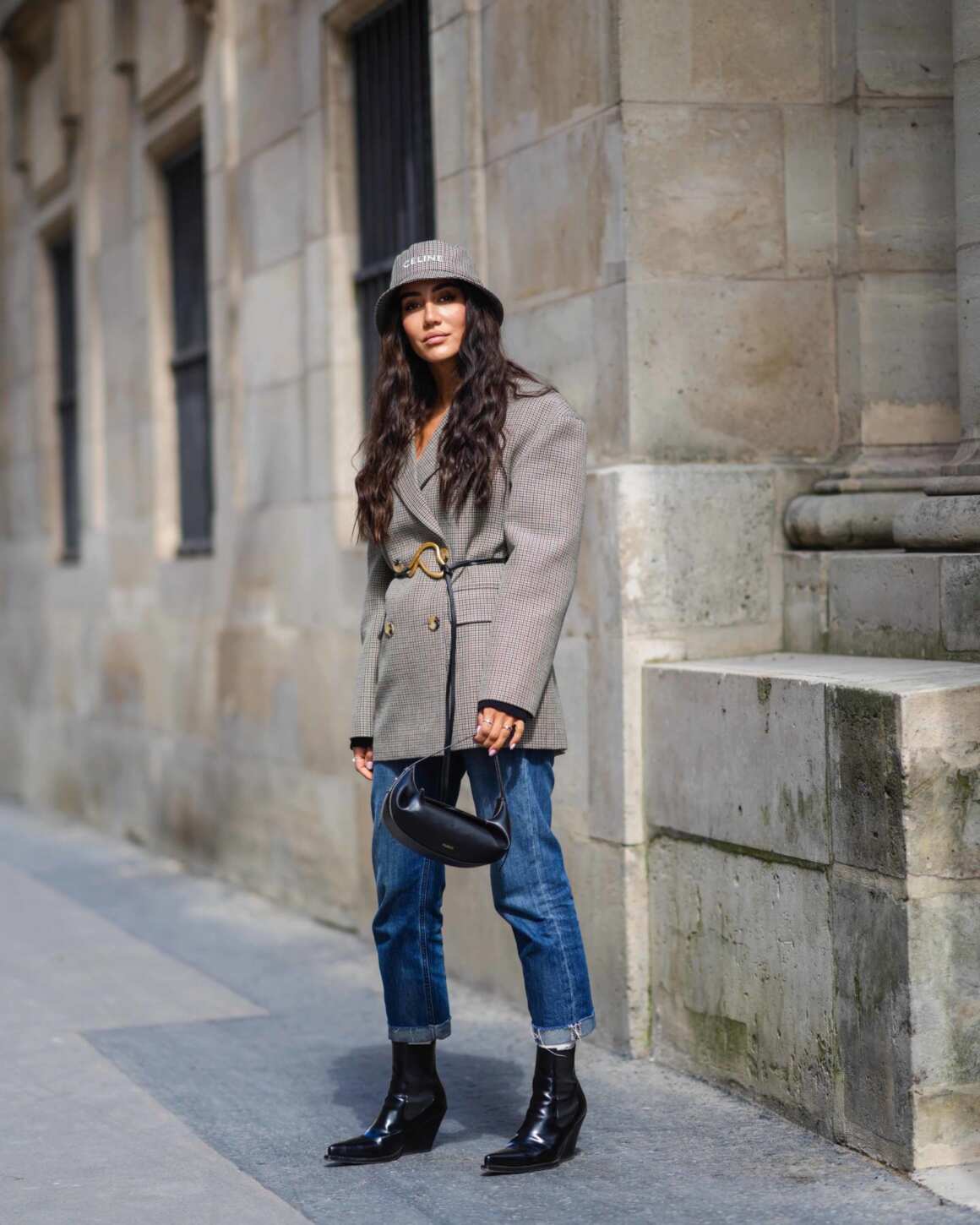 From humble beginnings, the bucket hat has since emerged as a recurring trend on the fashion scene. Music greats like Missy Elliott, Brandy and Janet Jackson rocked bucket hats in the '90s, giving the style instant cachet. The bucket hat was then reimagined for the logo and animal print clad early '00s. And now the accessory has garnered a whole new generation of devotees in modern times. The bucket hats we see today are a mix between the overly ostentatious and eye-catching Y2K designs and the more sleek finishes popular in the '80s and '90s. The likes of Billie Eilish, Rihanna, Megan Thee Stallion and countless more don the accessory today.
Bucket hats have continuously appeared on the fashion scene for decades now.
In modern times, the style has been gaining traction amongst the fashion crowd for a while. Bucket hats were spotted on the Chanel spring/summer 2018 runway and also popped up in Dior's autumn/winter 2019 collection. Their re-emergence on the runways and Instagram is doubtless due to fashion's present obsession with revival trends.
However, it also has something to do with the practicality, wearability and versatility of the bucket hat. The style is easy to wear and goes with literally anything. Relaxed sweatshirt and sweatpants combo – add a bucket hat. Jeans and a cropped tee – add a bucket hat. Tangerine hued, snakeskin print suit – add a tangerine hued, snakeskin print bucket hat. You get the picture!
I've been wearing my Celine bucket hat with a belted oversized blazer jacket in a matching houndstooth print, rolled up jeans and sleek heeled boots. Not only is a bucket hat great for concealing a bad hair day but it adds a laissez-faire finish to any outfit while simultaneously retaining an air of togetherness. I particularly love the look of coordinating my bucket hat with my outfit for the ultimate matchy-matchy aesthetic.
Shop a similar look below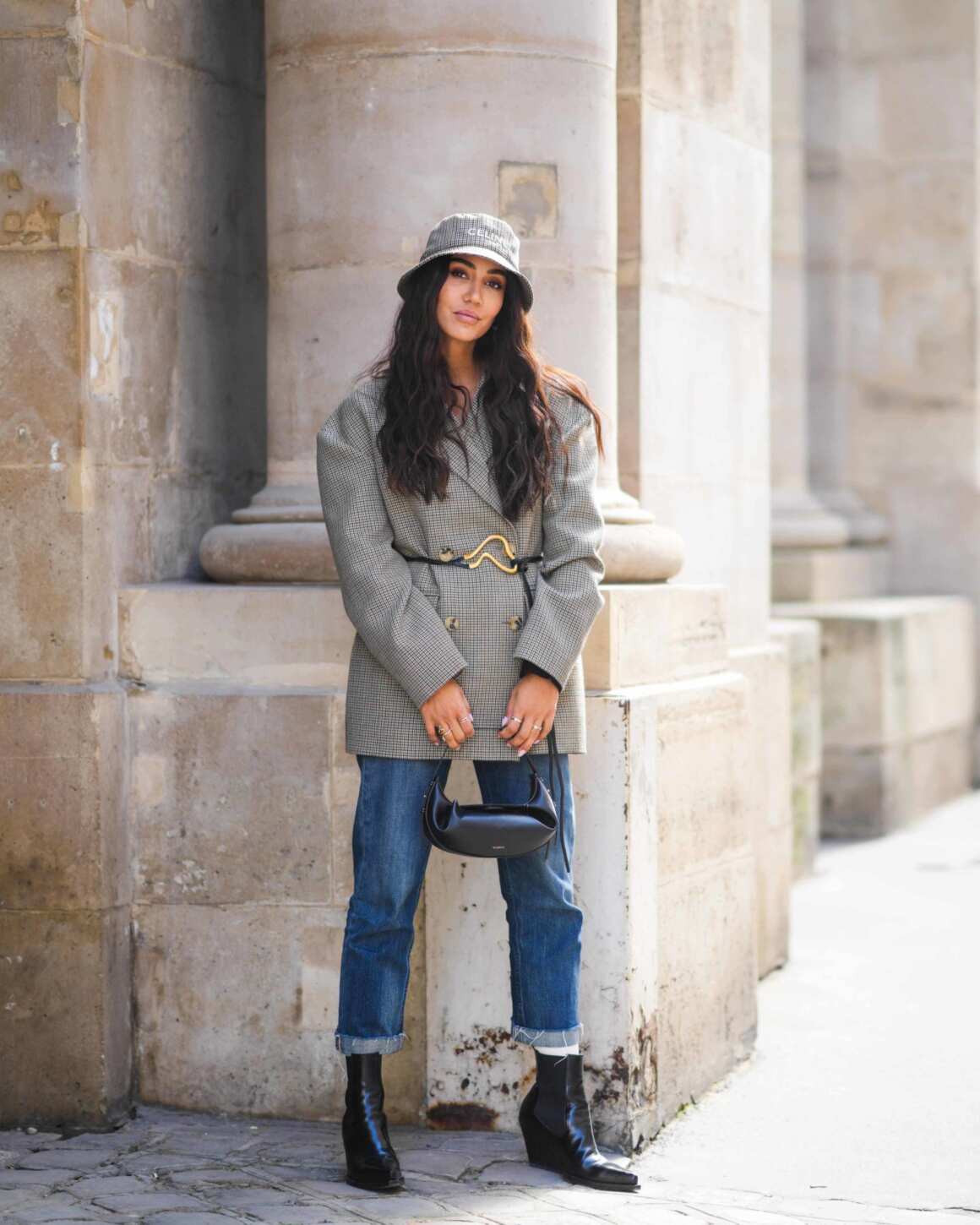 Since COVID-19 threw the world into a state of turmoil and society has collectively been cooped up inside, designers have been forced to change the way they approach collections. Elements of a more relaxed style infused houses' ready-to-wear offerings and a general focus has been placed on wearability. The fashion crowd is continuing to redefine what makes a collection wearable in a world still reeling from a pandemic.
Bucket hats seem to embody the fusion of relaxed comfort and more formal looks which consumers are crying out for in order to face post-pandemic life. This provides yet another explanation for the accessory's enduring relevance.
I'm a fan of sleek bucket hats in dark and neutral shades as opposed to the fuzzy orange or zebra print styles which are everywhere on social media. But who knows whether I will be encouraged to try out more garish takes on the bucket hat in the future. Styles I'm loving at the moment are Prada's nylon design in black, adorned with the house's signature triangular logo, as well as versions from Dior and Loewe.
At present, I believe we're witnessing the mighty bucket hat make the transition from trend to style staple, which is certainly a difficult feat. As we begin to emerge from our lockdown cocoons, we will have to leave our pyjama bottoms at home. But if you want to retain some sense of casual comfort whilst embarking on your post-pandemic style journey, don't fret, wear a bucket hat.
Shop best bucket hats below
What are your thoughts on fashion's obsession with the bucket hat?