Few fashion houses ever release a collection of bags so iconic and lusted after that the style almost becomes synonymous with the house itself. But this happened to Valentino back in 2010 when the house debuted its spring/summer collection featuring the now universally loved Rockstud range of bags. Then co-creative directors, Maria Grazia Chiuri and Pierpaolo Piccioli's decision to incorporate the house's now famous studs was an instant success.
Valentino's Rockstud bags promptly became must-have accessories for every fashionista during the 2010s. Although this was not the first time Valentino had used studs in its designs, it was the first time an entire collection was centered around the adornment. Notably, it marked a clear distinction from the house under its founder Valentino Garavani.
And now a decade later, Piccioli, now acting as sole creative director, has brought Valentino's signature studs into the limelight once more with his Valentino Collezione Milano collection for the house.
First spotted on the spring/summer 2021 runway, the bags from this new collection have the fashion world, myself very much included, besotted. Featuring a new take on Valentino's classic studded look, the bags are both innovative while inherently Valentino at heart. I've managed to secure the new Valentino Roman Stud Top Handle Bag from the collection in the size small and colour ivory.
In this post, I'm going to take you through my first impressions of this bag, what I love about it and why it's earned a place in my bag collection.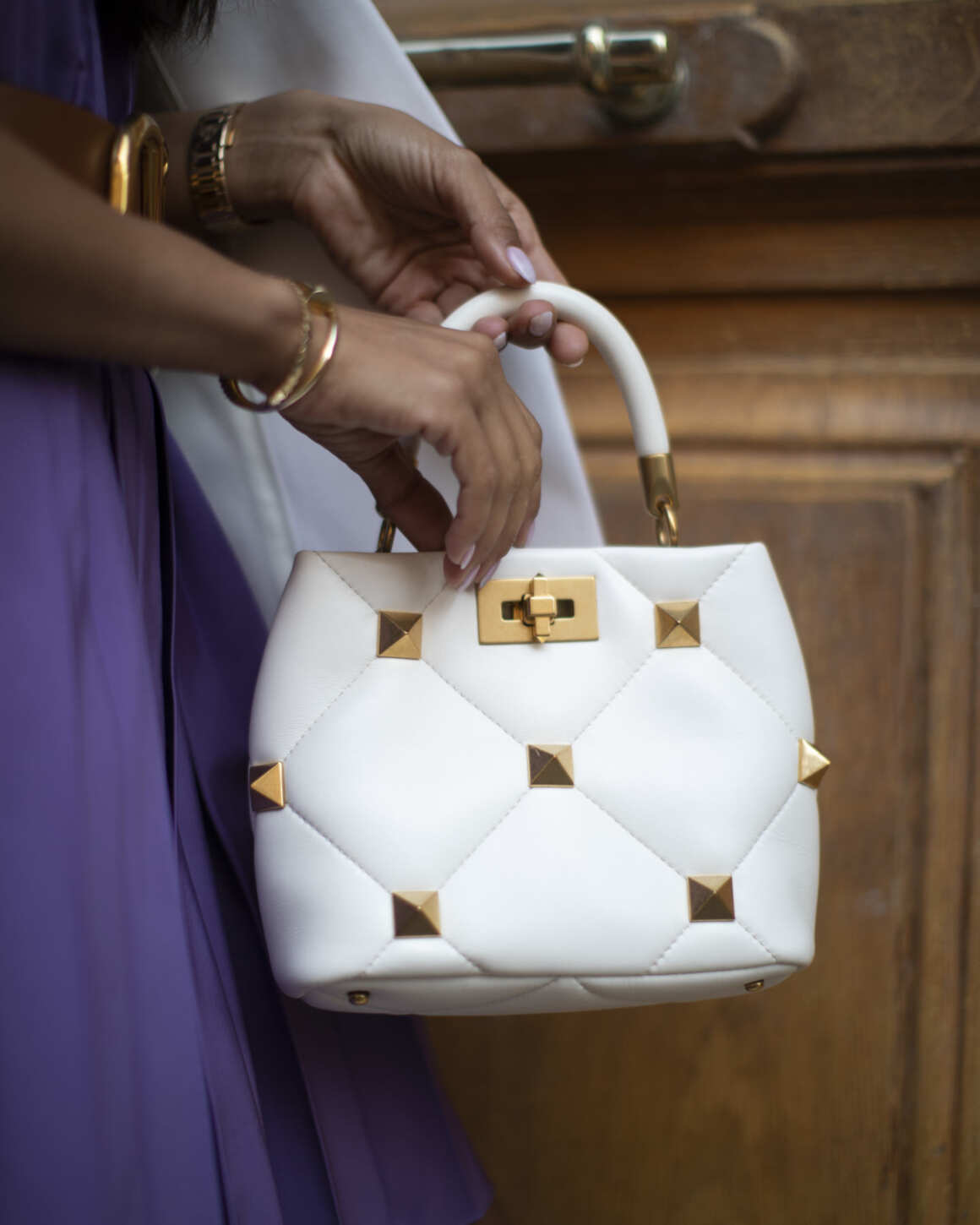 ABOUT THE VALENTINO ROMAN STUD TOP HANDLE BAG
Lambskin nappa leather
Single top handle
Detachable leather strap and detachable sliding chain strap
Diamond shaped macro quilting complete with maxi studs
Hardware with an antique brass finish
Front twist-lock closure and magnetic closure
Two interior compartments
Nappa lining
Size options :
Small – 21cm width, 17cm height, 14cm depth
Larger – 28cm width, 20cm height, 16cm depth
Colour options – Ivory, Lime Sorbet, Flamingo Pink, Black, Rose Cannelle
There are many luxury brands which hold a special place in my heart (and wardrobe) and Valentino is most definitely one of them. For me, studs are inherent of Valentino's punk rock meets sophisticated elegance aesthetic.
The new Valentino Collezione Milano collection has come just as we see the Rockstud's 10th anniversary. Coincidence? I think not!
The new enlarged diamond quilted stitching and studs give the bags from this collection an ultra soft and almost pillow-like finish. And I can't help but compare Valentino's enlarging of its pattern and studs to that of Chanel's for the Chanel 19 (which I also love, by the way). And judging by the immense success of Chanel's 19 bag, it appears Valentino's decision to give its popular pattern from 2011 the maxi treatment will prove a shrewd move.
Top handle bags have always been a love of mine. So when the opportunity arose to snap up this new covetable design in the top handle style I jumped at the chance. Featuring a top handle in addition to two long straps, proclaiming this bag to be functional would be an understatement. The design is almost bucket bag like in shape (another love of mine) but the cushioned finish means it's anything but boxy and cumbersome.
CLICK ON THE ITEM AND SHOP NOW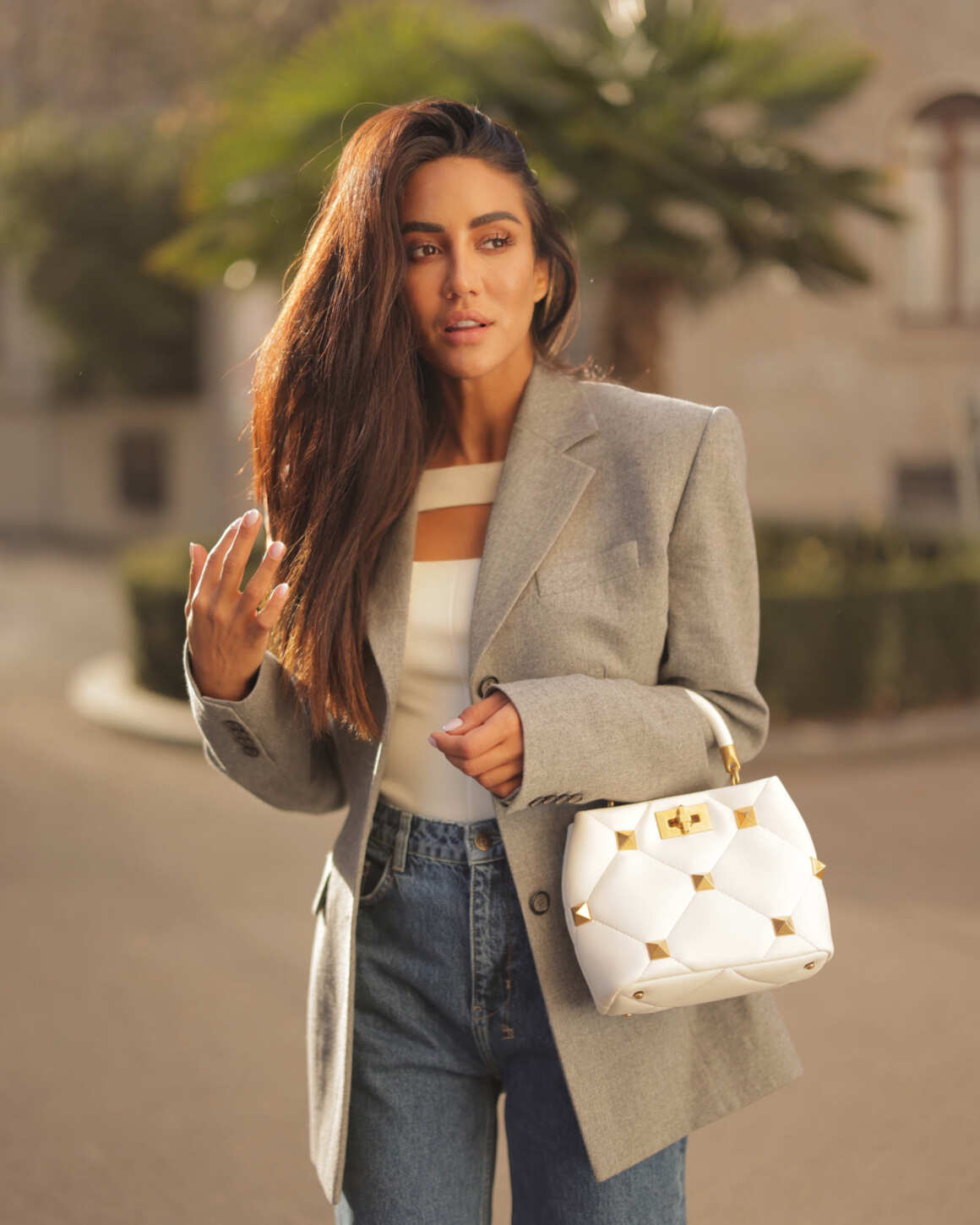 The two separate interior compartments along with the twist-lock and magnetic closures makes this bag as functional as it is chic. To me, it's reminiscent of my Louis Vuitton Capucines bag. Again, judging by the success of this design, the Roman Stud Top Handle Bag is set to be a house favourite for years to come.
The antique brass finish on all of the bag's hardware evokes feelings of old-timey Rome, where Valentino was founded more than 60 years ago. I'm betting that Valentino's Collezione Milano offering will be immortalised in the minds and hearts of Valentino lovers as a classic collection, much like the Rockstud collection before it.
While I love the compact size of the small Roman Stud Top Handle, the larger size has also caught my eye. However, the next design from this collection destined for a place on my handbag wishlist is the Roman Stud Shoulder Bag. But, all in good time (although the sooner the better)!
Priced at £2,100 for the small and £2,370 for the larger model, the bag is considerably more affordable than popular top handle styles from the competing handbag designers.
I'm currently styling my latest top handle treasure from Valentino with relaxed fit jeans and an oversized blazer. But I am of course yearning for summer days taking this little beauty out to dinners. Soon I hope to be wearing her crossbody whilst having long-awaited adventures against a backdrop of exotic cities and (fingers crossed) a post-pandemic world.
What do you think of this new bag release from Valentino?