Spring may be blooming, but if we've learnt anything from this past year, it's to be prepared for all eventualities. Despite being an all-time wardrobe classic, trench coats seem to be getting even more love lately. Fashion editors the world over are proclaiming their love for the mighty trench. And I can certainly see why.
Lightweight and freeing whilst also providing protection from the unpredictable weather at this time of year, the trench coat is the perfect companion for the in-between seasons. When you're not quite ready to don a bikini, watermelon-shaped sunglasses and a messy beach bun but, equally, don't fancy wrapping up in a teddy bear shearling jacket and luxury logo embossed mittens. Enter the trench coat.
In this post, I'm going to explore my enduring love for this year-round wardrobe staple, complete with tips on how to style and the best brands to buy from.
The trench coat dates back to the First World War. British and French soldiers used to wear the lightweight style in (you guessed it) the trenches as an alternative to more heavy-duty garments. The trench coat isn't the only military-inspired design to capture the heart of the fashion world. But it is distinctly different from the refined and ultra structured pieces which come to mind when picturing the classic military aesthetic. Just think of everything you've ever seen grace Balmain's runways!
The trench has long been a symbol of laid-back, effortlessly chic style.
The '90s were bountiful with of the moment fashionistas and celebrities in calf-skimming trench coats paired with nonchalant facial expressions. Everyone from Diane Keaton to Chandler from Friends rocked the trench. And these looks have since been immortalised on social media, with early '00s babies wishing they were alive to see this era of care-free style at play. But fret not because the trench, and particularly this ultra relaxed iteration, is very much alive and well.
SHOP THIS SEASONS BEST TRENCH COATS
Aside from the hype, the trench coat has always been a go-to look of mine. Fashion Week is simply not complete without one. Almost nothing pairs as well with an 'It' bag and statement shades. And while I am certainly partial to faux croc and vibrantly hued versions of the trench, for me, nothing can beat a classic, loose-fitting beige coloured design. Worn either open or belted for a more refined finish, the style is both functional and elegant. The trench coat's level of versatility is something few fashion pieces, even certified staples, ever reach.
I'm currently wearing mine with relaxed fit trousers and boots. But soon I will be swapping these out for platform loafers, kitten heels and the plethora of spring dresses which have been calling out to me for some time now. The trench coat is a classic you'll wear over and over so it makes sense to invest in a good quality design.
I would go so far as to liken the trench coat to beach cover ups, in terms of age-old appeal and wearability. While you may pack your holiday suitcase full to the brim with highly covetable fashion finds, from satin cocktail dresses to endless pairs of designer sunglasses, there's only one thing you're guaranteed to wear everyday of your holiday. In a comparable way, us fashion lovers are eager to gawk at the latest must-have trends. But when it comes to staples like the mighty trench coat, are we perhaps guilty of underappreciating their true value in our wardrobes?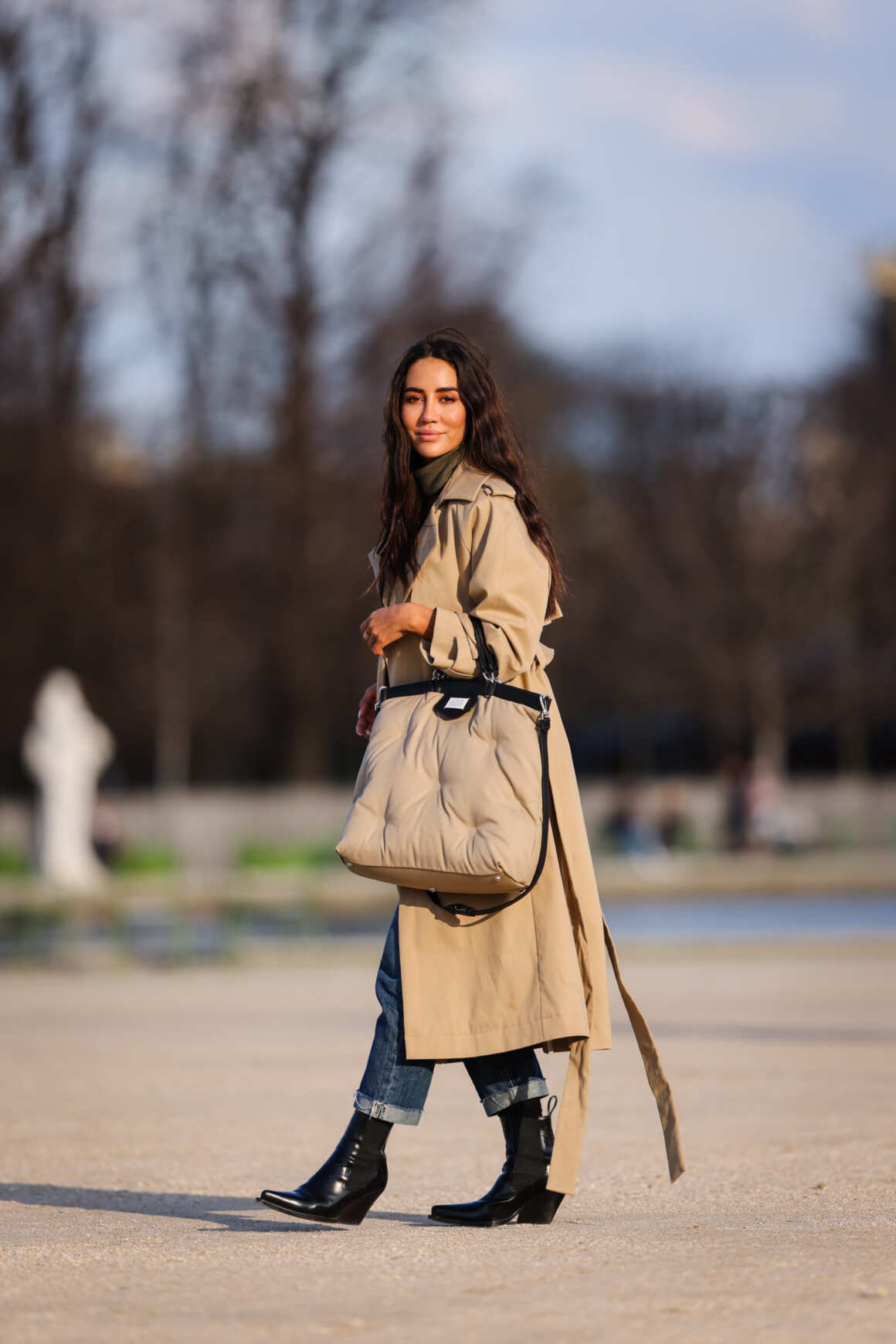 Lockdown dressing has undoubtedly given me a newfound appreciation for classic, comfortable styles. And it seems that the same can be said for the fashion industry as a whole. On the spring/summer 2021 runways, we saw a general shift away from overly ostentatious looks and instead a prioritisation of wearable designs. Relaxed yet sleek trench coats were spotted in Nicolas Ghesquière's Spring 2021 ready-to-wear collection for Louis Vuitton. At Burberry, Riccardo Tisci explored the house's classic trench coat silhouette to gorgeous effect.

I love wacky, overblown trends as much as the next fashion obsessor. But right now, the mighty trench coat is the only look I'm pining for.

What are your thoughts on this classic piece?