I recently joined the cohort of bag lovers (including the likes of J.Lo, Kylie Jenner and Hailey Bieber) in carrying Bottega Veneta's latest clutch release. I, along with the whole of the (fashion) world, am very much still crushing on Bottega Veneta's The Pouch. However, now there's a new hand-held treasure from the Italian fashion house that deserves my love. Named simply The Point, in oh so classic Bottega Veneta fashion, this latest accessory is part of the house's spring/summer 2021 collection, named Salon 01.
Designed by the house's creative director Daniel Lee, the Salon 01 collection is all about experimenting with bold shades and shapes. It centres around exploring Bottega Veneta's "V" logo. The Point uses this "V" silhouette in the form of a sleek cut-out top handle.
As a house, Bottega Veneta was somewhat of a sleeping beauty until Daniel Lee was appointed as creative director in 2018. It wasn't long before he began to work his magic, turning the brand into a top luxury fashion player in an amount of time so short, it can only be described as miraculous. A slew of cult classic bags ensued, most notably The Pouch, introduced for spring/summer 2019. Bottega Veneta is now a must-see for Fashion Week viewing, with all of the fashion crowd falling head over their Bottega Veneta quilted square-toe sandals to snap up any new releases. And I am one of them. I've managed to get hold of The Point Top Handle Bag in the size medium and colour seagrass.
In this post, I'm going to share my thoughts on this latest release from Bottega Veneta, including my first impressions and how I think it matches up to the house's existing beloved designs.
ABOUT THE POINT TOP HANDLE BAG
V-shaped triangular cut-out leather top handle
Magnetic frame closure
Shoulder/crossbody strap
Unstructured finish
Calf leather interior
Gold finish hardware
Size options –
Medium – 35cm width, 26cm height, 12cm depth
Small – 22cm width, 16cm height, 8cm depth
Colour options – seagrass, grape, buttercup, almond, mallard, nero, camping, peachy and chalk
Material options – calfskin, quilted lambskin, Intreccio macramé and nylon jacquard
click on the item and shop it now
Bottega Veneta's iconic The Pouch is a hard bag to follow. Not only did this design rise to 'It' bag status but consumers and fashion's elite alike have agreed that it perfectly captured the care-free, cool girl style of the moment in a way that no one quite expected. It defiantly went against the trend of structured and mini designs which were everywhere in 2019, earning itself a place in the handbag history books – I wish there were such things! 
So how do you follow up such a success? It's a question that Lee was no doubt asking himself last year whilst designing the new spring/summer 2021 collection. But when a bag is as popular and sought-after as The Pouch was (and still is), it extends beyond the influence of an 'It' bag and is instead a bag movement. The slouchy pouch trend which Bottega Veneta's The Pouch introduced is still very much in demand and has since been adopted by other big brands. The likes of Louis Vuitton and Fendi have incorporated the desire for sleek, unstructured finishes into some of their latest designs.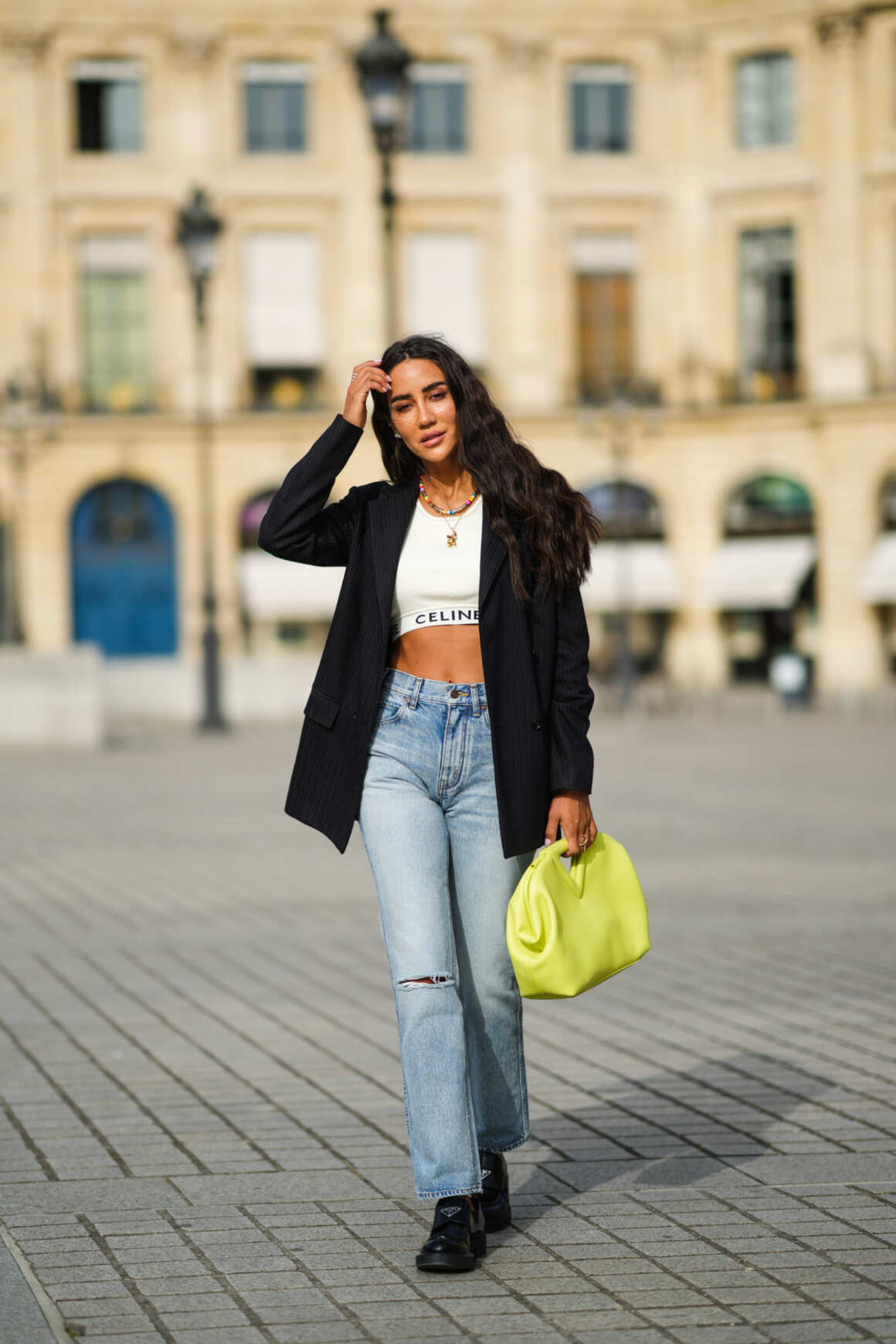 The Point, however, does have some key differences to The Pouch (I know the names are similar but bear with me). In contrast to The Pouch, The Point has some elements of Bottega Veneta branding, albeit understated. The bag uses the "V" logo as a top handle, a feature The Pouch, famously designed to be clutched under the arm, does not have. Perhaps this is the house's attempt to make its mark on the design so that when it assuredly becomes the season's must-have bag, everyone will know who is to thank. It's certainly a far cry from emblazoning the house's name across the entire design but who could blame them for being tempted to?!
I have both Bottega Veneta's The Pouch and The Chain Pouch in several colours (along with an apparent lack of self-control). So it's not a far cry to predict that I will have the urge to pick up The Point Bag in a selection of different colours and materials soon. I currently have my eye on the nylon jacquard version in what's been dubbed the 'green of the season'. I also spotted the bag in some gorgeous prints on the runway, such as a knitted blue and burgundy striped design. But many of these are currently not available on the Bottega Veneta website.
The new Point bag is as refined and stylized as you would expect from Bottega Veneta, boasting a clean-cut silhouette. The name is in keeping with the way Bottega Veneta names all of its soon-to-be 'It' bags and, in a way, in keeping with the house itself –
sleek, chic and get to The Point kind of fashionable.
On the runway The Point was often showcased alongside matching outfits. I'm not quite ready to don a full head to toe monochrome look so I'm currently styling mine with relaxed fit jeans, loafers and an oversized blazer.
At £2,370 for the medium and £1,660 for the small, The Point is comparable in price to its forebearer The Pouch.
Click below to shop this look
What do you think of Bottega Veneta's latest handbag release?