Another month, another potential 'It' bag on my horizon. This time I'm lusting after the new Dior Caro bag. As I'm sure you've all seen, this new Dior beauty has already been making waves on social media since its release last month. It's a strong contender for the latest 'It' bag status of 2021. Its flap bag style and unstructured design, thanks to the use of soft calfskin in the famous Dior Cannage print, is what makes this new Dior bag stand out from its predecessors. 
It's no secret by now that I am a HUGE fan of Dior. The whimsical design, elegant flair and exquisite craftsmanship (or should I say craftsWOMANship, thanks to Maria Grazia Chiuri acting as Dior's first ever female creative director). These are all staples of the house which have, and crucially keep, me hooked on the brand. Subsequently, as a rule of law almost, every time Dior launches a new bag, my fashion antenna is alerted at once and so often this results in another Dior bag in my collection. 
Dior's latest release has not strayed from convention! I've been lucky enough to acquire the Dior Caro bag in the colour Cloud Blue and the size small.
In this post, I'm going to take you through all the detailed features of the bag, my first impressions and why this latest treasure from Dior belongs in my collection (and whether it should belong in yours too)!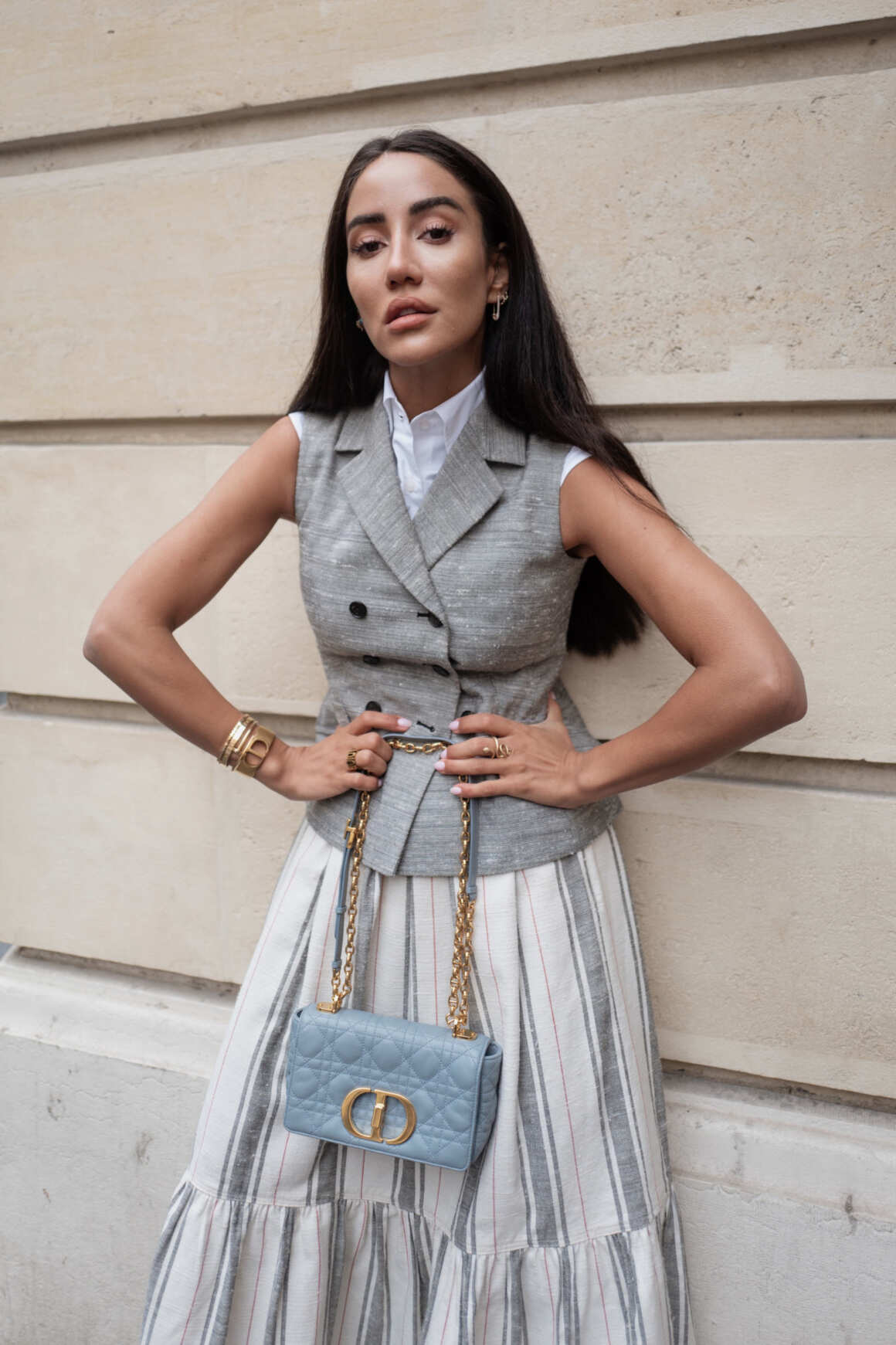 Dior Cannage print
Antique gold-tone or silver-tone metal hardware
Classic CD logo twist clasp opening
Adjustable and removable chain leather strap
Interior zip and patch pockets
Back pocket
'30 Montaigne' embossed on the back of the bag
Size options 
Small – 20 cm width, 12 cm height, 7 cm depth 
Large – 28 cm width, 17 cm height, 9 cm depth 
Colour options – Black, Ivory, Gray, Beige, Rose Des Vents, Mint Green and Cloud Blue 
Material options – soft calfskin leather, shearling, denim and the new Multicolor Tie & Dior denim
click below and shop dior caro bag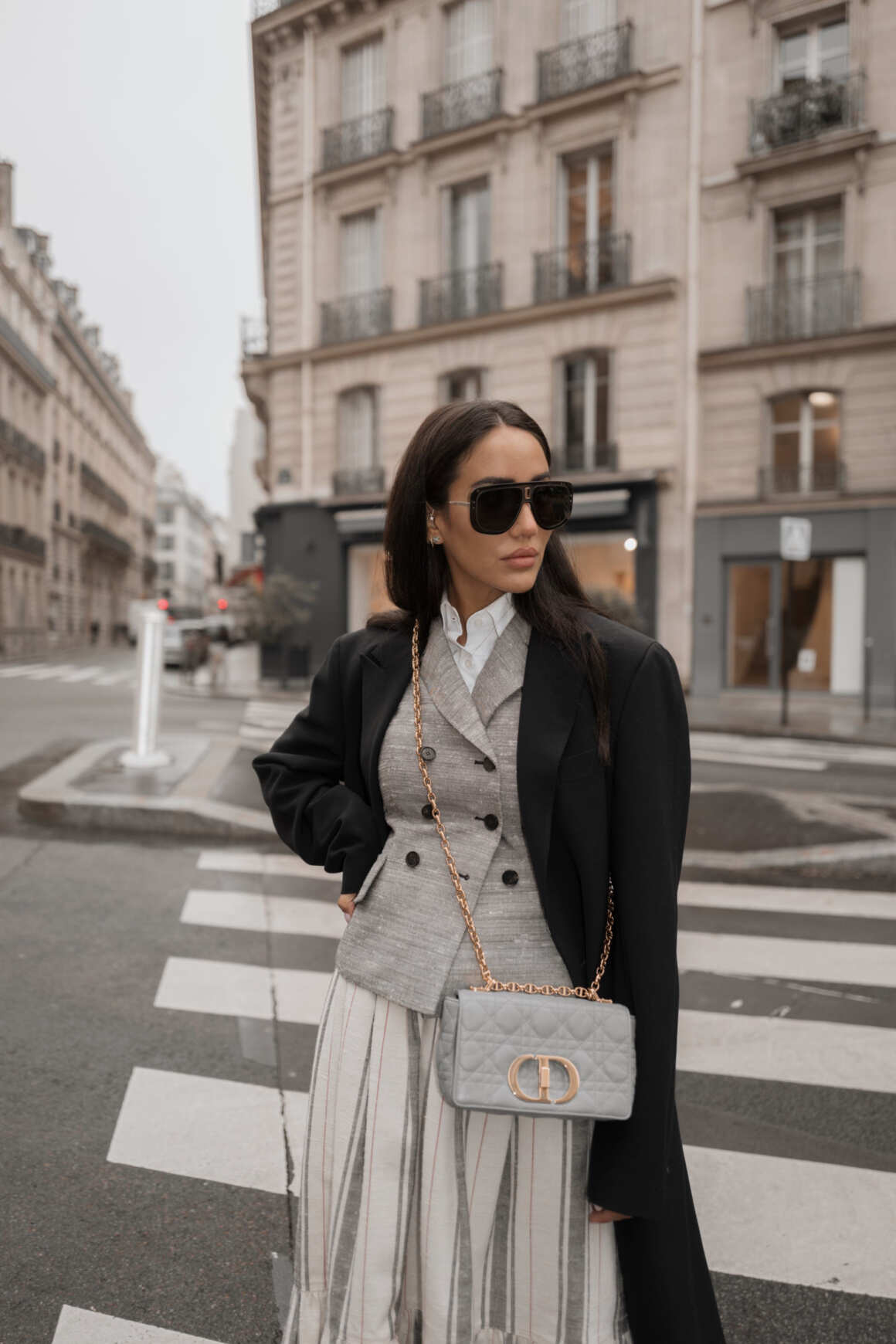 Dior Caro is unlike any Dior bag which has come before it
As mentioned, I have my fair share of Dior beauties, each with its own unique style and purpose. From my classics like the Lady Dior, Book Tote and Saddle bag, to newer styles like J'Adior flap, Dior Revolution and Diorama. Aspects from the Dior Caro's design can certainly be seen in these bags. The wearability of the Dior Caro makes me think of the Book Tote and the instant appeal and lust I have for the design reminds me of my excitement when I first got my hands on the Saddle bag. However, the Caro is not like any of these bags. 
Far from being predictable, I think the Dior Caro occupies a gap in Dior's handbag market. Part of Maria Grazia Chuiri's Cruise 2021 collection for Dior, the bag sports the house's famous Cannage print. The functional flap bag style has a relaxed finish. The design is innovative while still instantly recognisable as a Dior bag. Unlike many of Dior's other flap bags, the Caro features wider sides and has a boxy shape, meaning it's roomy inside so it scores top marks for practicality. 
Over the past few seasons, Dior has really lived up to its status as the designer of dreams. Its playful designs have had me, along with other certified Dior devotees, swooning over the mesmerising colours and whimsical patterns. A big part of this appeal has been Dior's thick embroidered straps which have become a staple of the new era at Dior. Available to mix and match with many bags, Dior's extensive selection of straps conjures my childhood creativity and allows for a totally unique look each time. It's sort of like the pick 'n' mix you probably had when you were a child, where you select an assortment of different tangy tasting sweets, but so much better (and pricier)! I splurged over £1,000 on my embroidered rainbow strap. Multihued and adorned with gold-tone stars and lettering which reads 'J'ADIOR', admittedly, it is gorgeous. It's a must-have for trips to Coachella (oh how I'm longing for those picture-perfect backdrops). I often pair it with my orange J'Adior flap bag and I'm eager to do the same with my new Dior Caro in Cloud Blue, which I think will make a fun pairing. Moreover, the compact size of the small option will be perfect for the look of the chunky strap. While I never dreamt I'd pay out that kind of money for a single strap, I'm beginning to see a Dior strap as an investment piece (move over my new Bleu Brume Hermès Kelly, you have company). 
Any Dior connoisseur knows the power of the Cannage print.
Designed in the '90s by then Dior creative director Gianfranco Ferré, the pattern was inspired by the Napoléon III rattan chairs at Dior's first ever haute couture show and used for the now iconic Lady Dior. The pattern has since been used on several of Dior's styles but has always remained intrinsically linked with the structured top handle style of the famous 'It' bag. But the Dior Caro does a good job of imbuing this classic print with new and original fervour. And this isn't the first time Dior has revitalised the print. Just last year, a canvas version of the pattern was introduced in the Lady D-Lite and Book Tote. It looks as if the print, like the house itself, is evolving. I think it's a shrewd move by Dior to expand its offering of bags in a print which has undoubtedly become synonymous with the house.  
Another reason I was eager to get my hands on the Caro (as if the aforementioned aren't enough) is the use of the sleek CD lettering. Also featured on styles such as the Bobby bag, 30 Montaigne and St Honoré tote, this elegant emblem is placed front and centre of the Caro's design. 
At £2,800 for the small and £3,350 for the larger size, the style is at a similar price point to the 30 Montaigne bag.
I've been pairing my pastel blue version with sharp waistcoats, long flowing skirts and statement shades. While I would love to be carrying the new Caro bag to the latest round of Dior shows, for now, this beauty will have to settle for being my go-to bag to stroll around Paris with. The design has proved to be the perfect accessory for exuding that laid back Parisian style which every fashionista loves. Due to the current state of the world, the laid back elements of this style have sometimes been more laid back than I would like to admit! 
I also have my eye on the Mint Green and Gray colour options and, who knows, if the Caro becomes the 'It' bag it's slated to be, I may have to consider snapping up one of the alternative material options too. 
What do you think of the new Dior Caro bag?