Planning my 2021 outfits often has me in two minds, my mind goes through different sequinned dresses, high heels and even glamorous hats that I probably haven't even worn before the whole situation we are in now. On the other hand, I realised that my style has totally toned down since I moved to Paris and I am much more excited about neutral tones, minimalistic shapes and since last year my favourite handbag colour is black. Yes, that is rather strange for Tamara from 2012 who refused to think she would ever be seen wearing black. Oh how times have changed! I am now the person that would say "Less is more", I say I have a full face of makeup when Im wearing just mascara and concealer and cool brands with Scandi vibes are the ones I reach out to the most.
I have even had time to read and respond to all of your comments, some of which were criticising me to go and try out different brands, to discover new shapes and to introduce something new to the blog. Let's give it a go I thought.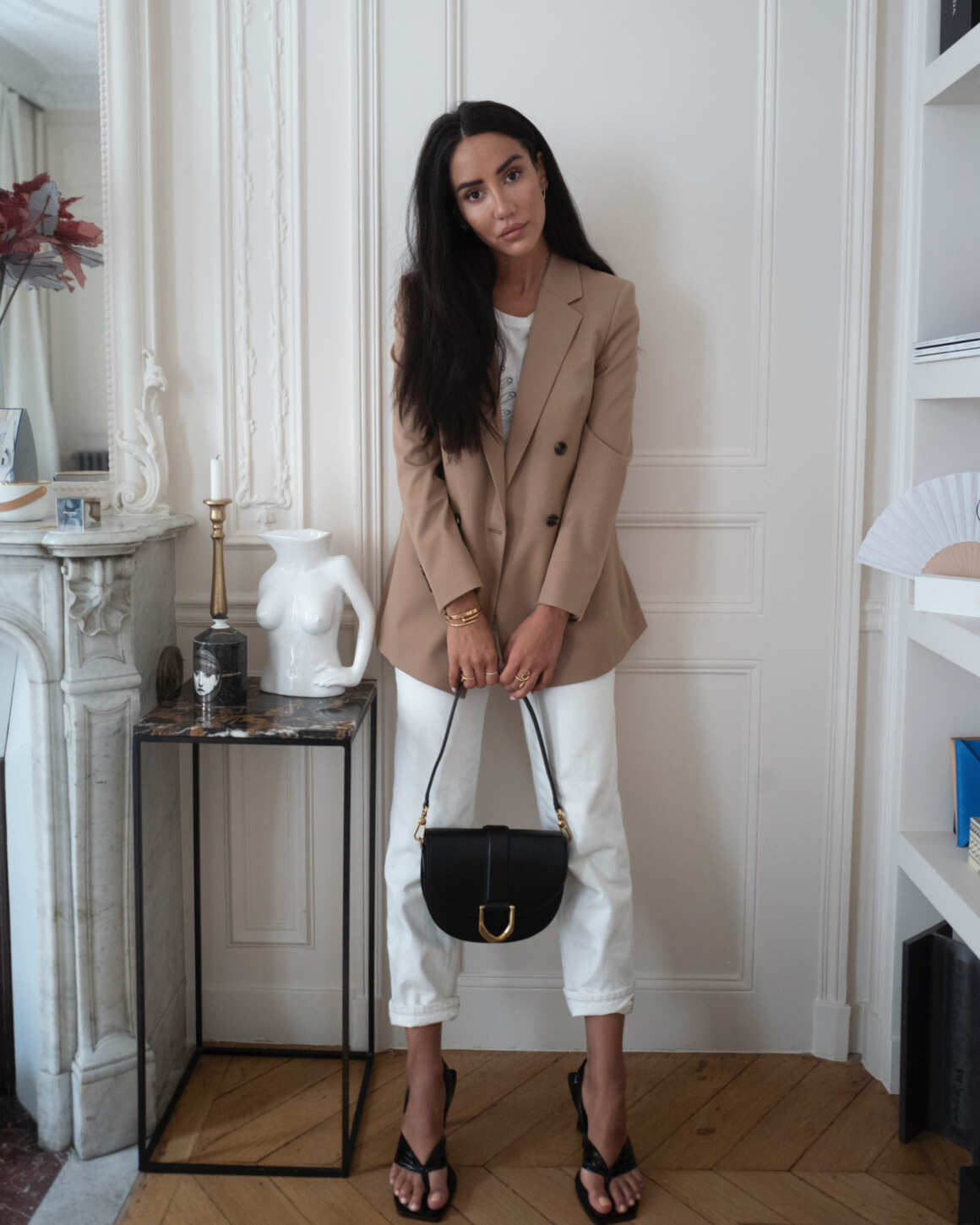 That is something I have been meaning to share with you
I discovered a whole new range of brands, a new colour palette and special one I wanted to talk to you about today is CHARLES & KEITH. I have spotted the brand on Instagram and really enjoyed the posts featuring their accessories rather much, they inspired me many times, and eventually I decided it would be good time to add a piece or two to my collection. Afterall it was my favourite influencers and best friends who pointed out the brand to me first. I was scrolling through their bags, seeing different styles I love such as Bow Handle Bag or Envelope Trapeze, but what I decided on was the Gabine Saddle Bag. This stunning black limited edition handbag is what I will be presenting you today.
Like I said at the very beginning minimalist looks are my thing now. Baggy white jeans, a t shirt and a blazer are my perfect go to outfit summer to winter, but the last time I went for a stroll and a quick shopping session this is exactly what I wore – yes with a coat and pair of boots, but never the less easy. I love these kind of looks lately, ones you can transition from winter to summer and from day to night. To spice is up you can add high heeled sandals like I did in this post, or you can throw on a pair of biker boots. One thing that seems to be steady is the choice of the bag, the CHARLES & KEITH Gabine Saddle Bag fits all I need, my wallet, vlogging camera, house keys(which are rather chunky considering that I carry all of my keys with me), phone and few lip-glosses because now with the mask situation I need to keep reapplying them. I love the effortless style of the bag which is simple, classic and in a way exactly what I would describe with a cool Scandi style.
This outfit is something I would like to wear as soon as the restaurants re open again, as soon as I can put on a pair of high heeled sandals again and go out for a coffee with my friends, add a pair of big black sunglasses and I would call it ideal.
About my new Gabine Saddle Bag
Magnetic closure
Comes with adjustable strap (detachable)
Material: Faux leather
Depth (cm): 4
Width (cm): 18
Height (cm): 14
With the magnetic closure and so many options including the crossbody this bag could be perfect for both office, and more fun life moments, I know you still remember those! What are you gravitating towards lately? Are you team minimalism, or are you going all out with crystals, sequins and party dresses the moment the lockdown is lifted? Surely it cant be just me that has muted down her colour palette, share your thoughts with me.