I know it's not officially winter yet, but let's face it December is usually more of a Decembrrrr, as the temperature goes close or below are though you will  the zero. I love snow as I grew up in a country that gets pretty snowy, and I even remember one winter temperature going as low as -18c(-0.4F), and myself going to high school layering, but still trying to look cute.
Snow might not even be a thing where you live, like London doesn't get a lot of snow, but now I will experience my first winter in Paris and I am curious to see what will happen. The chances are though you will encounter snow at some point, maybe you are even lucky enough to go to a mountain this winter, so I still wanted to share my inspiration and best tips on how to stay warm while looking chic this season.
Lets get into all the exciting parts of high fashion in the snow, I will discuss both practicality and luxury, because we know that as soon as the snow slopes are back on we will all want to look super cute on them.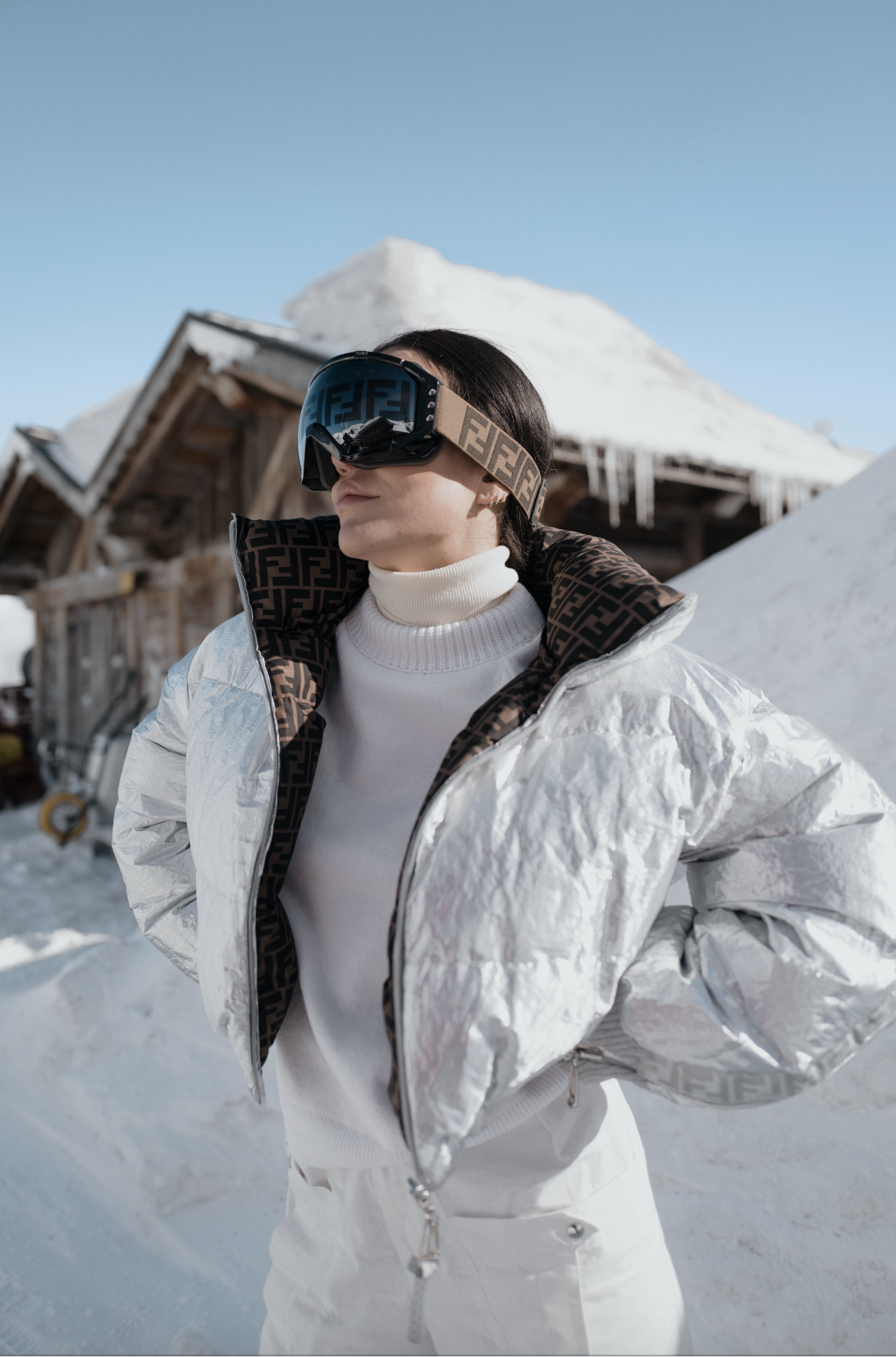 Apres Ski Chic
Maybe you don't even ski, but you enjoy to go to those fancy apres ski restaurants and bars, along the slopes of Courchevel, St.Moritz and Gstadt. Its ok, nobody here is judging, sitting down on those cold and often snowy chairs can be freezing, which is why it often involves alcohol blankets that the waiters kindly offer. I suggest going in something warm, make sure to have the sunglasses as it gets sunny, get the chunky scarf, and a big puffer or ski jacket. Under that you should have a super trendy knit, as sometimes they put the outdoor heaters on and it does also get hot. Yep, layers are the key. Make sure to come prepared. My favourite piece for this is a flashy Fendi puffer jacket, warm but flattering.
click on the item and shop it now
Cute In The Snow
The cute snow look has been around since forever. Usually it involves an all white look, some beige accents, perhaps even nude coloured boots with shearling… I love to take this look on the next level by adding a massive statement scarf. You can find really amazing ones from Loewe, Acne, Dior, Louis Vuitton and specially this season Chanel. I think this is when you can go very basic with a white cashmere turtleneck, white pants and just add accents with your warm beanie and a scarf.
click on the item and shop it now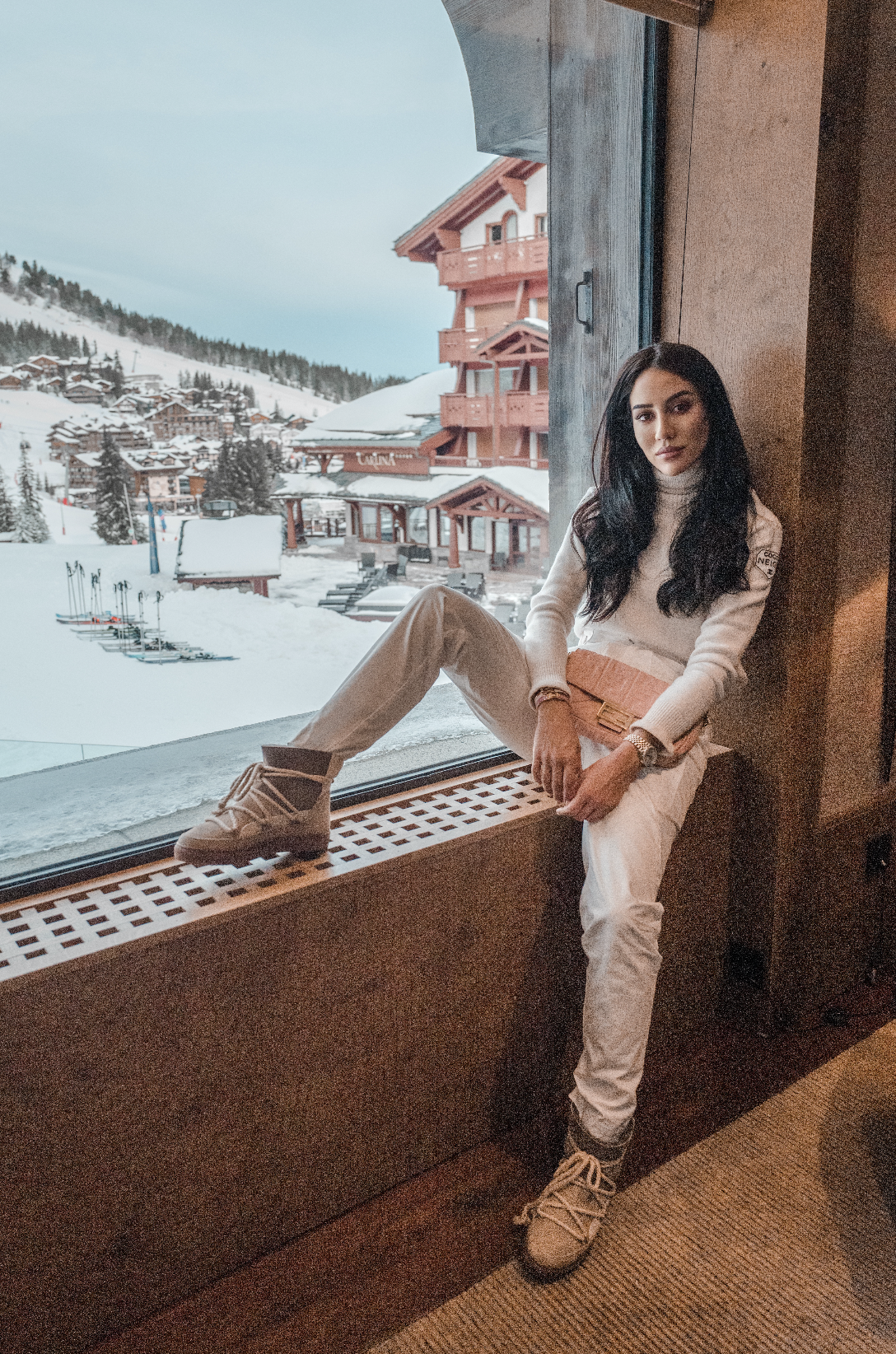 Thermal Layers
What goes underneath is the trick. To look cute but feel warm in the slopes really isn't so easy. Because the whole Chanel. Neige collection won't keep you warm when you are up there in the freezing wind. You need to wear all of those cute wintery pieces over the thermals, and my best recommendation has always been Uniqlo. Now you need a body with long or no sleeves, you need tights, and socks over them, and you need their insanely good cashmere turtlenecks. Those things go such a long way, and you can get them pretty inexpensively.
Since you are all ready, don't forget SPF50 – my best friend, and of course a good lip balm, preferably also with protection. I like to carry a hand cream with me at all times, and nowadays hand sanitiser. Because you never know.
Hope you get to enjoy the snow this year.
click on the item and shop it now