IS THE SIZE REALLY THAT IMPORTANT?
Yes it is, specially when big bucks are at risk. Here we go the holy question of Hermes Bag community, there is so much at stake when telling your SA which bag you want to buy, there is only one chance, and you need to get it right. Hermes Birkin also isn't exactly a cheap bag, so you definitely don't want to get it wrong. Which size to get? What is the difference between Birkin 25, Birkin 30 and Birkin 35? How would that difference look on a person? Ughh, believe it or not, I get Hermes related questions also from other influencers on daily basis.
Don't worry, I have been there before too. You are heading to the boutique and you can't get it wrong. You want o tell them that you want a Birkin 25 full of confidence, oh or did you want the 30 maybe? Today I will be sharing my full comparison of the sizes, functionality and everything I know and feel about these three different sizes of the iconic Hermes Birkin Bag. Before you judge these sizes on my body frame, for your reference I am 174cm (5'7)
Birkin bags are handmade from leather, and the line is named after English actress and singer Jane Birkin.
All Birkins are crafted by a single artisan in one of Hermes' workshops. It takes each artisan 48 hours of work to create a single bag.
click on the product and shop now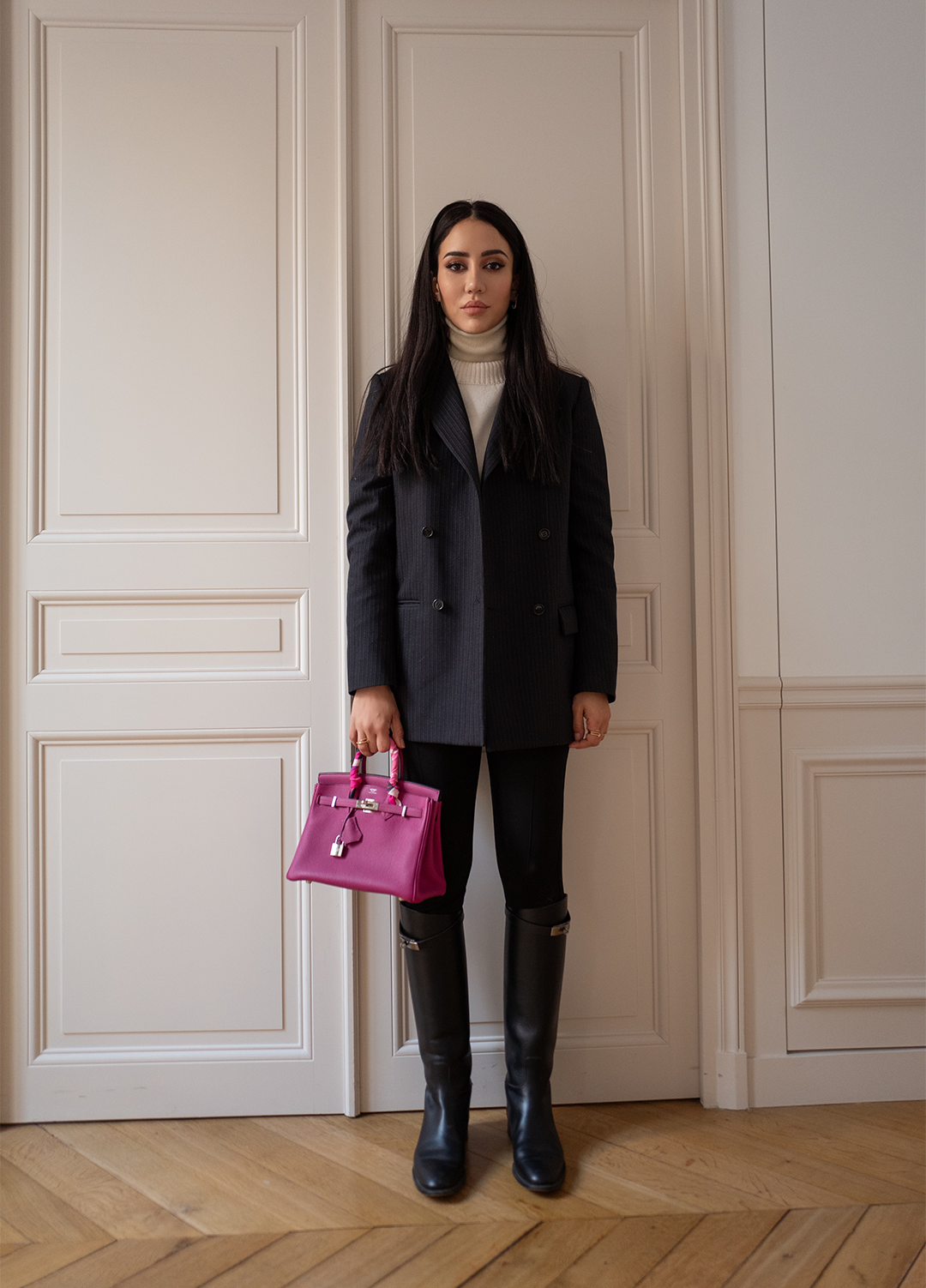 The mini bag crazy started several years ago. I personally think it peaked, which means that we will soon be leaning towards the giant bags again. Its simply how fashion works. Birkin comes in 4 different sizes, with B25 being the smaller of them all (until the next collection which will feature Birkin 20 in Faubourg multi colour edition – if you watched my videos you know what I am talking about).
So here she is smallest of them all, what can I say? I have 2 Birkins 25, they are both in Togo leather, and I love them to bits. I wore them probably the most out of all the sizes, because its a bag that fits everything but isn't too big for day to night. You won't regret getting a Birkin 25, plus I think they are most in demand, but if you are a city girl that likes a big tote, which could fit your iPad or perhaps lap top too – this isn't the bag for you. Biggest downside of the Birkin 25 is that this bag can only be carried in your hand, as the handles are too small to fit the hand throug the handles (I do do it, but sometimes also get stuck int here – don't ask).
Birkin 25 is perfect winter or summer bag, with full functionality for a trendy city girl.
*Note that the type of the leather can also affect the general look of the bag so it could look bigger or smaller in different leathers.
My Birkin 30 is in Epsom leather. I really wanted a Birkin in Epsom leather, which is a little bit harder. I got this beautiful Crae one with Rose Hardwear and loved how versatile it is. Saying that – this is the bag I wore the least. Why? Maybe because I got it before Covid, and didn't really get to wear it much, but maybe because its not quite my 35 so that I wear it when I want to bring EVERYTHING with me, but also is bigger that my 25, so that its not as cute. I don't know, really don't know. For me 30 is a bit of an "In between size". Am I the right person to ask?  Im starting to doubt, as Birkin 30 is the most common one after all, but there are my super honest unbiased opinions.
My Birkin 30 fits it all for a day to day, agenda, little blogging camera, wallet, keys, a bit of makeup, phone, and a bunch of unnecessary receipts, papers and things I will never look at again. It even fits my tiny MacBook – but that's stretching it a bit plus it looks a bit strange then.
Still Birkin 30 is insanely beautiful on a when not too full, so I try to stick to this rule.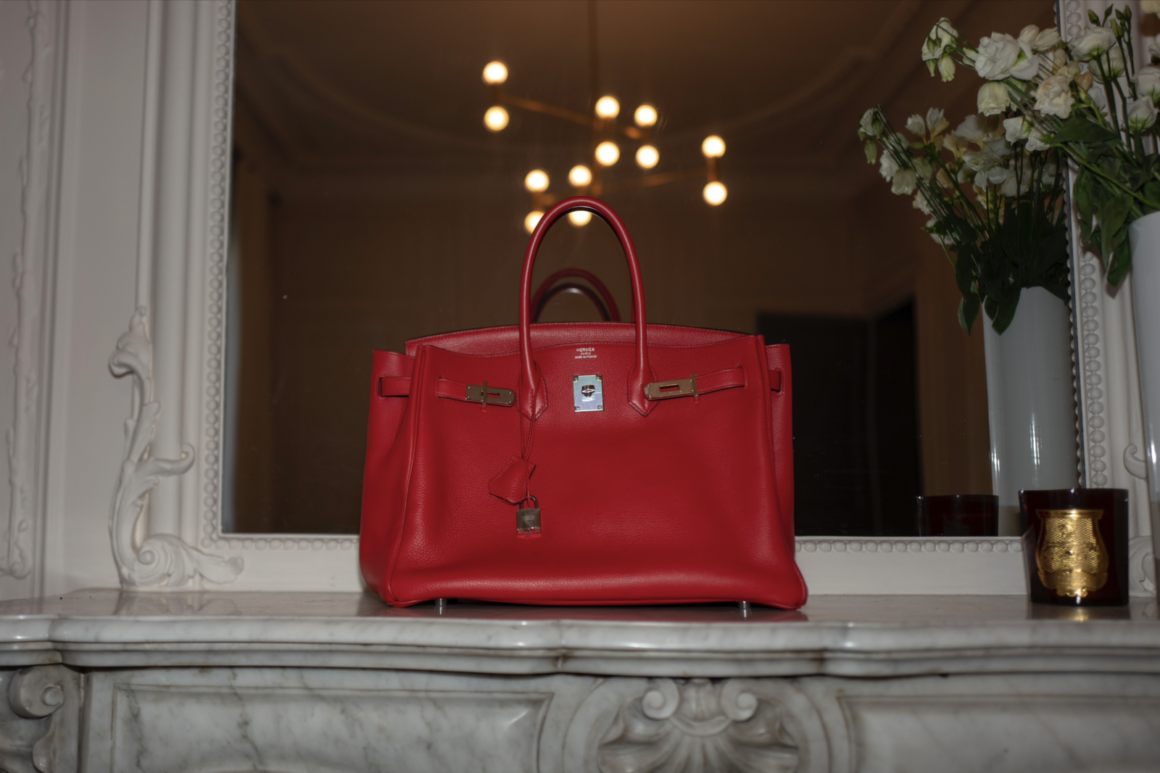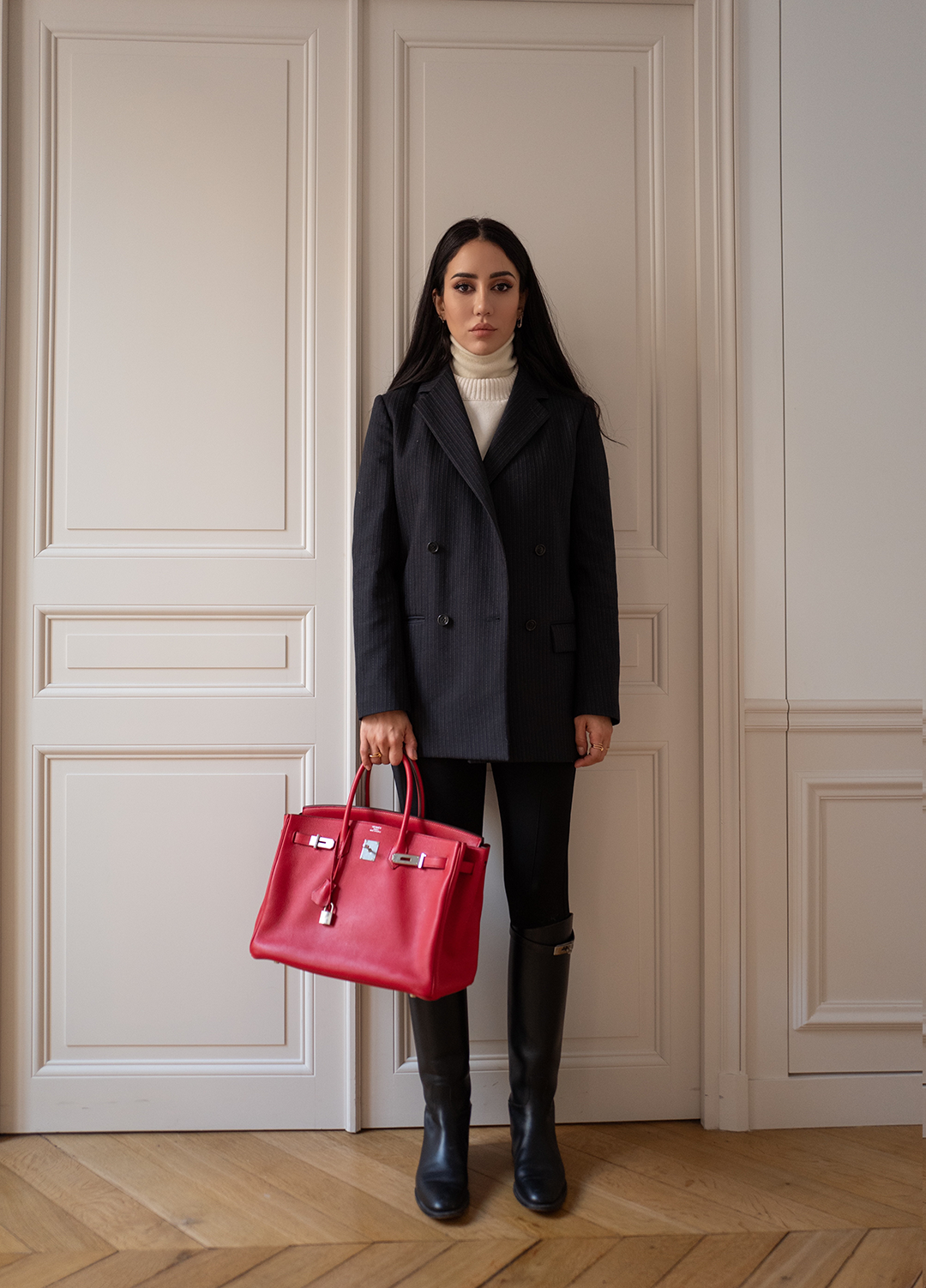 On the contrary, I think that Birkin 35 looks the BEST when its full, I think it looks a little sad and empty when there is nothing in – as pictured. I always carry it when travelling, and love that my beautiful Geranium red colour goes with everything. Taurillon leather is the third leather of the ones I showed you and I LOVE IT. When I went to the store I judged 35 and told my SA that its too big and I wanted a Birkin 30 – until I tried the 35 on. It was immediate love at first sight. Ever since I got it I wore it multiple times, its so chick at the airport, even with my cashmere tracksuit.
It fits not one but two lap tops, all the other stuff mentioned above, and even an extra knit. It looks super cool, and even better when over filled, gives it that "I don't care" vibe, which of course I do. I care. Very much.
Taurillon leather also gets judged for being heavy, but honestly, a bag of this size is never gonna be light. I love it specifically because its keeping the bag in a better shape, and its more durable than other leathers.
CHECK OUT MY HERMES BAG COLLECTION VIDEO
Final words on Which Hermes Bag Size To Get? Oh honey, its completely personal (pun intended), I think that size doesn't really matter as they all do different things, but of course many other factors come to importance here. Your lifestyle, your height, and of course what you really want to do with it. Whichever you get, you are one lucky person!