THE COLOUR RED
Red is the attention grabbing and emotionally intense colour. It enhances physical reaction, assertiveness, determination, energy, power, enthusiasm, impulsiveness and excitement. If your partner chose red roses for you, your present can be the red lipstick for him or her to look at across the candle lit table. Several studies have shown that red carries the strongest reaction of all the colours. Also it is considered that brings all the good stuff in your love life. Exactly because of that, red lipstick is my choice for this Valentines day.
MY VALENTINES' PRODUCTS
click on the products and shop
STEP 1: This primer makes my skin luminous and ready for any makeup going on top of it. It provides a shine that makes any foundation dewy but not greasy. It is also formulated with only good ingredients so that the skin doesn't get clogged or inflamed, which I really appreciate. This is a new product from the brand, silicone free primer with good skin care properties. I have enjoyed testing it and will definitely include it in my everyday routine.
STEP 2: For Valentine's Day, heavy, cakey makeup is not a way to go, and this La Mer foundation offers a lightweight feel and decent coverage for a natural and perfected-looking skin. It is suitable for almost all skin types and provides long-wear, while also hydrating the skin. I use it all the time and it is my go-to anytime I have an important event.
STEP 3: The name of this concealer itself is so appropriate as it does indeed look nice and fresh underneath my eyes the entire day with no sign of caking or creasing. It highlights the face nicely and provides good coverage while still having a very thin formula.
STEP 4: A holy grail for almost everyone who has ever tried it. This is my favourite product for setting the makeup and keeping it on your face for many, many hours. It is undetectable on the skin and will not darken any areas on the face nor cling to dry patches. Oh, and also it doesn't leave flashbacks in the photos, perfect for Valentine's Day. I love it so much.
STEP 5: Another legendary product that helps achieve that  perfectly sculpted face look, with no weird grey undertones nor the orangey looking contour. It blends super flawlessly and the added highlighter makes it a perfect duo.
STEP 6: Adding a bit of warmth to your make up is necessary, and this Jouer product does the job so well. The formula is silky and satin, so you can adjust the colour intensity on your cheeks.
STEP 7: Patrick Ta does the most incredible celebrity make up look, for example Gigi Hadid or Shay Mitchel, with their skin always looking so dewy and natural. The colour of this blush is a divine rosy one and it will complement Valentine's Day look perfectly. The formula is buttery, and easy to apply so there is no risk of over-applying it.
STEP 8: Nars has nailed the formula for the natural, but very glowy finish. There is no glitter in this product, it just nicely accentuates the high points on your face. This shade is a true champagne that will look good with any makeup and also on most skin tones.
STEP 9: Ambient Lighting powders are multitasking products, with a completely unique texture and finish. If you do not prefer extreme highlighters, this can double up as a highlight on the most prominent features, however, it is the best used as an all-over finishing powder ideal for reducing the dull and matt appearance of the skin. I use this even during the fashion week. This palette creates a candlelit glow on the skin, which is quite fitting for a romantic dinner at a restaurant with the dimmed lighting.
STEP 9: If you want your eyeshadows to last through the entire Valentine's day and night, Nars is the way to go. It is a long-standing cult-favourite product, and recently the lineup was extended to include more skin-toned shades. So if your concern is any discolouration on the eyelids, this primer will take care of that.
STEP 10: Another limited edition gem from Nars is their newest palette that comes in the cutest packaging, featuring shades that range from the light bronzy to pinks, and some really deep shades. Depending on your preference you can pair a smokey, bronzy eye look with a red lip for Valentine's day or go for a more subdued look on the eyes with light champagne-gold colours in the palette.
STEP 11: Creamy texture and long-lasting wear of Marc Jacobs pencils are no secrets. The dark brown colour will perfectly frame the eyes while not looking as harsh as black. It is also ideal for the waterline to add a pinch of drama to the otherwise very romantic look.
STEP 12: This mascara will give you a fluffy, fluttery eyelash look in an instant, with a super black finish. It is great for volume but doesn't clump or smudge throughout the day.
STEP 13: With a slim tip and a perfect colour intensity this pencil fills in the brows and makes them look very natural by creating precise hair-like strokes. It is also smudge-proof, and Hourglass has nailed the shades which seem very suitable to natural eyebrow colour.
STEP 14: MAC lip liners have always been my favourite. I have so many shades and wear them with almost any look. This iconic red shade will stay on your lips and will compliment almost any lipstick since it is more of a classic red shade. A true staple in my collection.
STEP 15: You can't go wrong with any Louboutin lipstick, and especially the reds. The perfect red for any skin tone, as it is not too dark, nor too bright. These lipsticks are long-lasting, but they are very comfortable on the lips and aren't drying. I feel like this is my signature shade of red, that's how much I adore it.  
STEP 16: I always have to have this mist in my makeup bag. It is so refreshing, and whenever I apply a lot of makeup, I love spraying this on, to make my skin look more natural and luminous.
STEP 17: When it comes to setting your makeup and forgetting about it, All Nighter always comes to mind. It keeps my makeup on forever but doesn't make my face feel tight or too dehydrated. It is a perfect companion for every look that I intend to wear for a longer period of time, especially recommended for special Valentines' Day.
CHECK OUT HOW I PLAYED WITH THIS MAKE UP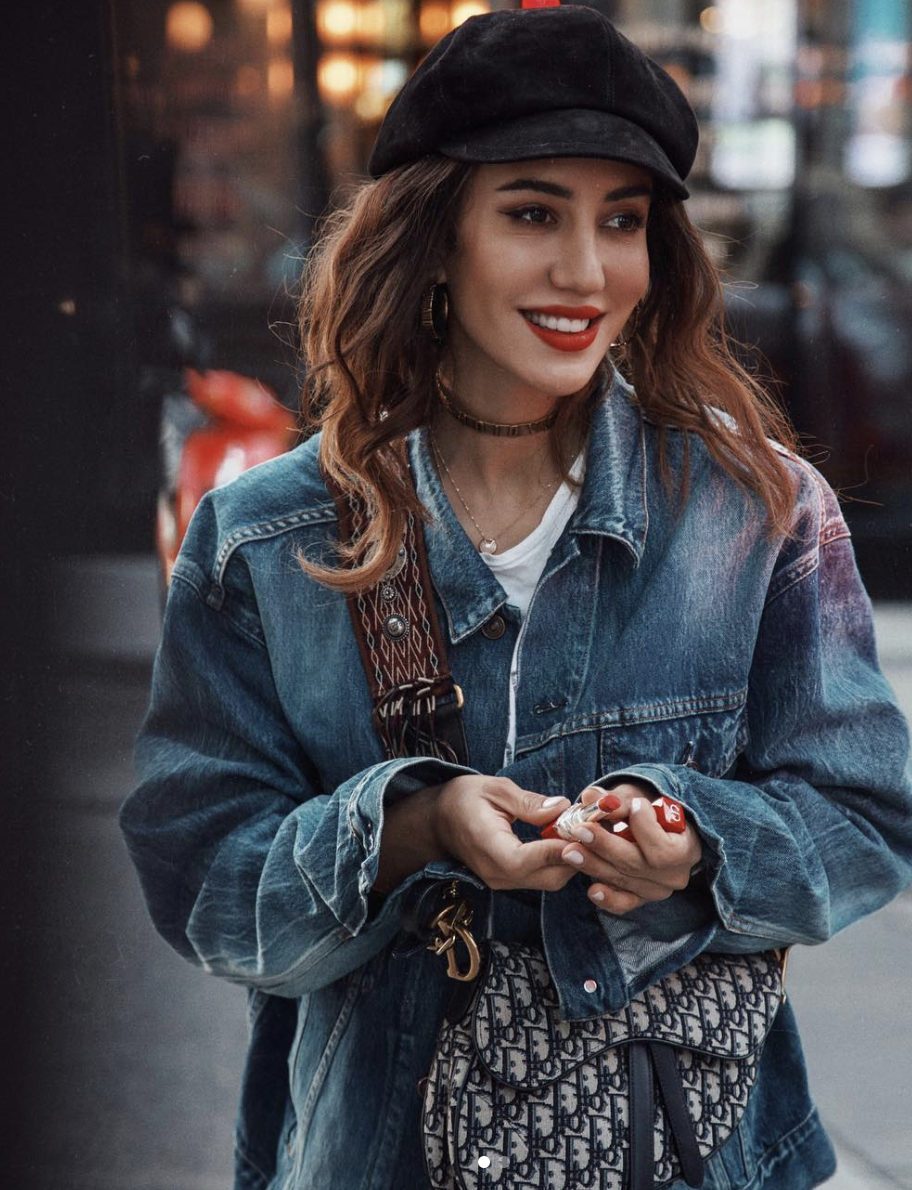 Thank you for reading this blog post. I am sure you will be one stunning Valentine.
xoxo, Tamara