Find below my four different takes on the tailored suit for a powerful outfit with an androgynous allure.
Fashion and its changing faces are creating the rules of the future but designers seem to be particularly interested in returning to the pure essence of the industry: The perfect Fit.
New Year, New Decade. Since the beginning of my career I experimented with a lot of trends, discovered my love for styling, got my basics right but most importantly I was invited by brands I simply adore such as Dior and Louis Vuitton to explore their art of craftsmanship. Its my job and my mission to share with you every piece of knowledge I acquire during these events.
The opportunity to meet iconic designers such as Tom Ford or Stella McCartney and the amazing feedback from you guys about these trend series, made me focus more on Savoir Faire, the magic behind luxury designer pieces. Today I decided to write about it.
Virginie Viard at Chanel, Clare Waight Keller at Givenchy, Maria Grazia Chiuri at Dior and Rihanna's new label Fenty under LVMH Group, are only few of the examples of women dominating the fashion field and changing the game with their innovative and groundbreaking ideas. This change for me goes hand in hand with one of the biggest trends for 2020: Tailoring.
Designers are rediscovering the powerful silhouette of the 1980s, blending in the minimalism of the early 1990s and the deconstruction of the new age cool kids. I loved the sharp shoulders at the Balenciaga Spring/Summer 2019 show, the neutral tones of Etro Spring/Summer 2019 show, the feminine twist on tailoring at Mugler and the British Version at Burberry.
Reinventing a staple that is considered to be a traditional code of masculinity to its feminine version is not something new. Yves Saint Laurent and his iconic 'Le Smoking' in 1966 caused a scandal to the conservative Parisian customers but the return of the suit is equally scandalous and unexpected today. Why?
From Valentino to Gucci, designers are embracing diversity and gender equality by celebrating style in all forms, colours and shapes. The art of tailoring was a luxury for a typical  customer while now the risqué spin to the traditional tailored suit by adding in sheer fabrics, cut out details and borrowed elements from other garments, celebrate not an abstract muse, but the woman of today.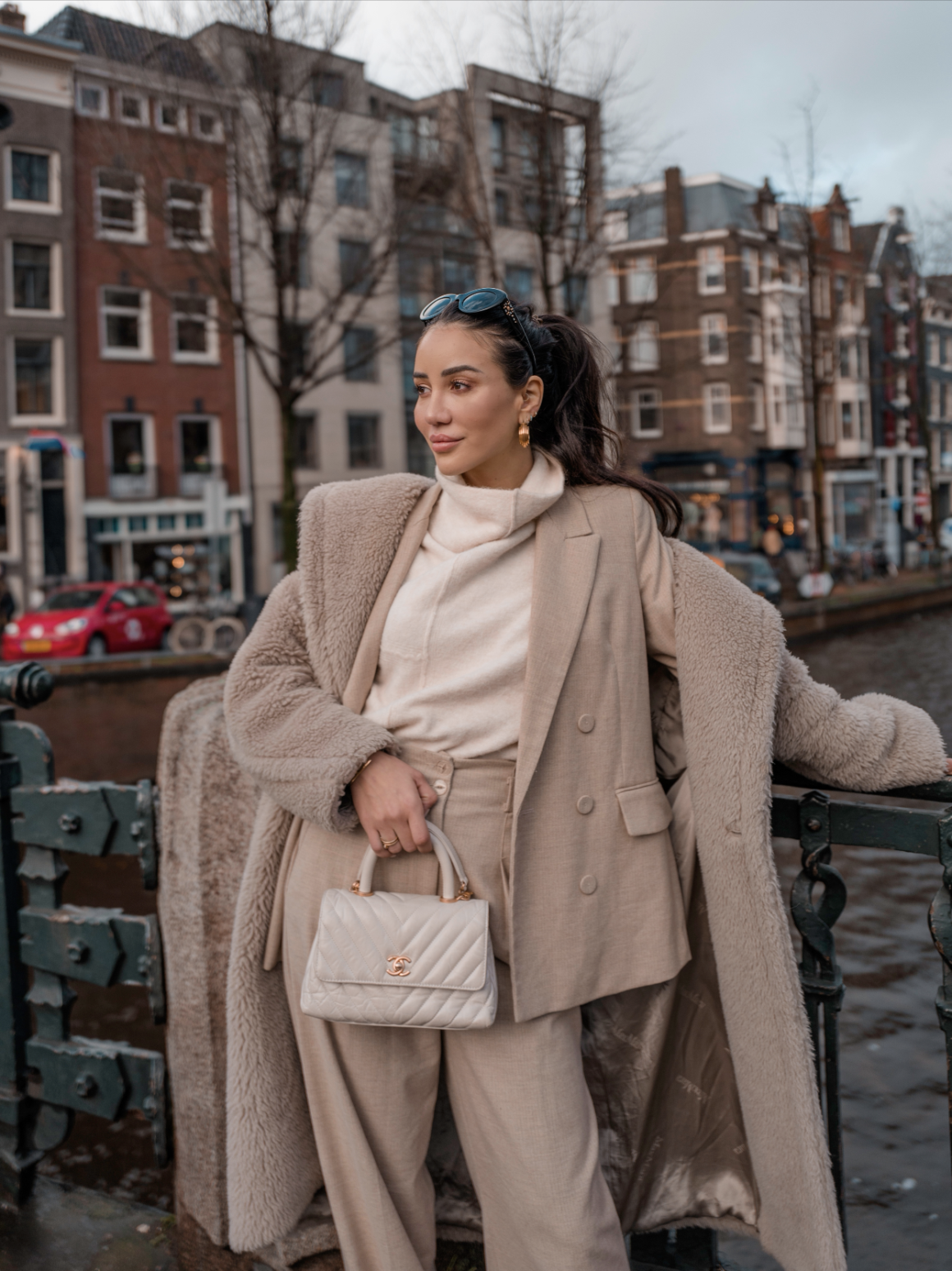 Traditional Suit Who? My obsession with tailoring started when I invested in a Hourglass Blazer with Sharp Shoulders from Balenciaga. This particular cut of the blazer, gave me professional self confidence and sass. A sexy take on the trend, for a night out or an event, pair your classic blazer with the bare essentials: A pair of high heels and your smile.
When a big trend meets a bigger one things can often go wrong, but on this occasion it is a match made in heaven. Warm nudes, rich browns and crisp whites can create the power outfit of dreams. Think high-end sophisticated and create coherent looks with precise cuts and shapes.
Dare it. There is nothing more empowering than a woman in a red suit, walking down the road to go to work. Many of us feel utterly comfortable in timeless colours such as beige and black, but on certain occasions colours can work wonders on both your outfit and your mood.
Simple but fabulous! Traditional Savile Row meets Party Oasis in an outfit that you have in your wardrobe for sure. Tailoring gets a fresh twist with the help of transparent fabrics, sequins and unique prints that will turn all heads for sure. 
SHOP MY LOOK
AFFILIATE LINKS USED
Share in the Comments Below how you would style the trend!