You guys know how much I love handbags. I consider them investment pieces for a woman's wardrobe and a great way to elevate a casual everyday outfit.
There is this magic allure that surrounds Chanel, making me feel a Parisienne at Heart every time I walk down the streets of London, carrying a piece with the Chanel signature. With their timeless design and impeccable quality, a Chanel handbag is the definition of an investment piece, something you will wear everyday from work to special occasions and never go out of style.
I have been on the hunt for a maxi Chanel bag for as long as I can remember, and when I visited the Chanel boutique as I always do at the end of the Fashion Month, (during Paris Fashion Week) I knew that I finally had found the perfect one. Classic but Statement, Chanel 19 is the last bag designed under the creative direction of Karl Lagerfeld and made its debut at the Fall 2019 Ready to Wear, a collection where tweed, one of the strongest and most recognisable codes of Chanel, dominated. Classic with a contemporary twist, tweed bags are a recognisable Chanel cult staple and ideal for fall, adding texture to everyday outfits, yet being quite neutral and practical.
SHOP MY FAVORITE CHANEL BAGS
MORE ABOUT THE NEW CHANEL 19
The new Chanel 19 is named after its birth year, and it is said to be inspired by the iconic Chanel 2.55 bag, incorporating many of the house's codes, including the double CC turn lock, iconic interwoven chain and leather, and diamond quilts. 
The bag features clean lines and comes in 4 different sizes (a waist bag, original, large, or maxi) and two different versions (goatskin leather and tweed). I decided to go with the maxi size (9.8 x 14.0 x 4.3 in) that easily fits my laptop and everyday essentials without making the bag too heavy to carry. Inside of it there is a zip pocket and a roomy interior that makes it perfect for work or travel.
For a casual day in Brighton, I paired it with my a pair of  dark Dior denim and a black Dior Knit, keeping myself super cosy and comfortable. To add up a bit of color, I chose my statement Chanel Coat that I bought in Vienna on sale. I completed my look with my brand new Bottega Veneta Boots that I am so obsessed with lately and that you will soon be able to read more about in a new post I am currently working on, so stay tune!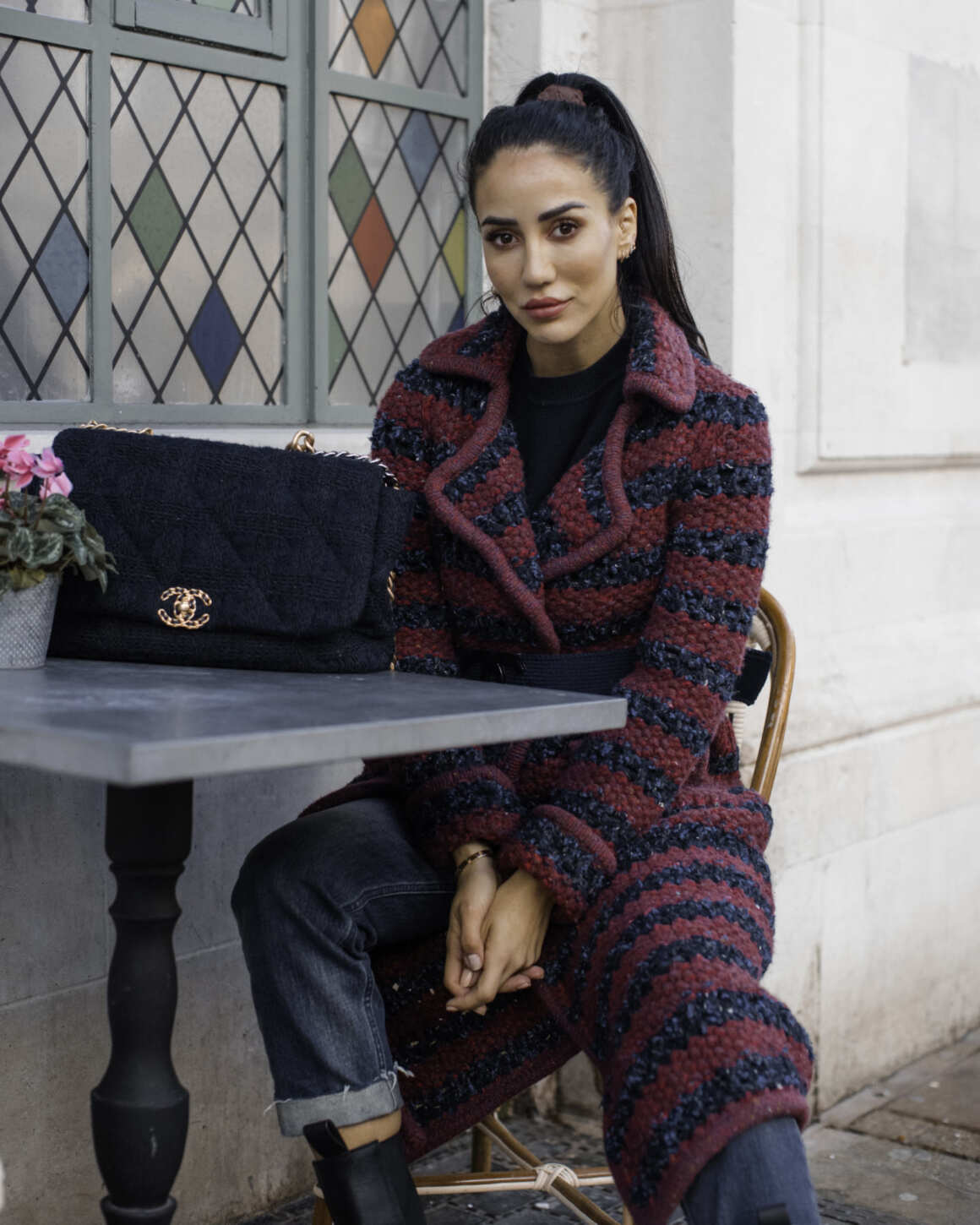 "LESS DRAMA

MORE HANDBAGS"
CHANEL HAUL - TREATING MYSELF FOR END OF FASHION MONTH
What are you guys saving up to splurge on for the new season?
Let me know in the comments below!