I remember the days when I used to have a check list for packing. Now it's a very special occasion when I'm actually at home. I don't need a packing list any more, and most of the time my beauty bags are already packed. I have two, and actually I filmed a whole video about them.
One is for the make-up and the other one is for all the toiletries, but have to admit most of the items in my cosmetic bag can be characterized as "skin care". Since I spend such a big amount of time on the road, I actually really have to be careful about my skin care. Irregular sleeping, different diet, airplane air and all that stuff can cause my skin to break out, look dry or even to get hyper pigmentation which seems to be my biggest problem when it comes to skin (also having a boyfriend with beard can cause occasional break out – heard this from a friend LOL).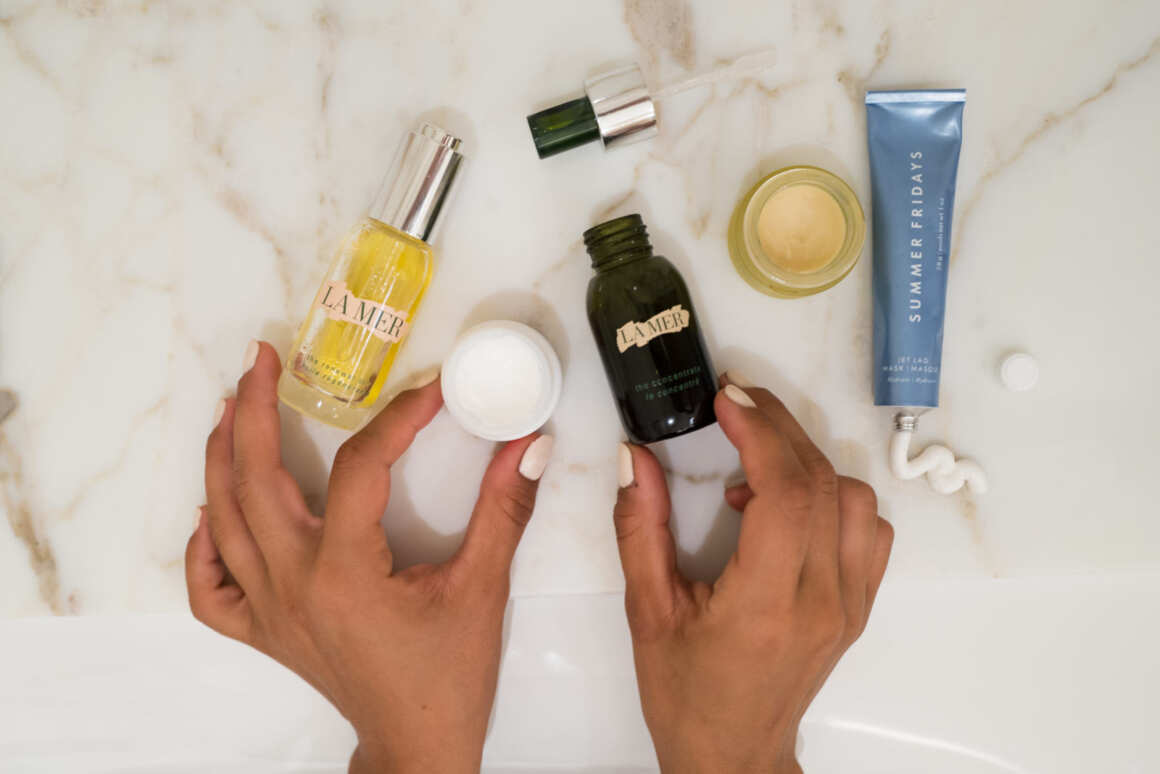 In today's post I wanted to empty the contents of my skin care bag – and show you what I have with me, and WHY! Now let's discuss product by product, and I'll tell you how I use them. Some of them I use every single day, others when needed, but overall skincare is extremely important for me.
1. FOREO LUNA 2
Ok, even my neighbour's dog knows that I have been using FOREO LUNA 2 facial brush for over a year now. It's just the clean and fresh feeling that first got me into it, but then I really started learning about all the benefits of this pulsating spa massager. I use both sides of it – the cleansing side which I use in combination with this NARS Foaming Cleanser after removing makeup, or after waking up. You have probably seen my videos lately and all the benefits of LUNA 2 facial cleansing massager, but now after a long period of using it after working out, I must say how important it is to clean your skin and remove sweat and dirt.
Another fun fact is – our skin is the most receptive to cleansing after working out, and it is vital to remove the sweat because it is an activator for blemish-causing bacteria. I use the other, massage side of LUNA 2 when trying to massage the serum into the skin with help of the pulsations, this doesn't only feel good, but it boosts circulation too and the product penetrates better. One very important thing for me is that the brush is made of anti-bacterial silicone, so I don't have to worry about it picking up all kinds of bacteria from my skin care bag when travelling.
2. La Mer Original Cream
I could write essays about this product. I love the scent, I love the way its applied (oh yes, there is a special way, and if you don't know about it, you NEED to stop by La Mer counter to try it), I love the results, how fast it heels any unfortunate spot picking aftermath, how much it soothes my skin and how beautifully foundation applies after it. Do I even have to mention that I also have a huge tub of 1kg at home? Yes thats how much I love it.
3. Summer Fridays Jet Lag Mask
The name itself explains it all. I am so in love with this face mask as it really hides all the avios and miles that I have collected on my face. Full of good for you ingredients this mask quenches my skin better than 20 glasses of water. I love that they also started doing the mini version now, so not only does it fit easily into my skin care bag; it can even fit into the see through airport bags.
4. La Mer Renewal Oil
5. Tata Harper Concentrated Brightening Serum
6. La Mer The Concentrate
There are more products that I could mention, sheet masks, clay masks, toners and SPFs, but this blog post would be way too long, so I decided to write about the products that are just absolute constant in my life for years now. Hope you will like it, and make sure to leave a comment below about what you carry around in your skin care favourites bag.