SUMMER 2019 MUST HAVE BAGS!
The moment weather gets hotter, I get more excited. I have to admit its so much harder looking stylish when its too warm, as layering isnt an option. Instead we have to show our best with our accessories. For that reason I decided to share with you my top 5 favourite summer bags for every occasion. Bags are essential part of my every outfit and my favourite piece to shop for. Even though I had more love affairs with other bags as you could see in my previous posts, today Chanel, Fendi, Louis Vuitton, Loewe and Dior are absolutely my favourite bag makers.
Hope you will like my 5 top bags for summer 2019. Feel free to share what is your favourite SS19 piece?
1.PERFECT TRAVEL TOTE
Oversized travel tote is everything you need for summer 2019. My choice went for Louis Vuitton OnTheGo as a travel companion, as this bag doesn't only look amazing, but fits everything from laptop to spare hoodie in case I am cold on the flight. I wore it at my South France trip and it was perfect. It has long and short straps which makes it ideal for carrying around. Another huge perk is that it has many pockets and compartments, so I never search for my passport for too long (you know that feeling when you thought you lost your documents or wallet, just because the bags just isnt very user friendly). You can choose your colour on Louis Vuitton website, but I wanted to go for something happy and colourful. What do you think?
2.CITY CHIC BAG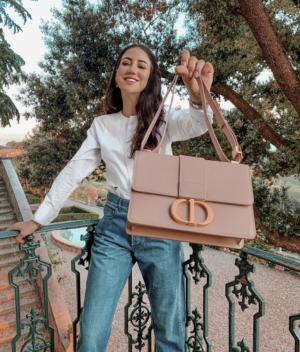 This Dior beauty in blush pink colour is a must have this season any city chic outfit. It completes any look. Full hard leather with pocket at the back makes your life much easier when reaching out for your phone, for example. It has stunning golden Dior logo at the front and engraved 30 Montaigne at the back, which is iconic address in Paris where the first Christian Dior boutique was opened. I love it so much that it was also featured in my May Favourites video. It comes in different colours and I would absolutely love to hear which one is your favourite?
3.BEACH BAG
When going to the beach I like to bring all of my stuff specially the ones I wont need. At the same time, I like to look very stylish. This bag is exactly what I was looking for this summer, a perfect beach bag. With adjustable tan leather straps Loewe beach bag can easily fit a small towel, sunscreen, flip flops and even a laptop. You can see how I styled it during my Santorini trip. I love the fact that it is hand-woven which makes it even more authentic. What is your favorite beach bag?
4.CLEAR BAG
This Chanel bag simply reminds me of the seaside whether I am there or not. It is as clear as water, it has sand inside and beautiful pearls on it's handle – what else can you ask for a perfect summer bag? It gives that "pop" to every look and it makes you stand out with your summer outfit. Cant even tell you how many people asked me why is there sand in my bag. Of course, sand is in a special compartment which doesnt touch your items. Check out how I wore it during my LA trip this April. Also, it is very spacious and you can carry all of your important things and always see what it is inside. :) I am really curious what do you guys think about this Chanel? Lack of privacy or just stunning?
5.BELT BAG
One of the hottest trends this season is a belt bag. My choice this time was more then cool and super fashionable Fendi belt bag. It has adjustable strap that secures perfect fit around your waist. Moreover, apart from being so trendy, it is very useful and handy since it has one phone slot, two large compartments in front and one zip pocket at the back. Of course, it is a full leather bag. Did you already chose your summer belt bag?
HERE YOU CAN CHECK OUT MY ENTIRE HANDBAG COLLECTION: