There is something about this and every summer when it comes to me. I have my standard usual locations which I like to visit each year. The moment it gets warmer Im already thinking about Santorini, Amalfi Coast or South of France. It was no different on this occasion, Cannes, Nice, St-Tropez, Antibes I visited them all in the first days of May and as every year charged up my energy and got really inspired for the upcoming months.
You don't need to spend long time in these beautiful trendy places, you can be three days and really enjoy it to the max. On this occasion I spent three wonderful days in St-Tropez, or more precisely Ramatuelle with Laura Mercier, and count wait to tell you all about it.
Flawless skin
We headed there to celebrate their incredible new Caviar Black Mascara, which you could already see in my vlog. I also got a chance to try Laura Mercier Flawless Lumiere Radiance Perfecting Foundation which is exactly what the name says, light but creamy foundation that gives glow finish – and if you ask me, is perfect for summer months. I am trying to wear less makeup when it gets hotter, but a good base and a good mascara….ok maybe also an eye brow pencil, but you get a point – these three are a must. We visited a stunning Chateau Volterra for a brunch to learn more about these products. They came beautifully presented with the Laura Mercier Hydrating Primer, angled brush and a sponge that are great for a precise application. Im not so much of a sponge using girl, but this angled brush came in so so handy, as well as their foundation brush which sadly isn't pictured.
If you want to learn more, you should definitely check out my vlog from Saint-Tropez, I promise it will be worth it.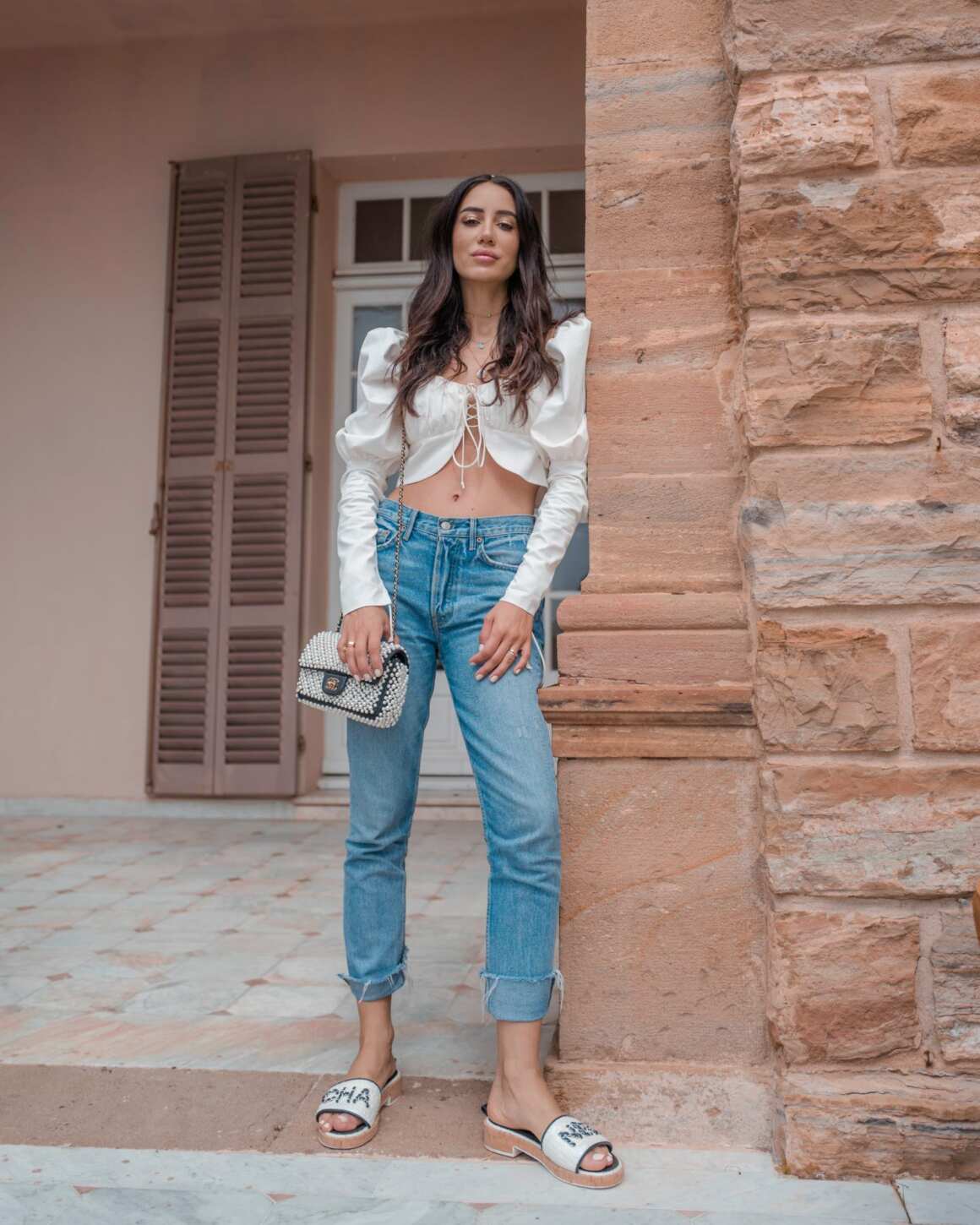 Outfit
I know you all want to hear about my outfit, and is it too vain if I say that this is one of my favourites? When I have a favourite outfit, I then save photo on my phone in "outfits folder" and go back to it when I lack inspiration. Let me tell you that this outfit ended there.
For the first time ever I wore these new Chanel slides that are tweed finish with a chain CHA – NEL embellishment. I love them as they add such a cool statement. To completely show my Chanel obsession I also wore the Chanel pearl bag which I presented you for the first time in THIS video. A statement piece I simply adore, it gives so much character to every look, and is so exquisite. So happy I got it back in February.
These jeans are probably my most worn – GRLFRND Denim jeans, I love how they suit me and often wear them with crop tops, in this case with Orseund Iris top that has stunning details on it. To top it all of I put my beloved Miu Miu head band which comes in two rows, one row of crystals and one of pearls. I love it.
What do you think about this look and what is your favourite summer foundation? Cant wait to find out.