SPANISH STEPS
Another post from Rome is here, and its the last outfit from this trip, but Rome is so inspiring that I find it hard to stop going back and writing about its beauty. Its one of those cities that can sometimes make it hard to find the right words, but also one of those cities that make me wanna write hundreds of words. Judging by the amount of movies, songs, articles and poems written here and about this city, I am certain I am not the only one that feels this way.
I think in my previous life I was an artist. The attraction I feel towards art is just incredible, and I am not sure if it really is something to do with previous life or the fact that my parents are huge art collectors, and I saw incredible paintings since very early age. Often my father would ask me what I think about the paintings he would bring home, and a very small proportion of paintings we own, actually ended up on out home walls. Those were specially chosen by my mother, the person in my family who has the best eye for interiors.
Why am I telling you all of this? I guess it has something to do with what I chose to wear in this post, and I thought it would be a good introduction for you guys to better understand my style. On the same note, I want to tell you about Maiolica Stairs in Sicily. The Staircase of Santa Maria del Monte in Caltagirone is a waterfall of 142 steps, each covered in beautiful, multi-colored maiolica. The gorgeous colourful prints, known to be a tradition and craft done in Sicily.
Its not a surprise that I love Dolce&Gabbana so much. Even that much that I know everything about this brand and the amazing designer duo. Domenico Dolce was born in Sicily and that influence is really obvious on their designs. You can of course see the Maiolica on todays dress, which is no surprise after I told you the important role it plays in Sicilian culture, as well as how present this print is over there.
So far I bought the dress and the sweater by Dolce&Gabbana in Majolica print and I love them bought very much even though I wear them for different occasions. You probably also remember how obsessed I got with the Hydrangea print, and Mambo collection and I happened to dedicate do many posts to Dolce&Gabbana this year. Another one of my favourites is THIS one, because I decided to wear DG on my birthday, and we know how big of a deal that is for me.
That being said, I decided to publish another post dedicated to Italy and this very Italian designer duo that have made the country proud with their unique style, international audience and a very distinct way of working. This post can be a form of a love letter to Rome, Stefano Gabbana and Domenico Dolce, they really make my heart jump with their incredible love and passion for design. Now lets discuss why and how I wore these pieces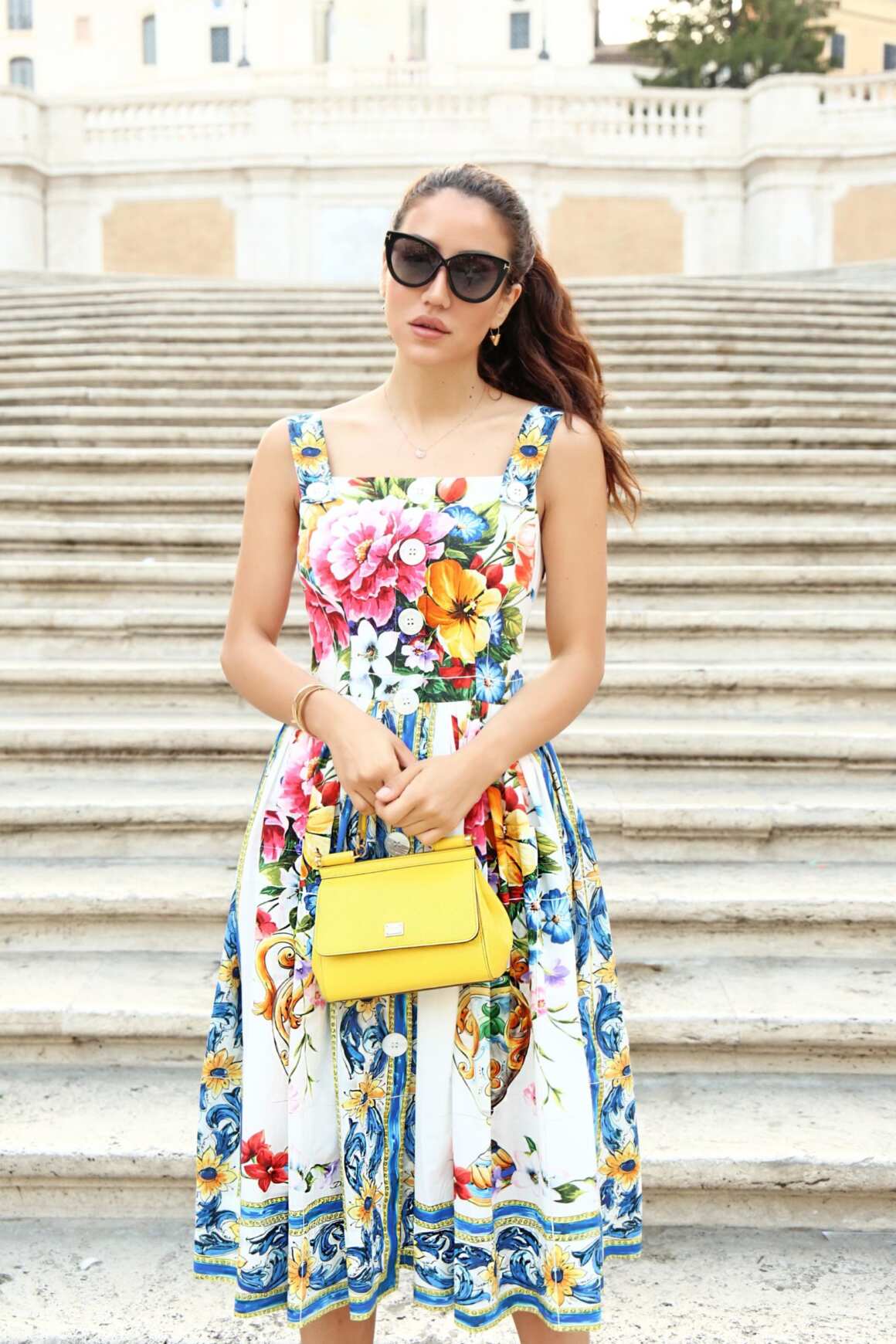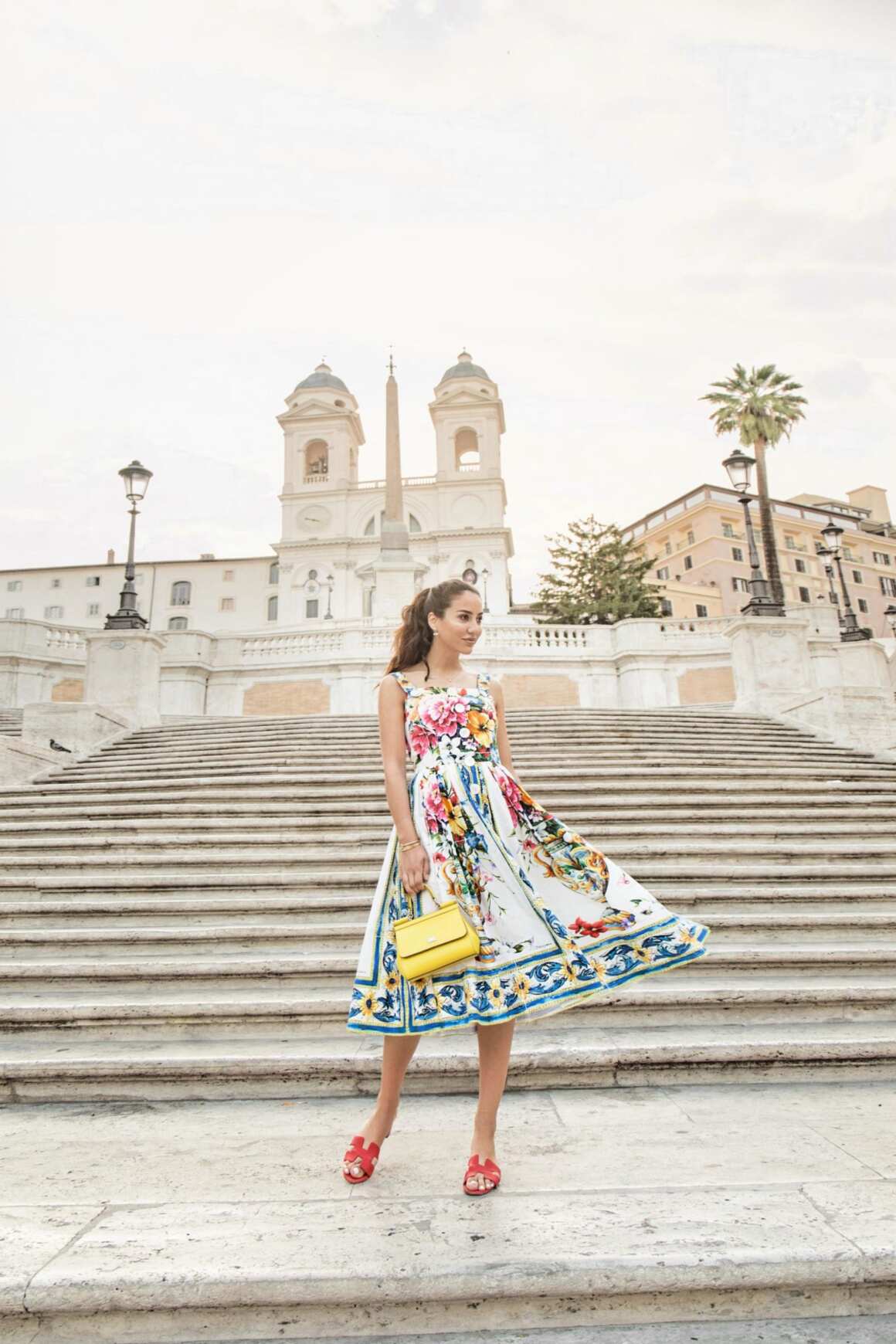 THE OUTFIT
This outfit is totally my aesthetics. The feminine lines, colourful, just how I like it. This shape and dress silhouette is exactly what suits me the most, and what I love to wear during the summer days. Maiolica print and the Dolce Gabbana tailoring are just a match made in heaven, but I guess after the introduction I dont have to talk about that anymore. I decided to style the dress with my yellow Sicily small bag, which is one of my favourites. Coincidentally I bought it in Rome, few years ago. It was a decision that happened in a moment, and it happens to be that it was a great one.
For the shoes I went for sandals, because the 40 degrees weather permitted that only. I recently picked these ones in Hermes on New Bond Street and it was an amazing decision, because they were my go to shoes this summer. The red colour is so easy to wear and matched the dress better than I could have imagines. I also opted for my new Jimmy Choo sunglasses, for some reason they are also my most worn sunglasses this season. I really love the embellishments on the side, and they seem to suit my face really well. What do you guys think?
SHOP THE PRODUCTS