Recent trips around the Europe made me realise how much I have forgotten the meaning of true summer. Having lived in UK for almost 10 years I forgot that the real summer heat requires a different makeup regime, and that includes everything from the fragrance to your favourite lip product. While packing I threw in three shades of new Dolce&Gabbana Miss Sicily lipsticks that I thought would play an important role in my accessorising and will make my outfits complete – turned out I was totally right, and wanted to dedicate them a full blog post. So lets discuss :)
This is the first time ever that Dolce&Gabbana beauty came out with Care and Colour lip products, and they are not only perfect for summer, but winter too because of their amazing care properties. Everything from their appearance, packaging to colour range got my attention. I am smitten. In this post you can see three totally different looks and three different DG Beauty Miss Sicily lipsticks in action. One is more day appropriate, second one is playful and the third one is glamorous.
As always I am super curious to hear what shade is your favourite, what look you think suits me the most, as I really enjoyed playing different roles, and combining the lipsticks with my looks for the purpose of this post. Now lets discuss each separately.
ANTONIA
Before I get into the first look, there are few things you might want to know about these lipsticks. From my experience I have to say they have very light texture with beautiful clean vanilla scent. The scent I thought is different to other DG Beauty lip products. When swatched lipsticks don't seem very pigmented, but on lips are a different story. They promise colour, shine and comfort. I also use them as a lip balm cicince they really soothe the lips and have emollient oils in the formulation. There are 16 different shades in this collection, so something for everyone.
As I love my nude lipsticks, you can understand why I fell in love with Antonia (yes all the lipsticks carry Italian Girls' names). This rich nude tone leans toward brown more than pink and is super easy to wear. I love the fact that I can apply it without a mirror and that it goes with pretty much every makeup look, day or night.
On this occasion I wore it with my currently favourite Dolce&Gabbana Hortensia collection dress. This beautiful print really left an impression on me, and even though I always find it hard to commit to one as my favourite, this one totally did it. I styled the Hortensia printed dress and shoes with a light pink Sicily bag as well as the Antonia shade of Miss Sicily lipstick. I think this look is very day appropriate, its something I wore to lunch in the Amalfi Coast and thought it really fit in well with the scene.
One more thing I should probably mention is that even though this lipstick has a light texture, I didnt have to keep applying it all the time. Maybe because of the nourishing oils in it, maybe not – but the formulation really stayed on my lips longer than I expected.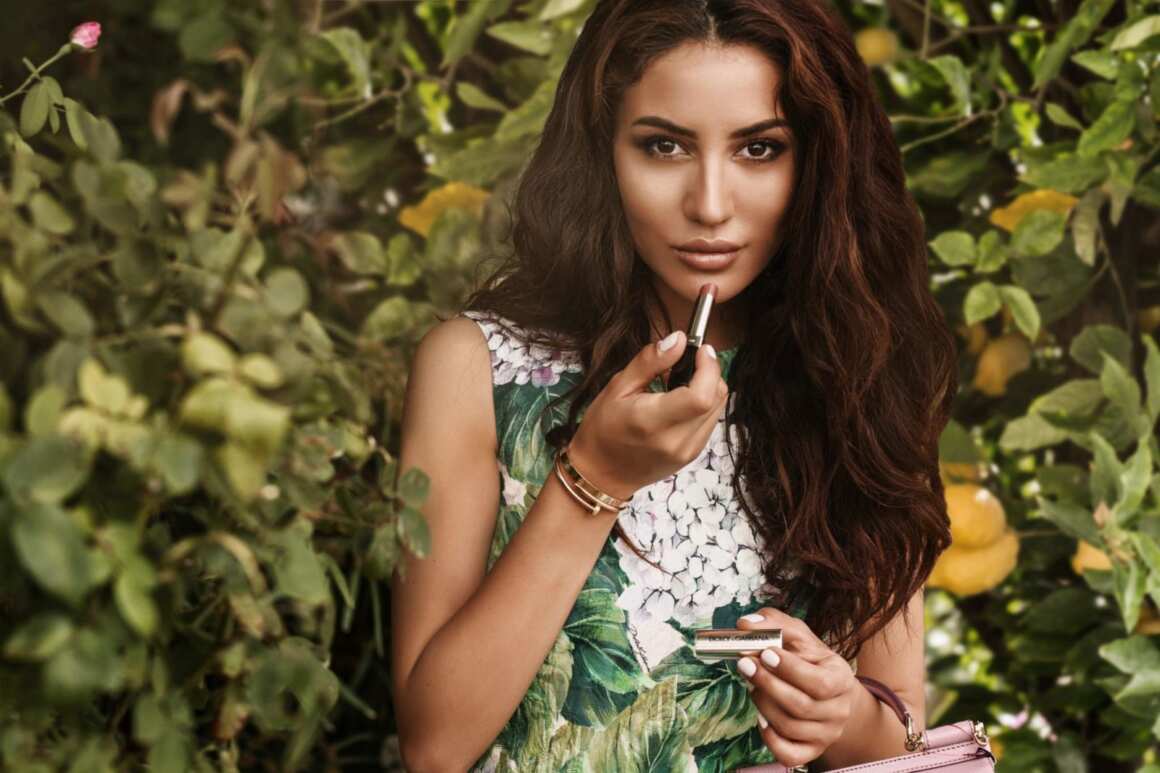 CATERINA
Caterina is my glamorous alter ego. This is my ideal every day red lipstick, its light, pigmented and easy to wear. I love that it feels so relaxed but can also be perfect to wear during the night. I decided to style it with Majolica print dress, this beautiful Sicily inspired print is also perfect for day or night, but on this occasion it was an evening look for a dinner in Positano. Sicilian girls are usually perceived to be really beautiful, they have bronzed skin, dark hair and often wear that "bitten lip" look. This is what I went for here. Again I styled the outfit with my Sicily bag, this time in yellow colour as this type of bag is just ideal for every occasion. I currently have it in few colours and definitely will not stop there. It fits my sunglasses, my card holder, phone and most importantly my lipstick.
ROSA
Rosa is a playful, flirty pink. I can not decide which one is my favourite but this pink is totally up my street. I love that you can wear one layer of it, which gives you a really easygoing look, or you can apply few layers which gives this full on pink colour, almost neon pink, but perfect for summer months. I wore it for an afternoon of exploring and picture taking, I styled it with Mambo printed skirt and silk shirt, and again my yellow Sicily bag. This look is so versatile, as you can actually wear it at any time of the day depending on your personality or on the occasion. I love the mix of pink, red and yellow and even thought that Antonia could go better with this look, but then decided that Rosa is actually my go to for such a playful outfit. What do you think?
I am curious to know which lipstick is your favourite and what look you think suits me the most? Hope you like this beauty post, and cant wait to hear your opinion.