One of the most exciting shows for me to attend in Milan is Fendi. I have loved the brand for the longest time, and as you probably noticed, I started really enjoying many of their pieces in the past years. The bags, shoes, boots, sunglasses, beautiful coats and dresses. The list is never ending. All those amazing ideas that Karl and Silvia come up with are so inspiring and I found that Fendi quickly became one of my all time favourite brands. I was really excited for their show in Milan and in this post you can see a preview of that day.
Milano treated us with most gorgeous weather, pretty much ice cream worthy and I was lucky enough to spend it with one of my best friends Noor who has a blog called Queen of Jet Lags. You have all seen her here before. We went to the shows, ate ice cream, walked around Brera and spoke about boys. You know the standard stuff that any girl in her 20s likes to do in Italy. In the end we got treated by the beautiful golden light which we used for these photos.
Jedna od najuzbudljivijih stvari u Milanu za mene je odlazak na Fendi reviju. Volim ovaj brend već godinama a to ste sigurno i sami primetili jer često nosim njihove komade. Cipele, torbe, čizme, sunčane naočare, prelepi kaputi i haljine. Lista nema kraja. Sve te fenomenalne stvari koje su dizajnirali Karl i Silvia inspirišu me svakodnevno te je Fendi postao jedan od meni najbitnijih brendova. Zaista sam bila uzbudjena povodom njihove revije u Milanu.
Vreme je bilo predivno, što je podrazumevalo i koju kuglu sladoleda, a ja sam to iskoristila da provedem lepe popodnevne časove u Breri sa mojom drugaricom Noor, koja je takodje blogerka Queen Of Jet Lags. Provele smo lep dan zajedno, revije, sladoled i milanski zalazak sunca. Na ovim slikama možete videte i zlatno svetlo kojim nas je ovaj dan počastio.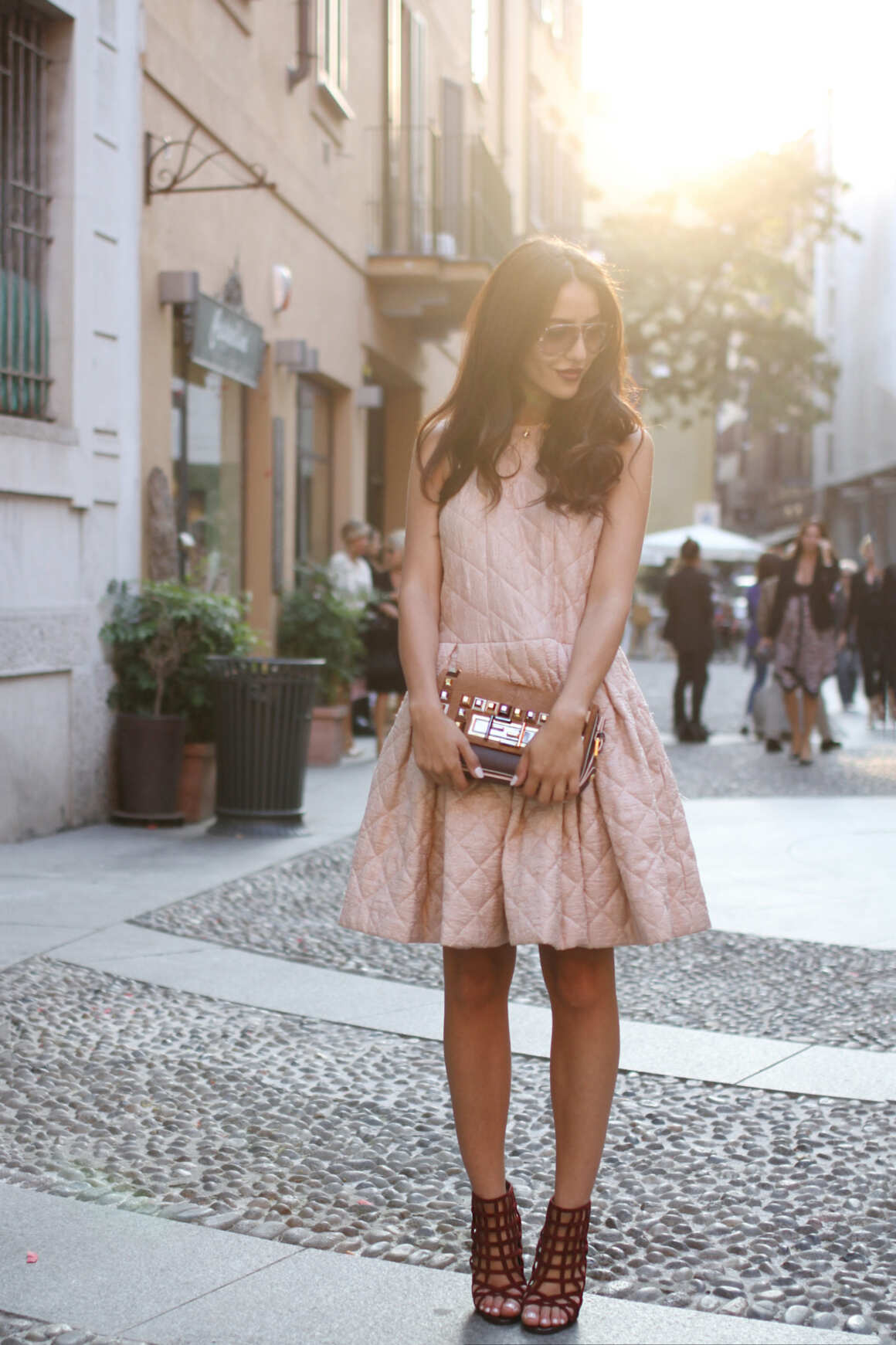 THE OUTFIT
You already know how great I feel in blush pink tones, its something about this colour that always lifts my mood. When I saw this Fendi princess dress with gorgeous back detailing I knew it was screaming my name. Since the whole outfit was going to be very girly, I decided to toughen it up with a dark Rouge Dior Poisson Matte lipstick. This colour really added something special to the look, don't you think?
To keep the burgundy theme strong, I put on these new Christian Louboutin cage sandals. They are mix of everything I love. Feminine, sexy and trendy. I walked in them whole day and must tell you that it wasn't a problem at all. After we ate the ice cream, I pulled out my Dior lipstick from this Fendi embellished baguette bag. I think SHE is so beautiful that words can not describe. Every single detail on it looks right. As you can see I kept it easy with the sunglasses and opted for the Chloe aviators. How do you like the total look. How would you style this dress?
Već znate koliko volim ove roze tonove, ima nešto u ovoj boji što mi uvek popravi raspoloženje. Kada sam videla ovu Fendi haljinu i prelepe detalje na ledjima, znala sam da je savršena za mene. Pošto je cela kombinacija prilično ženstvena i nekako meka, odlučila sam da je začinim ovim Rouge Dior Poisson Matte karminom. Jesenja bordo boja upotpunila je izgled i nekako ga uozbiljila. Šta vi mislite?
Pošto sam želela da se držim ove bordo boje, obula sam i nove Christian Louboutin sandale. One su kombinacija svega što volim. Ženstvene, sexy i moderne. Hodala sam u njima ceo dan, i moram reći da mi to nije bio problem. Nakon što smo pojele sladoled, Dior karmin izvadila sam iz ove prelepe Fendi Baguette torbice. Mislim da je toliko lepa da to reči ne mogu opisati. Svaki detalj na njoj je predivan. Kao što vidite, za sunčane naočare izabrala sam ove Chloe avijatorke. Kako vam se čini kombinacija?
SHOP THIS LOOK