Everyone is talking about it every day. Beauty. There is all kinds of it. Inner beauty, outer beauty, natural beauty, my kind of beauty your kind of beauty. But it's all very confusing, what is beautiful to me might not be beautiful to you, and I don't even need to specify, as someone much wiser already said that beauty is in the eye of beholder.
However there are few things that will be beautiful to everyone, like healthy looking skin and tidy nails, there are just very few things that are staples of ultimate good looks, and they are not easy to get hold of. Healthy skin, that glowing, smooth and silky surface of your skin is something we all gravitate towards. There are better days and worse days. Days when we wake up and feel great without makeup, and days when we cannot even stand the reflection in the mirror.
Svi pričaju u tome. Lepota. Postoji više vrsta lepote. Unutrašnja, spoljašnja, prirodna, lepota na moj način, na tvoj način. Ali sve to je zbunjujuće.Ono što je lepo tebi, možda nije lepo meni, to ne moram ni da naglašavam, jer je neko mnogo mudriji od mene već rekao da lepota leži u oku posmatrača.
Ipak, ima nekoliko stvari koje će uvek biti lepe, kao blistava koža i uredni nokti, neke stvari koje su osnova lepog izgleda a koje nema svako.  Zdrava koža podrazumeva glatku teksturu, pravu hidrataciju i nešto ka čemu svi težimo.Naravno postoje bolji i lošiji dani za sve nas. Nekada se probudim i osećam se odlično i bez šminke, dok se drugim danima ne gledam u ogledalo.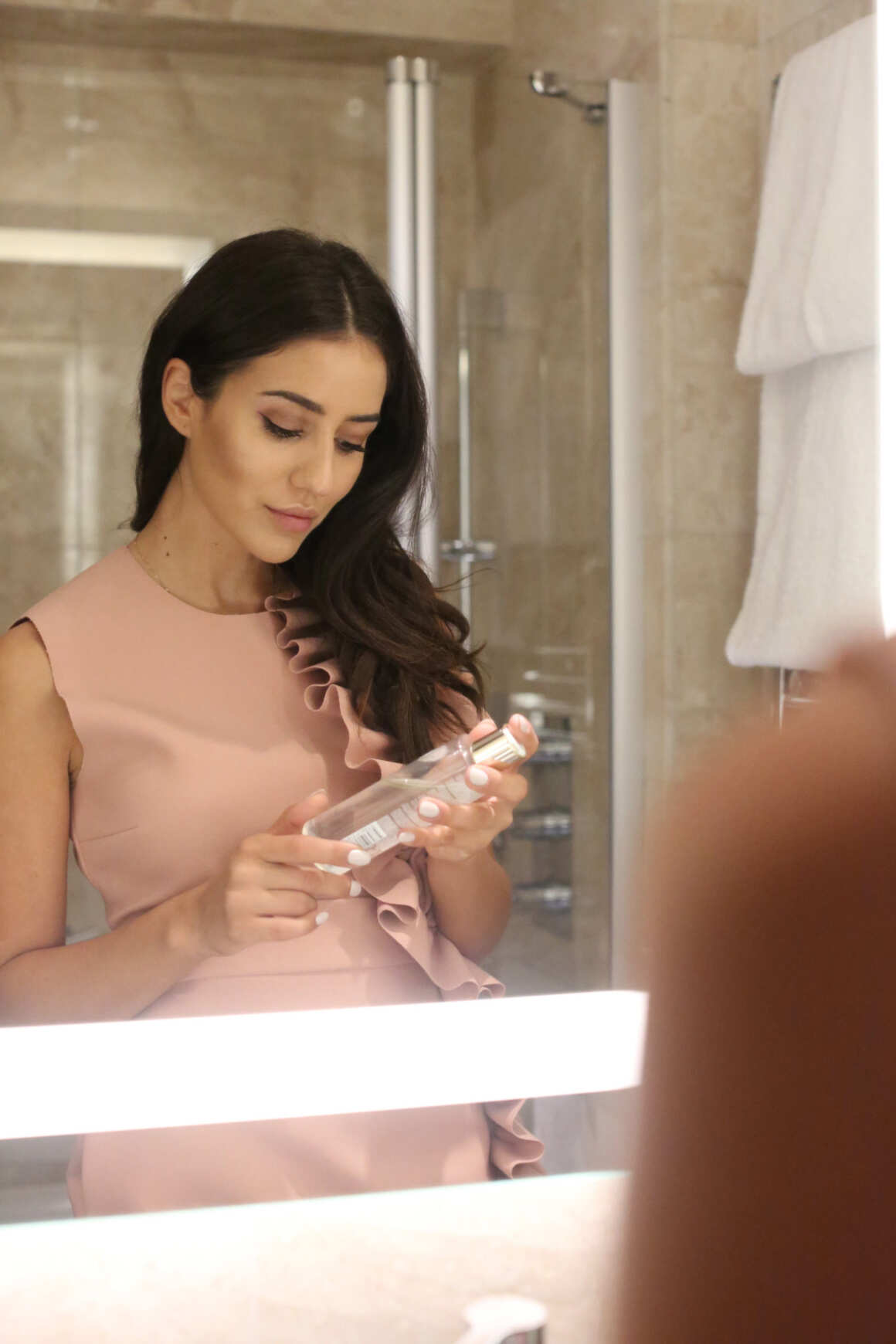 THE STORY
I am very grateful to be a third generation of pharmacists in my family, which means that looking after my skin was something my family naturally passed onto me when I entered puberty. I changed my skin routine since then several times, while looking for that holy grail routine, one that will keep my skin all sorts of glowing.
That pharmacy degree I just mentioned is safely stored in a drawer at home, but it has given me a lot of knowledge, or shall I say enough to be able to judge a product by its ingredients, enough to talk to you about my current best kept beauty secret. Yes I am talking about Roger&Gallet Aura Mirabilis range.
Currently I am regularly using four products from this range, and they were especially great saviours during the hectic fashion month. The Beauty Vinegar is my absolute favourite. It refines makeup after a long day leaving my skin smooth. The Double Extract serum is a  unique biphasic solution of water and essences which concentrates the power of 18 distilled and officinal plants. This product is the secret to radiant skin and the results are obvious. Besides these two star products I am also incorporating the Cleansing Mask whenever my skin needs a detox and Legendary Cream that evens my complexion. What more could a girl ask for?
When it comes to my ultimate beauty secret it would be to look after your skin, hair and nails, to nourish them from inside and out, to find the best products and to stick to them. Do not try a different product every week, read ingredients, ask questions and persevere. The results will only come if you really follow the advices your mother and grandmother gave you. I strongly believe in that.
Jako sam ponosna na to što sam treća generacija farmaceuta u mojoj familiji, to znači da sam o nezi kože naučila veom rano. Sve se to desilo nekako prirodno po ulasku u pubertet i iako sam rutinu promenila nekoliko puta tražeći taj savršeni proizvod, uvek je željeni rezultat bio isti – koža koja blista i izgleda zdravo.
Farmaceutska diploma koju sam vam upravo spomenula sada je u fioci, na sigurnom mestu, ali iako je ne koristim, svakodnevno upotrebljavam znanje koje mi je pružila. Uz pomoć nje jasno raspoznajem sastojke, dovoljno da želim da vam pričam o novoj liniji za negu kože, Roger&Gallet Aura Mirabilis.
Trenutno koristim četiri proizvoda iz ove kolekcije, a oni su mi posebno pomogli za vreme meseca mode. Beauty Vinegar je moj omiljeni proizvod. Uklanja šminku nakon dugačkog dana. Double Extract Serum je posebna tečnost u dve faze koja sadrżi esencije 18 lekovitih biljki. Ovaj proizvod je tajna zdravog sjaja na mom licu. Osim ova dva proizvoda rado koristim i Cleansing Masku koja je super za detox pora a posle nje nanosim Legendary Cream – hidrantnu kremu koja izjednačava teksturu i nijansu moje kože.
Kada je reč o nezi kože, moja najveća tajna je da je hranite spolja i iznutra, da nadjete prave proizvode i da ih se držite. Nemojte koristiti nove proizvode svake nedelje, čitajte sastojke, pitajte profesionalce i budite istrajni. Rezultati će doći jedino ako zaista budete pratili savete koje su vam majka i baka dale. Ja zaista verujem u to.
In collaboration with Roger&Gallet