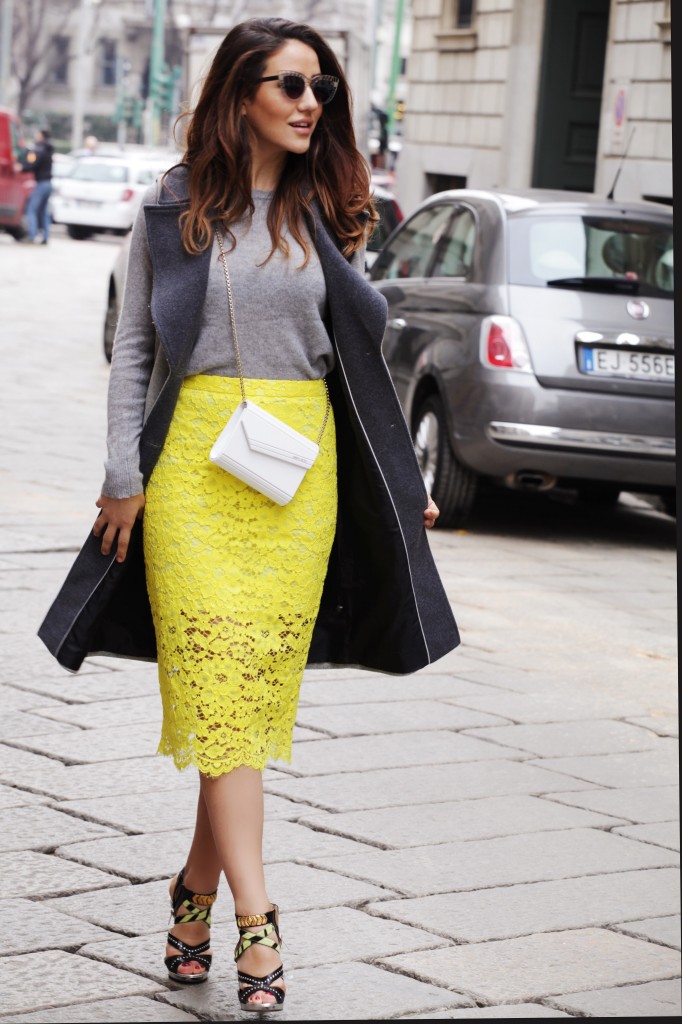 Photo by Marija Andric Photography
On the second day of Milan Fashion Week I decided to bring some sunshine in my outfit too. Milan outfits were the ones I was most looking forward to because the weather allowed a lot of playfulness. Yellow and grey make such a good combination, very young and fresh, which is why I opted for it. Some of you asked why am I posting Monday Confessions in a month of many many outfits, and I must say I thought about not posting them, but then I realised, you can see so many photos of my outfits instantly on instagram, and since blog is the place of editorial looks, and more in depth descriptions, one or two days doesn't make much difference when you can see the look briefly on socials anyway. I feel that if my Monday Confessions can inspire at least one of you people, I still have to post it. Thank you so much for your great feedback and for helping me grow and reach my dreams. Love you all!
Drugi dan Milanske Nedelje Mode odlucila sam da unesem malo toplote i sunca u moju kombinaciju. Outfiti iz ovog grada su oni kojima sam se najvise radovala,jer sam znala da ce vreme biti lepo, te cu moci da se poigram bojama i materijalima. Zuta i siva cine jednu od mojih omiljenih kombinacija jer unose svezinu i neku mladost svakom outfitu. Neki od vas su me pitali zasto insistiram na Ispovestima Ponedeljkom i ovog meseca kada imam toliko kombinacija koje bih vam mogla pokazati. Razmislila sam dobro o tome pre nego sto je moceo modni mesec i shvatila da sve moje kombinacije mozete videti na instagramu onog trenutka kada ih obucem. Blog je ipak mesta za malo vise slika, detalja, editorijale tako da mislim da kada vidite nesto na instagramu "vest" je vec izasla u javnost samo cekate potpuno izdanje za koji dan na blogu. Moja filozofija je da ukoliko ispovesti mogu pomoci barem jednom citatelju tog dana, ja moram sa njima da nastacim. Ipak, hvala vam puno na sjajnim savetima i predlozima, vi mi pomazete da rastem i dostizem svoje snove. Volim vas puno!

I wore:
SKIRT-TOPSHOP
SWEATER-360SWEATER
COAT-GESTUZ
SHOES-JIMMY CHOO
BAG-JIMMY CHOO
SUNGLASSES-QUAY OF AUSTRALIA